Evening News Briefing
Written by Dan Fischer on July 25, 2019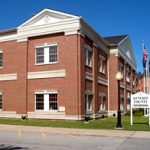 Jurors heard opening statements and testimony about the bludgeoning death of 47-year-old Raymond L. Morgan, of 111 Liberty St., Batavia, in the third day of the Richard D. Hanes trial on Wednesday.
District Attorney Lawrence Friedman described the brutality of Morgan's death in his opening statement. Friedman told jurors that at least 24 blunt force trauma injuries, most likely caused by blows from a hammer, were sustained by Morgan's body.
Friedman revealed the perpetrator dropped 12–15 feet from a second-floor window of Morgan's apartment and fled the scene in the direction of Ellicott Street after the incident occurred the night of July 24, 2018.
Friedman also said Batavia PD investigators collected blood samples matching the DNA profiles of both Morgan and Hanes from a bathroom at 5 Thorpe St., Batavia, which is the rooming house where Hanes resided at the time.
In defense attorney Frederick Rarick's opening statement, he said Hanes was in the vicinity of the Liberty Street home on July 24 to purchase drugs from Morgan. Rarick maintained that neither forensic evidence at the scene nor witness testimonies will prove Hanes as the perpetrator.
Rarick told jurors that police did not ask for blood or fingerprint samples from other witnesses once Hanes was questioned and his DNA sample was taken. Rarick's last message in his opening statement was that Hanes had no motive to allegedly commit the murder.
Hanes faces a life sentence if the jury returns a guilty verdict for his second-degree murder charge. Jurors will draw nearer to a verdict tomorrow morning in Genesee County Court.
Wyoming County Sheriff reports man dies in custody.
According to the Wyoming County Sheriff 46 year old Rochester resident Timothy Pabone died Tuesday afternoon while in custody of the County Jail Division.
A Correctional Officer observed Mr. Pabone unresponsive in his cell just before noon on Tuesday and immediately initiated Medical emergency procedures such as CPR and an AED.
Monroe Ambulance and emergency medical personnel from the Warsaw Ambulance arrived within minutes performing further lifesaving efforts, however, at 12:24 p.m. Mr. Pabone was pronounced dead.
An autopsy was ordered to be conducted at the Monroe County Medical Examiner's Office.
Pabone was initially arrested on a warrant out of Warsaw Town Court late Monday night by Irondequoit Police.
The cell block where he was housed was under video surveillance and there are no indications of any type of foul play.
While the cause of death remains under investigation it appears likely that Pabone suffered a medical event.
A Dellinger Ave resident jailed without bail after multiple violations.
50 year old Ricardo Sampel of Batavia was taken into custody following investigation into report of repeated violation of a court order of protection in Batavia.
Sampel was accused of continually contacting the protected party by phone and was hit with 5 Class E Felony counts of Aggravated Family Offense.
Sampel is currently being held in the Genesee County Jail on a seperate Criminal Contempt charge and was ordered to be held without bail due to previous felony convictions.
The Buffalo Bills will hit the field today to kick off training camp.
The first practice is set for nine-45 this morning at Saint John Fisher College in Pittsford.
In addition to watching the team prep for the upcoming season, the Buffalo Bills Experience will give kids the chance to take part in activities like a football toss, quarterback challenge and running back challenge.
Buffalo's season opener is September 8th against the New York Jets.
Governor Andrew Cuomo is signing legislation aimed at protecting New Yorkers from data breaches like the one Equifax experienced two-years ago. The SHIELD Act puts stricter guidelines in place for companies that handle private data, requiring that they properly inform consumers in the case of a data breach. In addition, credit reporting agencies are required to offer identity theft prevention and protection services to anyone affected by such a breach. Earlier this week New York joined in on an over 19-million-dollar settlement with Equifax, as eight-and-a-half-million New Yorkers were impacted by the 2017 breach.
---
Reader's opinions
---