Evening News Briefing
Written by Dan Fischer on July 29, 2019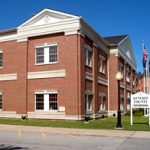 The Defense and prosecution have rested in the Genesee County Court murder trial of Richard Hanes.
Hanes is charged with Second Degree Murder in the beating death last summer of Ray Morgan.
Police said Morgan was beaten beyond recognition.
The jury has listened to four days of testimony. Tomorrow morning (Tues) they will hear closing arguments, receive their instructions from Judge Charles Zambito and then deliberations will begin.
Governor Cuomo is signing legislation that decriminalizes marijuana use in New York. The new legislation reduces the penalty for unlawful marijuana possession to a violation punishable by a fine. The law will also create a process for individuals with certain marijuana convictions to have their records expunged.
Cuomo says the legislation addresses racial and ethnic disparities, as New York's existing marijuana laws disproportionately affect African American and Latino communities.
A Bergen man is killed in a sky-diving accident in Wyoming County.
68 year old Richard Cordaro was skydiving with four friends when his parachute opened but somehow became tangled.
The four had flown out of the Perry/Warsaw airport yesterday afternoon.
The three others landed safely.
Authorities said Mr. Cordaro had 45 years of sky-diving experience.
An incident of domestic violence in Warsaw.
33 year old David Snyder of State Route 19 in Warsaw was arrested by troopers for allegedly choking and menacing a woman with a knife.
Snyder was jailed on $10,000 bail.
The Batavia Muckdogs are on the road for their next three games.
The Dogs meet the Tri-City Valley Cats tonight.
The Muckdogs defeated Williamsport last night 5 to 4.
The Dogs remain in first place in the Pinckey Division.
---
Reader's opinions
---