2015 Christmas Toy Drive
Dan Fischer and Wayne Fuller pose with toys collected at Ken Barrett Chevrolet Cadillac for the Salvation Army.
WBTA Broadcasts Live from Godfrey's Pond
Dan Fischer broadcasts from the upper deck of the club for Godfrey's Pond annual Open House.
The facility bills itself as "Genesee County's Best Kept Secret."
WBTA at the 175th Genesee County Fair
WBTA personality Nici Johnson poses with "Red" and 11 year old ox who has made frequent appearances at the fair over the years. With Nici and Red is Red's manager, Rob Rose.
WBTA Staffers at "Summer in the City"
WBTA Newsman Geoff Redick takes a turn in the United Way "Dunk Tank," a popular attraction along Main St. during Summer in the City. According to unreliable reports, Geoff raised more money for the United Way than City Manager Jason Molino and County Manager Jay Gsell combined!
WBTA's Dan & Debbie Fischer shared the gator with Krysia Majors on the "Trash Patrol." 2011's Summer in the City was considered the best-attended, yet!
Batavia Connection to Super Bowl XLVI
Batavia's Russ Romano interviewed by Geoff Redick during WBTA News Midday. Romano is a former football coach at Rochester Institute of Technology, and was once on the coaching staff of the now-famous coach Tom Coughlin, 2-time Super Bowl champion with the NFL's New York Giants.
WBTA at GLOW Corporate Cup
The WBTA Blue Crew at the GLOW Corporate Cup.
From Left: Lorne Way, WBTA Advertising Manager, Serena Strollo, daughter of WBTA Account Rep Anita Strollo and Karen Hall, daughter of WBTA owners, Dan & Debbie Fischer. All three performed admirably and did the station proud.
WBTA at "Hogs for Paws"
WBTA Announcer Nici Johnson (standing behind table) broadcasts from "Hogs for Paws" at Stan's Harley Davidson. The event raised money and needed supplies for Volunteers 4 Animals, the non-profit organization that operates the Genesee County Animal Shelter.
With Nici is WBTA Producer Anita Strollo and her dog Lela.
WBTA brings Santa to Adam Miller Toy & Bike
These kids enjoy sitting on Santa's lap telling him everything they want for Christmas. Santa made his annual appearance at the popular toy store on Saturday, Dec. 14th.
WBTA unveils Text Alerts at Home Show
Dan & Debbie Fischer along with Jerry Warner greet WBTA listners at the Genesee County Home Show. More than 700 subscribers were signed up for instant News, Weather, Traffic and School Closing alerts during the three-day event at Faletti Ice Arena
Santa Arrives for Christmas in July
Old St. Nick chartered a reindeer flight from his summer home, to stop by WBTA's "Christmas in July" Radio Auction on July 23rd, 2011. The jolly old elf brought "WBTA" cookies for the auction staff, baked by Mrs. Claus.
Sorry, kids – Santa wouldn't tell us just exactly where he stays for summer (though by his shirt and his tan, we figure it's south of Batavia).
Can Somebody Please MOOve This Thing?
Following the 2011 Rotary Father's Day Fly-In Breakfast, some absent-minded Rotarians apparently took their eyes off their prized cow. The daring heifer was reportedly seen trotting across the no-doubt treacherous Sunday afternoon traffic in Batavia, before taking up residence just outside WBTA's door.
Early speculators predict that Dan Fischer and Jerry Warner will be "milking" this for all it's worth during the morning drive-time broadcast.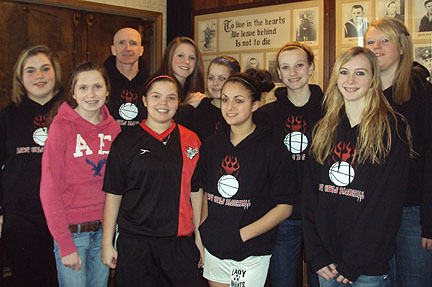 Valentine's for our Troops 2011
The 7th Annual Valentine's for our Troops campaign wrapped up on Sunday, February 13th at Legion Post 576 in LeRoy. We had a record turnout and, most importantly, a record amount of donations.
LeRoy High School Girls JV Basketball team helps out by sorting and packing items donated to the 2011 campaign.
A "Brownie" Troop from Batavia also helped out and sent hand-made Valentines!
(Bottom) WBTA's Dan Fischer interviews Mary Ann Miller whose son is in Afghanistan
Homemade Valentines created by local school children were included in packages sent overseas.
Hank Stratton Featured at ARC "Celebrating Art-Abilities"
Hank Stratton, affectionately known as "Hammering Hank" to all his Challenger Baseball fans, is an energenic, loveable, almost-12 year old boy who happens to have autism. Hank and his family joined the ARC four years ago. Hank receives services through the ARC's Family Support Program. He especially enjoys the ARC's Art Club.
So talented is Hank, he has been selected as the featured artist for the "Celebrating Art-abilities" Show on March 11 at the ARC's new Community Center (the former St. Mary's School) at 38 Woodrow Road in Batavia.
PHOTO: WBTA's Dan Fischer interviews Hank Stratton for a segment on the station's "Main & Center" program to promote the "Celebrating Art-abilities" art show on March 11.
WBTA Takes a Swing at Home Run Derby
WBTA Advertising Manager Lorne Way powers his way through a blazing 10mph pitch at the Muckdogs "Pep Dog Rally" marking the start of the Muckdog's 2010 season.
Lorne's "hit" cleared the pitchers mound.
Main & Center Promotes "The Ramble"
Kay McMahon and Bill McDonald appear on WBTA's "Main & Center" program to promote the Ramble Music and Arts Fest on Saturday, July 3, 2010 in Jackson Square, downtown Batavia.
Bill and Kay are members of Old Hippie Reunion, just one of the groups scheduled to perform.
For complete information about the Ramble, visit their Website.
Kay and Bill performed three songs during the radio show.
WBTA Reports:
"The Moving Wall" Vietnam Memorial Visits Batavia's VA Center
Solemn "Missing Man Table Ceremony" Conducted at Opening Ceremonies
Below is the verbatim of the Missing Man Table Ceremony:
The caps at the table represent the five branches of the Armed Forces: Army, Navy, Air Force, Marines, Coast Guard.
The table is set for 5, symbolizing the fragility of the prisoners, alone against their captors; Remember.
The tablecloth is white, symbolizing the purity of their intentions to respond to their country's call to arms; Remember.
The single rose displayed in the vase is symbolic of the families and the loved ones who keep the faith, waiting for their soldier's return; Remember.
The red ribbon tied prominently on the vase is reminiscent of the red ribbon worn upon the lapels and breasts of thousands who bear witness to their unwavering determination to demand a proper counting of all lives left in foreign soil. To this day, there are still 1,716 missing in Vietnam; Remember.
The slice of lemon on the plate reminds us of their bitter fate; Remember.
There is, in addition to the lemon, salt on the plate, symbolic of the families' tears as they wait; Remember.
The glasses are inverted. They cannot toast with us today; Remember.
The chairs are empty. They are not here; Remember.
Remember, all of you who served with them and called them comrades, who depended upon their might and their aid, and who relied on them; for surely they have not forgotten us.
The Force is with WBTA & the Batavia Muckdogs
WBTA's Geoff Redick visited Dwyer Stadium and ran into a group of intergalactic impersonators. These members of the 501st Legion say the Force is strong in Batavia!
The 501st Legion is a national organization of Star Wars enthusiasts who purchase their own costumes and make charitable appearances at various community events. This was the group's first trip to Batavia.
WBTA Broadcasts from National Night Out
WBTA News Anchor Geoff Redick (left) and Advertising Manager Lorne Way prepare a broadcast from the 2010 National Night Out in Austin Park. The event is designed to bring the community together with a common goal of reducing crime.
The event, sponsored by GCASA, the Batavia Police Dept. and other agencies, drew several hundred people to the park.
Despite the appearance of these two characters, the event was labeled a big success!
Jerry Warner Gets "Shot" On the Air!
WBTA Morning Host Jerry Warner gets his annual Flu shot on the air during the Main & Center "Medical Monday," segment sponsored by United Memorial Medical Center.
Here, UMMC Nurse Manager Maryann Cogdill adminsters the vaccine. Jerry later told us, "It didn't hurt a bit," as he collapsed to the floor (just kidding!).
Seriously, Jerry said, there was nothing to it, "Everyone who is medically cleared to receive the vaccine, should get it."
---