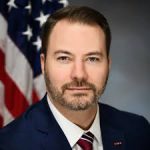 The list of candidates vying to take the 27th Congressional District seat is growing.
Senator Rob Ortt announced his run for the congressional seat Saturday, first in Lockport and then later in Batavia out in front of City Hall.
Ortt called Batavia the heart of the district and spoke of the shared values of many of its residents that are being threatened by the majority in Albany…
Ortt touted his military service repeating the slogan that he is a "battle-tested warrior" both in war and with his conservative credentials.
The Senator joins the race to unseat incumbent Congressman Chris Collins, who while under indictment for insider trading charges has yet to announce whether he will seek re-election.
Troopers in Warsaw have located the vehicle involved in a hit and run that killed a dog and injured two young girls.
State Police located the 2017 Chevrolet Trax over the weekend that was allegedly involved in the Town of Sheldon accident.
The incident occurred at around quarter after eight Thursday night as a 12 year old girl was walking her dog with her 14 year old friend on the grass along the side of Dutch Hollow Road when a car swerved and struck them.
The driver took off, leaving the two young teens and their dog on the ground only about 200 feet from their home.
Troopers are still determining who was operating that vehicle at the time of the crash.
Senator Chuck Schumer announced Saturday that the Department of Veteran Affairs has awarded an over $23 million contract to a company in Victor to begin construction on the very first Phase of the Western New York National Veterans Cemetery in Pembroke.
The nation's newest veteran's cemetery will be located at 1232 Indian Falls Road in the Town of Pembroke.
The cemetery site was originally 132 acres, then they purchased adjoining 60-acre and 77-acre parcels, closing on those early last year.
The first phase of construction encompasses 65 acres of the cemetery's total 269 acres.
The start of the next legislative session is still months away, but Democrats are already looking at what gun control measures they may want to introduce.
The Buffalo News reports there are several options on the table including bans on some big caliber weapons and microstamping identification on ammunition.
Some gun control advocates think the state already has some of the toughest gun laws in the country and it's up to the federal government to take the next steps.
Several gun control and safety measures were passed by the Legislature this year.
Summer is starting to wind down, but Western New York drivers can still save on their final road trips.
According to Triple A, the average cost for a gallon of regular gas is $2.76 in Genesee County.
That's down six cents in the last week and seven cents in the last month.
The state average is $2.82 while nationally it's $2.62.
---
Reader's opinions
---