The investigation continues this afternoon into what sparked a fire on Coe Avenue in Oakfield. Upon firefighters arrival, they saw smoke and fire coming from the basement, where a woman was found trapped. Firefighters broke in to rescue her; she was then taken to Strong Memorial Hospital for treatment of smoke inhalation. Her name has not yet been released. Several house pets were found inside the residence and saved. However, two cats were found deceased due to the house fire. The woman's condition has not been released. No other injuries were reported.
29-year-old Cameron Sokolowski of Batavia, has been charged with harassment, menacing, unlawful imprisonment and criminal mischief. Sokolowski allegedly threatened to kill a woman with a knife. He's also accused of damaging property and not allowing her to leave the room. Sokolowski was arraigned in city court and released under supervision.
The state Court of Appeals, the highest court in the state, could hear oral arguments as soon as soon as tomorrow, on whether or not to strike down the state's redistricting changes after two lower courts have found the new districts violate the state constitution. The latest court ruling from the Appellate Division of the State Supreme Court in Rochester, came last Thursday when judges ruled by a 3-2 margin that New York Democrats engaged in gerrymandering when they drew new boundary lines for congressional seats. The judges determined that the maps were drawn to discourage competition and favor Democrats.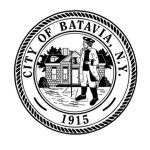 The Batavia City Council Conference Meeting is scheduled for this evening. It starts at 7 in the Council Board Room on the second floor of Batavia City Centre. Following this meeting, the Council will conduct its first budget workshop.
Western New York drivers are paying a little bit less money when it comes time to fill up their vehicles. According to Triple A this morning, the average cost for a gallon of regular gas is $4.28. That's down a penny in the past week and is 10 cents cheaper than this time last month. Right now, the state average is $4.23 a gallon while nationally it's $4.12. In Batavia, the average price per gallon is $4.21, up one cent from both yesterday and a week ago; down 14 cents from a month ago. Last year at this time, we were paying $2.88 a gallon.
Members of the Erie County Legislature are scheduled to begin their discussions this week on the new stadium for the Buffalo Bills. In order for construction to start, the Legislature must officially approve several agreements that have already been struck involving the new facility. Plans call for the stadium to be built in Orchard Park across from Highmark Stadium, which is where the NFL franchise currently plays its home games. The goal is to have all of the necessary documents for the stadium signed by September 1st.
Starting today, the Buffalo Bills and Independent Health will be kicking off the latest round of their wellness challenge. Through June 5th, people can earn points for things like adopting healthy habits and exercising. Participants will have the opportunity to win one of several prizes such as signed Bills items, gift cards and fitness trackers. Anyone who wants to take part can register online and being an Independent Health member isn't a requirement.
They may be 'magically delicious'; however, they've become the subject of an investigation by the Food and Drug Administration. The FDA is looking into reports that Lucky Charms cereal is causing illness in customers. No recall has been issued at his point. However, an alert was issued by the Livingston County Department of Health advising people that if they or a family member becomes ill with nausea, vomiting or diarrhea after eating the cereal, they should contact their health care provider and local health department. The investigation was prompted after more than 100 calls were received by the FDA about people becoming sick after eating the cereal. General Mills makes Lucky Charms and said that an internal investigation failed to find evidence that the cereal was related to reported illnesses. They added that breakfast cereal rarely results in foodborne illness because the baking process typically kills bacteria. But acknowledged products can become contaminated after baking, such as when glazes are added or during packaging. Locally, anyone who becomes ill after eating Lucky Charms may contact the Genesee County Health Department at 585-344-2580.
Crews are continuing their repairs to the USS The Sullivans after the ship was severely flooded due to a hull breach. A member of the U.S. Coast Guard reports that divers have plugged over a dozen holes that were found on the starboard and port side. Once the patching process is finished, the focus of the operation is going to transition to getting the vessel re-floated. The boat has been in Buffalo for years and is named in honor of five brothers who sacrificed their lives for our country.
The New York State Department of Motor Vehicles is reminding motorcyclists about an important deadline that's coming up. The agency says all motorcycle registrations expire on April 30th and must be renewed by then. Motorcycles also must be inspected once a year at a licensed station. More information on how to renew a motorcycle registration can be found by visiting dmv.ny.gov.
---