Genesee County Sheriffs tell us that earlier this month, they responded to the parking lot of Dick's Sporting Goods, following a complaint that a man was trying to sell a gold ring for cash. Following the investigation, it became evident that the man and a female passenger in his car were perpetrating a scam that has previously been identified by law enforcement. Genesee County Sheriff's are asking any citizens who purchased jewelry from an individual in this area, including the Walmart and Batavia Downs parking lots, to contact them directly at 585-345-3000 (Investigator Ryan DuLong, ext. 3572; or Investigator Erik Andre, ext. 3574).
The Genesee County Board of Elections is seeking to hire poll workers for election days and early voting days. Individuals are required to attend a two-and-half-hour paid training session and are paid a competitive daily rate. Anyone interested in being a poll worker should call Genesee County Board of Elections at 585-815-7804.
Governor Hochul has announced New York State is making a $50,000,000 investment to help improve the lives of people who live in Buffalo's East Side neighborhood. Over the weekend, the governor said money would go towards things like job training, housing initiatives and supporting small businesses. The area was devastated May 14th when a gunman opened fire at the Tops supermarket on Jefferson Avenue, killing 10 people and injuring three more in what's been called a racially motivated attack. The store is expected to reopen sometime next month.
Assemblyman Steve Hawley is sponsoring an electronic waste-recycling event with Sunnking from 8:30am until noon this Saturday, June 25, at the parking lot of 5130 E. Main Street. That's next to National Grid, in the town of Batavia. Most e-waste will be accepted, including cell phones, computers, printers and by the way, please no more than 4 televisions or monitors per carload. Anyone interested in attending this event must pre-register:  https://form.jotform.com/Sunnking/clone-of-batavia-2022
28-year-old Megan Gregg of Batavia has been arrested on charges of endangering the welfare of a child. It's alleged that she left controlled prescription pills and drug paraphernalia in an area that was accessible to a child that lives in the residence. Gregg was issued an appearance ticket for a future court date.  Also, 19-year-old McKenzie O'Connell of Batavia has been arrested on two counts of endangering the welfare of a child. O'Connell allegedly provided marijuana to two juveniles and permitted them to smoke it in her residence. She was issued an appearance ticket returnable to Batavia City Court next week and released. And 40-year-old Erik Motquin of Batavia has been arrested and charged with disorderly conduct following a fight in a public building on East Main Street. He was issued an appearance ticket and is scheduled to appear in Batavia City Court tomorrow for arraignment.
53-year-old Paula Kingdollar of Covington was arrested for petit larceny. Troopers investigating the complaint from the owner of a produce stand on Bank Street Road in the Town of Batavia, determined Kingdollar had allegedly taken produce valued at $33.00 without paying for it. Kingdollar was arrested and released with an appearance ticket for Batavia Town Court and is due back in court next month.
Western New York drivers are seeing consistent prices at the gas pumps these days. According to Triple A this morning, the average cost for a gallon of regular fuel is $4.98 in our region. That's the same as it was last week but 14 cents more than this time one month ago is and $1.89 higher than a year ago. The state average is now sitting at $5.01 a gallon and the national average is $4.98. In Batavia, the average price per gallon is $4.89; same as it was yesterday and down 3 cents from a week ago. By the way, average price for diesel here is $6.26 per gallon.
A traffic alert to stay mindful of over the next few days:  Columbia Avenue, Seneca Avenue, and Miller Avenue will experience traffic delays starting tomorrow, June 21st through Friday, June 24th from 7:00am to 3:00pm. The roads will be closed to all through traffic for paving. While local traffic will be permitted to and from their property, everyone should plan accordingly for delays. All residents/businesses within the work area are asked not to park on the roadway during the operation. This is weather dependent work; if work is postponed it shall progress the next workday. Please contact the Bureau of Maintenance at 585-345-6400 Option 1 if there are any questions.
The early voting period continues ahead of the upcoming June 28th primary and the state Attorney General's Office says its Election Protection Hotline is up and running. The hotline can be reached by calling 866-390-2992 and will be available from 9:00am until 5:00pm through June 26th and from 6:00am until 9:00pm on primary day, the 28th. Written requests for election-related help can also be submitted using a form posted online. The AG's office is reminding New Yorkers they have to right to vote free of intimidation in coercion.
No one picked all the winning numbers in this weekend's Powerball drawing and that means even more money is up for grabs tonight. The top prize for this evening is now at least $296,000,000. A ticket to play the game is $2.00. Tonight's drawing will be streamed live online. Please play responsibly.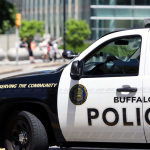 The Buffalo Police Department is expected to release body camera footage of an officer-involved shooting in the coming days. According to investigators, 27-year-old Nakeem Haynes shot and killed 63-year-old Atlas Johnson near Broadway and Sears Street Friday night. At one point, Haynes was on the hood of a police vehicle and opened fire but no one was hit. The officers later ran after Haynes who ended up being shot several times. He was taken to Erie County Medical Center and is charged with attempted murder.
State Police in Warsaw arrested 24-year-old Kodie Skeels, of Varysburg for strangulation, obstruction of breathing, and assault. Acting on an arrest warrant, Troopers went to Skeels' residence and he was taken into custody. Skeels had allegedly been involved in domestic incidents on two different dates. He was remanded to the Wyoming County jail and is scheduled to appear in the Town of Sheldon Court next week.
---