Afternoon News Brief
Written by Doug Thompson on September 16, 2022
The property on the corner of Routes 5 & 63 in the Town of Batavia has sat vacant for years. You'll recall at one time it was Clor's but they've been closed for a while now. For a short time last month, there was a sign for F & M Convenience on the property; but then almost as quickly, it was gone. According to Town Building Inspector Daniel Lang, the man who has leased the property from Benderson Development, Ali Musa, had not gone through the proper channels to open or advertise just yet; Musa is scheduled to go before the Town Planning Board next week. However, some of the products he hopes to sell, a few of which are cannabis related, may not pass code. Although Cannabis sales are legal in the city, that's not the case in the town, which vetoed an option for cannabis dispensaries. Photo by Doug Thompson (8/10/22), WBTA News.
Governor Hochul has signed legislation to make it easier for non-profit and public service workers to access loan forgiveness through the state's Public Service Loan Forgiveness Program. The new bill eliminates substantial barriers to applying for and accessing loan forgiveness. It's a federal program that rewards and provides incentives for public service work by canceling portions of the borrowers' federal student loans. The program requires borrowers to be full-time employees of an eligible public service employer and make 120 qualifying payments toward their student loan, after which the remainder of their federal student loan debt is forgiven. Currently, about 2.7 million people in the state work in the public or nonprofit sectors.
Governor Kathy Hochul today issued a warning to consumers about scammers taking advantage of the recent student debt relief plan to steal borrowers' money and personal information. Scammers will try to create a sense of urgency by impersonating government agencies and promising immediate student loan relief. Borrowers are reminded that it's important to stay vigilant, well informed and prepared for any fraud related to this new relief plan. Protect yourself by making sure websites end in .gov so you can trust the information. Don't trust any person or program that promises you early or special access, or guaranteed eligibility. Don't give out your personal information, including Federal Student Aid ID or social security number to anyone who contacts you. If you encounter a scam, report it. Contact the official Federal Student Aid website to file a complaint, or contact the Federal Trade Commission.
34-year-old Kristin Forte, formerly of LeRoy, was sentenced to a 1-year conditional discharge after pleading guilty to Disorderly Conduct in Batavia Town Court. There were a few charges initially filed against her, stemming from her failure to correctly report her income and forged signatures of her employers. This resulted in her receiving over $3700 in SNAP benefits she was not entitled to. Forte has made full restitution to the Department of Social Services and is disqualified from receiving SNAP benefits for one year. Anyone wishing to report suspected cases of Welfare Fraud in Genesee County can contact the Genesee County Department of Social Services Investigations Unit at (585) 344-2580, ext 6417 or 6541.
Following a violent incident earlier this week, Buffalo Public Schools superintendent Doctor Tonja Williams has issued a statement to parents involving safety. Williams is asking parents to speak with their kids about the importance of engaging in safe behaviors while they're at school. On Tuesday, a 16-year-old student allegedly stabbed a 17-year-old student at the Buffalo School of Culinary Arts and Hospitality Management. The victim was taken to Oishei Children's Hospital for treatment and the suspect is facing charges including assault.
The home opener for the Buffalo Bills is coming up Monday and the team has unveiled some of the new food offerings that'll be available at Highmark Stadium this season. They include beef sliders, large nacho tables, barbecue mac and cheese, and the Shout! chicken sandwich that's covered with sauce, provolone cheese, and crispy onions. There are also some additional drink options that have been added to the Dunn Tire, Toyota and Pepsi clubs at the facility. Kickoff for Monday night's contest between the Bills and Tennessee Titans is set for 7:15.
Lottery players hope luck is on their side as they take their shot at winning two big jackpots that are up for grabs. The prize ahead of tonight's Mega Millions drawing has grown to at least $256,000,000. And, whoever picks the correct numbers for Powerball tomorrow night is going to be $225,000,000 richer. The cost of a ticket to play these games is $2. Both the Mega Millions and Powerball drawings will be streamed live online. Please play responsibly.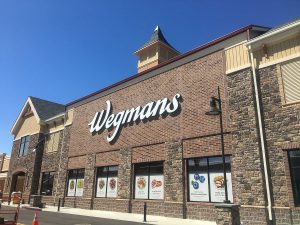 Wegmans shoppers are being urged to check their online accounts to see if they've received a $20 digital coupon. The supermarket chain says it's giving that bonus to customers who have used the SCAN app at least three times over the past 13 weeks to thank them for their loyalty. The app, which launched in the early days of the COVID-19 crisis, gives people the ability to scan their own groceries and then pay for them when they are done shopping. But, due to losses the company has experienced, the app is being discontinued on Sunday.
---