Afternoon News Brief
Written by Doug Thompson on January 13, 2023
19-year-old Joshua Sumeriski of Caledonia initially avoided a state prison term for stealing cars in three counties but has now been sentenced to prison for violating probation. Last summer, he stole vehicles in Cattaraugus, Livingston and Genesee Counties, including one in Batavia. The cars were all recovered and Sumeriski has been sentenced to serve 18 months to four years in prison.
43-year-old Christopher Brown of Alexander has been convicted of distribution of child pornography and being a felon in possession of a firearm. Brown concealed a camera in a bathroom for the purpose of recording a video of a naked minor victim. He then utilized a peer-to-peer network on the Internet to download and distribute a file containing a video depicting a pre-pubescent female. Investigators also found a DVD with recordings of the minor victim and 550 images and 100 videos of child pornography. They also found five firearms, which Brown was legally prohibited to have. He was sentenced to serve 150 months in prison.
There is a winter weather advisory for Orleans county in effect until 4:00am early tomorrow. The National Weather Service is predicting up to 5 inches of snow to fall and for the roads to be slick. There may be brief periods of whiteout conditions, as well.
Rochester police are still on the lookout for the suspect who stole a vehicle that had two children inside of it. The mother of the three-year-old and six-year-old left her kids unattended in the running vehicle when she went into a store in the area of Lake and Phelps Avenues yesterday. The vehicle was then taken before later being found on Dempsey Place. Fortunately, the children weren't hurt.
The Buffalo Bills are going to be taking the field for the first round of the NFL playoffs this weekend against a very familiar opponent. The Bills are hosting their AFC East rivals the Miami Dolphins at Highmark Stadium in Orchard Park. These teams played each other twice during the regular season with the Bills and Dolphins each winning one game. Kickoff for Sunday's contest is set for 1:00.
The losing streak of the Buffalo Sabres has now hit three games after the team once again came up short on home ice. Victor Olofsson and Tyson Jost each scored but the Sabres still fell to the Winnipeg Jets four-to-two at KeyBank Center last night. Sabres goaltender Ukko-Pekka Luukkonen stopped 23 of the 26 shots he faced in the contest. Up next for Buffalo is a road game against the Nashville Predators tomorrow night.
The second largest jackpot in Mega Millions history is up for grabs tonight and lottery players will be lining up to buy their tickets in hopes of claiming the huge prize. The jackpot has risen to $1,500,000,000 (one and a half billion) after no one won Tuesday. And, the top prize for tomorrow's Powerball game is now $404,000,000. Both drawings will be streamed live online. Please play responsibly.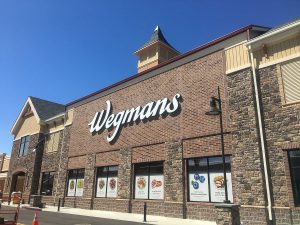 Wegmans will be hosting a virtual hiring event next week as the popular supermarket chain looks to fill hundreds of entry-level positions at its stores. The event is happening on Wednesday, January 18th, from 10:00am until 6:00pm and both part-time and full-time jobs are available. Among the positions that need to be filled are supervisors, shift leaders, and managers in multiple departments. Anyone interested in signing up for the event can do so online at jobs.wegmans.com.
---