Afternoon News Brief
Written by Doug Thompson on January 16, 2023
The New York State Department of Health will be reviewing options following a state Supreme Court decision that struck down a statewide mandate requiring health care workers to be vaccinated against COVID-19. It was decided that Governor Hochul and the state department overstepped their authority by mandating a vaccine that's not included in state public health law. The judge instead sided with the group, Medical Professionals for Informed Consent, a group of medical workers impacted by the vaccination mandate. The mandate protects people most at-risk for serious symptoms and the people who care for them. The State Health Department reportedly strongly disagrees with the court's decision.
One day after what would've been his 94th birthday, the nation is observing Martin Luther King Jr. Day. Expect to find federal and county offices closed. Banks will also be closed and there will be no regular mail delivery.
29-year-old Jordan Difilippo of Pembroke is charged with sex offender failing to report a change of address or status after allegedly failing to disclose an email address to the Probation Department last week. Difilippo was transported to the Genesee County Jail for processing and released on an appearance ticket; he'll return to Batavia City Court on February 9th.
City firefighters issued a press release this morning, in which they provided their total number of calls for 2022: They responded to 2669 alarms, of which 1940 were for emergency medical services. There were 59 fires and 51 motor vehicle accidents. There were also 308 fire or carbon monoxide alarm activations. Here is an entire summary of the calls:
Total alarms for 2022:
Fires, 59
Overpressure Rupture, Explosion, Overheating, 15
Emergency Medical Services, 1,940
Motor Vehicle Accidents, 51
Pedestrian Struck, 14
Extrication (vehicle, machinery, building), 2
Elevator Rescue, 4
Ice/Swift Water Rescue. 2
Hazardous Conditions, 80
Service Calls, 111
Good Intent Calls, 126
Fire / Carbon Monoxide Alarm Activations, 308
Severe Weather, 2
Special Incident Type, 11
Mutual Given, 23
Mutual Received, 15
Fire Prevention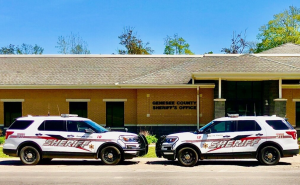 54-year-old Paul Crawford of Batavia is charged with criminal possession of a controlled substance and operating a vehicle with a suspended registration on Old Meadow Lane in Batavia last Thursday. He was issued an appearance ticket and is scheduled in Batavia Town Court on January 25. ALSO: 45-year-old John Gronowski of Cheektowaga was arrested for criminal trespass last Thursday afternoon, for allegedly remaining on the property at Batavia Downs, after previously being told he was no longer allowed to be there. Gronowski was issued an appearance ticket and released.
Rochester police are continuing their investigation into the city's first homicide since the start of 2023. On Saturday night, a 19-year-old employee of a Burger King restaurant on Lyell Avenue was hit by multiple gunshots as he was leaving work for the evening. The victim, whose name has not been released yet, was pronounced dead after being rushed to a nearby hospital. While the motive remains unknown, police say they believe the victim was the intended target of this attack.
Buffalo police say they've made an arrest in connection with a deadly shooting that happened earlier this month. According to police, 28-year-old Jerry Simpson is the person who opened fire on Kensington Avenue January 5th. One man, 36-year-old Jermaine Underwood, was struck by gunfire and died at the scene. A second victim was also shot but is already out of the hospital. Simpson is facing multiple charges including murder and assault.
The Buffalo Bills are one step closer to reaching the Super Bowl after advancing out of the first round of the NFL playoffs. Josh Allen threw for over 350 yards and tossed three touchdowns as the Bills hung on to beat the Miami Dolphins 34 to 31 at Highmark Stadium in Orchard Park yesterday. Running back James Cook also had a rushing score for the Bills. Up next for Buffalo is a home contest against the Cincinnati Bengals this Sunday at 3:00.
Gas prices continue to be unsure which direction to move. According to Triple A today, the average cost for a gallon of regular gas across the state is $3.44. The national average is $3.31. And in Batavia, we're paying $3.33 a gallon; that's up 2 cents from a week ago but down 9 cents from a month ago.
The Buffalo Sabres are back on home ice today as they look to make it back-to-back victories. The Sabres are hosting the Florida Panthers at KeyBank Center in Buffalo. The Sabres are coming off of a 5-3 road win over the Nashville Predators on Saturday; Jeff Skinner, Dylan Cozens, Victor Olofsson, Kyle Okposo and Jack Quinn all scored for Buffalo. The Sabres are in fourth place in the Atlantic Division with 44 points.
The over $1,300,000,000 (billion) Mega Millions jackpot was won by someone in Maine (making that individual more wealthy than Maine's famous resident, Stephen King!), but there is still one pretty large lottery prize that's going to be up for grabs tonight. The Powerball has risen to $416,000,000 (million) after no one picked all the winning numbers for Saturday night's drawing. The odds of getting all six numbers right is an astronomical one in more than 292,000,000 (million). To see the drawing live, visit powerball.com.
---