Afternoon News Brief
Written by Doug Thompson on January 24, 2023
A parolee from Rochester has been arrested and jailed, following a complaint to police of a burglary in progress. Troopers responded to a home on Telephone Road, Pavilion and a short time later, arrested 35-year-old Marco Coles of Rochester. Coles had stolen a car earlier but abandoned it before breaking into the house. Coles was charged with second-degree burglary, felony criminal mischief for damage done while breaking into the home, third degree possession of stolen property and also burglary with intent to steal. He was arraigned and committed to Genesee County Jail without bail. Coles was released from state prison May 2 after serving a five-year term for an attempted robbery conviction in Monroe County in 2017. His parole expired in August but he is on post-release supervision until February 11, 2027, according to state Department of Corrections. Coles also served a four-year term for a 2012 robbery conviction in Monroe.
A woman in Corfu will serve a year of federal probation after she took money from people for a fraudulent charity in Africa. Back in 2015, 57-year-old Julie Keller started soliciting money for what she thought was an orphanage in Africa. She continued to collect money through 2020. She received about $183,000 (thousand), which she deposited in several different banks. Investigation revealed that she knew she was supporting a fake charity but kept fundraising anyway. Each of the banks she worked with shut down her accounts for fraudulent or suspicious activity. It's unclear at this time whether or not she kept any of the money or just sent it to the scammers; however, either way, she was ordered to repay all of the money she took.
The Batavia City School District's Board of Education has unanimously approved an amendment to extend Superintendent Jason Smith's contract through June 2027. In exchange for his long-term commitment to the district, the Board granted Smith non-salary benefits, including a $3000 annual stipend should he choose not to enroll in the District's insurance plan, a $2000 annual increase of his retirement contribution as well as compensation for unused vacation and sick days, which would only be received following his retirement from the District. The amendment to Superintendent Smith's contract will take effect July 1, 2023. An option for both Smith and the Board of Education to extend the contract on an annual basis beyond 2027 is also in place.
An Irondequoit man is facing prison time after being convicted of brutally murdering his girlfriend. It took a jury only a few hours yesterday to find 41-year-old Seth Larson guilty of killing 37-year-old Lisa Shuler. Her remains were discovered in 2021 at the residence she shared in Irondequoit with Larson and also at Durand Lake. Larson will be sentenced in March.
The latest New York State Flu Tracker data shows Monroe County still has the highest number of flu cases in our region, with 132 confirmed cases of the illness during the week that ended January 14th. Erie County has the second highest with 81; and Ontario County, the third-highest number of infections with 35. The overall number of New Yorkers who have contracted the flu since the season started is 300,907.
Newly sworn in Governor Hochul has the highest approval rating she has ever had according to a Siena College poll. Her approval rating average is 56 percent, which is up from 49 last month. Her stance on taxes and making more jobs are the most popular. People polled also think she will make the state safer and work to fix the mental health system. Increasing tuition at SUNY schools was not popular. Democrats were far more likely to approve of her actions and promises but Republicans also approved of the majority of her plans.
According to Triple A, the average national cost for a gallon of regular fuel is $3.45. The state average is at $3.53 a gallon. In Batavia, we're paying an average per gallon price of $3.40, up a penny from yesterday and a nickel from a week ago.
Governor Hochul says three Western New York communities are going to be sharing $19,000,000 (million) in funding. The governor said yesterday some of the $10,000,000 (million) Dunkirk is receiving will be used to create a Strategic Investment Plan. The goal of that plan is to look into economic development, transportation, housing and community projects that'll improve the community's downtown area. Lancaster and Wellsville will be evenly splitting the remaining $9,000,000 (million).
The Buffalo Sabres have extending their winning streak to three games after picking up a victory in the Lone Star State. Owen Power scored the deciding goal in overtime as the Sabres defeated the Dallas Stars 3-2 at the American Airlines Center last night. Victor Olofsson and Rasmus Dahlin also had a goal each while goalie Craig Anderson stopped 29 of the 31 shots he faced in the contest. Up next for the Sabres is a road game tonight against the Saint Louis Blues.
Buffalo Bills quarterback Josh Allen says he's not planning to have surgery on his injured elbow during the off-season. Allen made the announcement yesterday during his end-of-the season news conference, saying he believes resting his arm will be enough for it to fully recover. Allen was hurt during a game with the New York Jets during the regular season but never missed a start.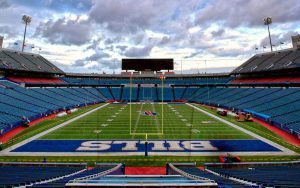 Plans to build a brand-new stadium for the Buffalo Bills have taken another important step forward. Yesterday, the directors of the Erie County Stadium Corporation signed off on a deal that would allow an over one-billion-dollar facility to be built near Highmark Stadium in Orchard Park which is where the team currently plays its home games. The state will provide $600,000,000 (million) for the project; the Bills will pay $550,000,000 (million), and the cost for the county will be $250,000,000 (million). The hope is the stadium can be open for the 2026 season.
Popular country music duo Brooks and Dunn are bringing their "Reboot 2023 Tour" to Buffalo this year. They'll be performing at the KeyBank Center on Saturday, May 13th in the KeyBank Center. Brooks and Dunn will be joined at the show by former American Idol winner Scotty McCreery. Tickets for the concert go on sale this Friday at 10:00am at the box office or through Ticketmaster.
---