Afternoon News Brief
Written by Dan Fischer on January 3, 2022
The National Weather Service has issued a Winter Storm Watch from this Wednesday Evening through Thursday evening.
The watch area includes all of Genesee and Wyoming Counties and most of Erie County.,
Heavy lake effect snow is possible with accumulations of nine inches or more in the most persistent snows. Winds could gust as high as 40 miles per hour resulting in considerable blowing and drifting snow.
The weather service says travel could be very difficult to impossible.
These conditions could impact the Thursday morning or evening commute.
Gasoline prices in Batavia have dropped an average of two cents over the past week. The Triple A now puts the price of a gallon of regular locally at $3.43 a gallon. One year ago this week, gas was selling for $2.26.
An 18-year-old woman who was hit by a pick-up truck, while walking with her 13-year-old sister, in the Orleans County Town of Gains has now been identified.
Deputies say Theresa Karlak was struck and killed on Saturday night along Eagle Harbor Road. The younger girl was injured but will recover.
Authorities believe darkness and poor weather conditions likely combined to cause the accident.
A rechargeable battery exploded in a Perry apartment over the weekend, which then ignited nearby flammable materials. The fire was contained to one room, which sustained smoke and water damage. One tenant was treated at the scene for smoke inhalation.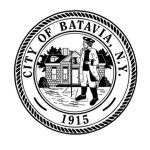 The City of Batavia has started to pick-up real Christmas Trees that are getting past their prime.
The city will dispose of Christmas Trees through the end of the month as weather and operations permit.
The city will only pick-up artificial trees placed on the parkway near the curb. Be sure you remove all ornaments and lights.
---