Evening News Brief
Written by Dan Fischer on October 26, 2021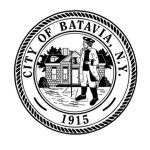 Batavia's Ellicott Station project was launched in March of 2016. Developer Sam Savarino of Buffalo proposed building a craft brewery, apartments and commercial space on the site that was once referred to as the Della Penna property.
Fast forward five and a half years and virtually nothing has been done on the property. Deadlines from the city have come and gone with nothing being done.
Only Ward Six councilwoman Rose Mary Christian seems to have had enough saying she has lost faith in the Savarino company. She voted not to accept a half-million-dollar state grant to help Savarino with demolition costs.
City Council President Gene Jankowski says he's willing to see if Savarino lives up to his latest timeline
City Manager Rachel Tabelski said Savarino would not get this latest grant unless work was actually completed.
Ground breaking will take place tomorrow afternoon for the $13.5-million expansion of Liberty Pumps. The project is expected to create 30 new jobs.
The company sought and received various tax incentives from the county in support of the project.
Since its opening in 1965, Liberty Pumps has become a leading manufacturer of sewage pumps for residential, commercial and municipal systems.
The Buffalo Sabres have snapped their two-game losing streak with a big win over the defending Stanley Cup champions.
The Sabres beat the Tampa Bay Lightning five-to -one at KeyBank Center last night. Buffalo goalie Craig Anderson was solid once again in net, stopping 35 of the 36 shots he faced. Up next for the Sabres is a road game against the Anaheim Ducks Thursday night.
---