A Holley man has been indicted by a Monroe County grand jury for allegedly breaking into a Brockport childcare center and leaving notes expressing his desire to be a baby girl. Charges against 65-year-old Daniel Seeler include burglary in what was described as a sexually motivated felony. Seeler has been a real estate developer in the Holley area, including making major renovations to the former Tagg's Tavern, converting that site into the Holley Falls Bar & Grill. He is no longer involved in managing that site. It's alleged Seeler left money on January 30th and a note requesting adult-size diapers at the Inspire! Learning and Child Care Center in Clarkson. The Center's director contacted police and security cameras were installed. A few days later, Seeler allegedly left a similar note during which time, a security camera alerted the director. A review of the video indicated Seeler was playing with diapers. Monroe County Sheriff's Deputies charged him on February 18th.
An overturned truck made a big mess at the corner of Route 237 and Main. Stafford First Assistant Chief Mark Dougherty tell us it happened just before 2:00 yesterday afternoon when the driver attempted to navigate the intersection at too high a rate of speed. Officers from the Department of Environmental Conservation, the Fire Department and employees of Carolina Eastern helped on scene to clean up the fertilizer spill so it wouldn't get washed into nearby Black Creek. Dougherty added there was a minor spill of Diesel fuel and Hydraulic fluid that was easily contained. The detailed story is available on the website of our news partner, The Batavian; here is a direct link to the story:  https://www.thebatavian.com/howard-owens/truck-spills-20k-pounds-of-potash-in-stafford/636387
Governor Kathy Hochul has signed two pieces of legislation to expand access to opportunities in civil service. This now means that The Department of Civil Service and municipal civil service commissions must provide examination announcements to the local Board of Cooperative Educational Services (BOCES), school districts, public colleges, public universities, local social services districts, and, to the extent practicable, job training programs. It also allows for time an individual spent as a provisional employee to be counted towards their probationary term upon permanent appointment (in the same title position).
Monroe County has taken action to try and reduce the number of drug overdoses. Boxes with naloxone inside of them have been installed at all 22 county-owned parks. Naloxone is a medication that can help save a person's life if they do end up overdosing. So far this year, over 2000 overdoses have been reported in the county and more than 180 of them resulted in an individual's death.
Rochester police say one person is in custody after a woman was hit by a vehicle in the city. The 27-year-old woman was struck by a 29-year-old man in the area of Arborwood Crescent yesterday. She was taken to a nearby hospital for treatment of non-life-threatening injuries. There's no word yet what charges the driver could be facing for his alleged role in this incident.
As reported by Tom Tharp this morning: Assemblyman Steve Hawley, along with his Assembly Republican colleagues, is calling on Governor Hochul to convene a legislative session to address the migrant crisis across the state. Over 100,000 migrants have arrived in New York and communities and localities are struggling to keep up with this recent influx. Hawley believes a special session would help to implement necessary reforms such as instituting background checks for incoming immigrants and giving municipalities the ability to choose whether they want to take in migrants. New York City Mayor Eric Adams said yesterday that the immigration crisis would destroy his hometown if the White House doesn't step in.
A drunk driver is going to be spending time in prison after pleading guilty for his role in a fatal-hit-and run crash. Prosecutors say 48-year-old Rinaldo Pearson admitted to being under the influence when he struck 31-year-old Amber Young on Broadway in Buffalo back in February. Young was brought to a nearby hospital but couldn't be saved. Pearson is facing up to 15 years behind bars when he's sentenced in January.
Brand-new information has been released about a deadly shooting in Niagara Falls last month. The officers involved in the incident have been identified as Kayla Richards and Ian Sitek. While investigating a shots fired call on Niagara Street, Richards and Sitek encountered 53-year-old Benjamin Rivers, who had a gun. He then opened fire towards the officers, which led to them shooting and killing him. Richards and Sitek weren't hurt but they are on paid administrative leave.
People and their pets are being urged to stay away from the water at Ontario Beach Park in Rochester. That's because harmful algal blooms have been spotted in parts of Canandaigua Lake. Exposure to these blooms can cause health problems for both humans and animals. Symptoms include rashes, nausea, vomiting, and even a fever. Anyone who sees a bloom is asked to report it to the state Department of Environmental Conservation.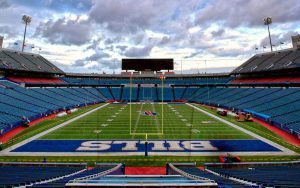 Folks who have ever wondered what it would be like to step on the field at Highmark Stadium will get the opportunity to do so this weekend. A Fitness on the Field event is taking place tomorrow from 8:00am until 2:30pm at the facility in Orchard Park. The cost to attend is $10 and a variety of classes will be offered. To sign up, head to Ticketmaster.com. Spectators and kids 13 and under are free.
ELSEWHERE…
Wendy's is getting into the pumpkin spice game this fall. The Dublin-based hamburger chain has announced that a new pumpkin spice Frosty flavor will be available beginning next Tuesday. The company says the frozen treat introduces hints of pumpkin flavor and spices like cinnamon and nutmeg to the familiar and creamy Frosty texture. A pumpkin spice Frosty cold brew coffee drink will also be available starting next week.
The top prize up for grabs for Mega Millions tonight is at least $122 million. And whoever correctly chooses the winning numbers for Powerball tomorrow night will get $500 million. Both drawings will be streamed live online. Please play responsibly.
The new head of the CDC says COVID-19 is here to stay. Dr. Mandy Cohen spoke at a luncheon in Atlanta this week, saying folks are just going to have to "learn to live with it." Cohen recommended masking, social distancing and other measures to keep the virus at bay. She also said a new booster for COVID will be available as soon as next week.
About two in three Democrat voters say they'd rather see a different nominee than President Biden. That's according to a new CNN poll that says 67% of left-leaning voters would like the party to nominate someone other than Biden. That's up from 54% who said the same in March.
Today is Friday, September 8th, the 251st day of the year.
September 8 in history…
…In 1504, Michelangelo's marble statue of David was unveiled in Florence, Italy.
…In 1664, the Dutch surrendered New Amsterdam to the British who later renamed it New York.
…In 1921, Miss Washington, D.C., 15-year-old Margaret Gorman, won the first-ever Miss America pageant. She received a gold statue of a mermaid and $100. Gorman was crowned the "Golden Mermaid."
…In 1930, the "Blondie" comic strip appeared in the comic pages for the first time. Created by cartoonist Chic Young, the strip originally portrayed Blondie as a Jazz Age flapper, and Dagwood as a carefree playboy.
In 1935, Louisiana Senator Huey Long, likely to become a future candidate for president, was shot in the corridor of the state Capitol. He died two days later at the age of 42. Mr. Long, speaking on the floor of the U.S. Senate, March 5, 1935: "My voice will be the same as it has been. Patronage will not change it. Fear will not change it. Prosecution will not change it. It cannot be changed while people suffer. The only way it can be changed is to make the lives of these people decent and respectable. No one will ever hear political opposition out of me when that is done."
…In 1966, the television show "Star Trek" debuted on NBC. The first season consisted of 29 episodes, and features William Shatner as Captain James T. Kirk, Leonard Nimoy as Spock, and DeForest Kelley as Leonard McCoy.
…In 1969, actor and game show host Bud Collyer died at the age of 61. He was the voice of Superman on radio. He was one of the nation's first major television game show stars. When game show producers Goodson and Todman called Garry Moore about the job, he immediately called Collyer, who told Moore that "I am just not up to it." Collyer died soon after at the age of 61 from a circulatory ailment in Greenwich, Connecticut, on the same day the new To Tell The Truth premiered in daytime syndication.
…In 1974, President Gerald Ford pardoned former President Richard Nixon for any crimes he may have committed or participated in while in office. Ford explained his action as an attempt to end national divisions created by the Watergate break-in.
…In 2006, to mark the 40th anniversary of the premiere of the original "Star Trek" TV series, thousands of fans converged in Seattle to begin a three-day conference at the Science Fiction Museum and Hall of Fame. The Star Trek 40th Anniversary Gala Celebration and Conference included appearances from cast members from the original TV series.
---