Midday News Brief
Written by Dan Fischer on June 24, 2021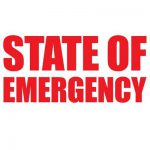 As New York ends its COVID state of emergency today, Governor Andrew Cuomo warns people not to let their guards down
Public health officials are particularly concerned about the delta variant… which is feared to spread more rapidly and possibly cause more severe cases than others. Assemblyman Steve Hawley said the needless restrictions the governor mandated within businesses, schools, places of worship and communities caused a great deal of struggle and suffering.
A Batavia man faces a decade or more behind bars. 53-year-old Matthew Barber has pleaded guilty to having over 1,000 images and 200 videos of child porn. The plea comes following prior federal and state convictions relating to sexual abuse involving a minor. He was arrested after parole and probation officers searched his home and seized a cell phone, which was found to contain images and videos of child pornography. A flash drive containing child pornography was also seized. Sentencing is scheduled for Oct. 27.
While it appears, he's lost the Democratic primary, Mayor Byron Brown might not be ready to give up his job just yet. The Buffalo News reports he's considering a write-in campaign to challenge India Walton who is on track to become the city's first female mayor. However, Brown wouldn't have the support of the Erie County Democratic party who has already pledged to back Walton. The winner of the primary won't officially be known until all absentee ballots are counted.
The State Liquor Authority says alcohol-to-go sales are coming to an end today at bars and restaurants across New York. That means for the first time in several months, those businesses will no longer be able to sell beverages such as wine and cocktails on a to-go basis.
Another sign of a return to normal. The Batavia Concert Band is back with weekly performances in Centennial Park. It was only the second time in the band's 97 year history they had missed a season. The band remained silent last summer due to COVID.
But they are now back, drawing a nice size crowd for their season opener last night. The band will perform every Wednesday night at 7, Centennial Park, until August 4th.
---