Midday News Brief
Written by Dan Fischer on December 22, 2021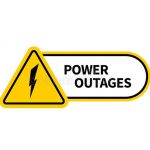 Power was knocked out for over 400 National Grid customers on the west side of Batavia early this morning, for a total of four and a half hours. This resulted when a tractor trailer truck hit a pole and took down lines in the area of 75 North Lyons Street, around 10:00pm last night. At this time, power due to this outage has been restored to all National Grid customers in that area.
The former Santy's Tires building on Ellicott Street, along with the former Soccio & Della Penna building are nearly gone.  WBTA News partner The Batavian reports the project is part of the redevelopment effort downtown known as Ellicott Station. The brownfield redevelopment site has been vacant for many years and has been a challenge to redevelop because of environmental contamination. Grants and tax abatements, about 15 percent of the project's $22 million price tag, help to offset the cost of environmental clean-up. Savarino Companies of Buffalo plans for the site 55 apartments, office space, and a restaurant.
For the second year in a row, students across state are not going to be taking any Regents exams in January. The Education Department has once again canceled the tests due to concerns surrounding the ongoing COVID-19 health crisis. The Board of Regents is now being asked to modify the requirements students must meet in order to earn their diplomas, endorsements or credentials. No decision has been made on whether scheduled Regents exams will happen next June or August.
The Genesee County Chamber of Commerce has advised us that the 2022 Home Show has been scheduled for April 8, 9 & 10. The Show will be held at the Batavia Ice Arena. Vendor applications are being accepted and can be downloaded from the Chamber's home page online and are also available at the Chamber's office, 8276 Park Road. Space is limited and on a first come basis.
The New York State Department of Motor Vehicles announced today that wait times at their offices have dropped to the lowest they have ever been. Many customers are served within 15 minutes. This is due in large part by their offering more than 60 transactions online, including renewing a license or registration, registering a vehicle, ordering replacement documents, and changing an address.
---