He has spent the last 8 months on the run from Batavia police; however, now 21-year-old Devon Wright is in jail. He was taken into custody in Lockport over the weekend without incident and is committed to Genesee County Jail with no bail set. He had been arrested numerous times over the last 3 years but judges have refused to incarcerate him citing bail reform laws as the reason…this was the case, even though in some instances the charges against him allowed for incarceration. Wright repeatedly violated terms of his release and failed to appear for sentencing, resulting in the warrant for his arrest.
A Batavia woman has been charged with injuring an animal after a veterinarian had to treat her French Bulldog for overdosing on narcotics on 3 separate occasions. 30-year-old Cassandra Elmore now faces 3 counts of injuring an animal and owning an unlicensed dog. Officers believe the dog "got into" the narcotic but don't specify how the dog came into contact with the narcotic. Elmore was issued a ticket to appear in court at a later date. Also, 60-year-old Kelly Fossum of Batavia has been arrested for petit larceny. It is alleged that Fossum stole numerous packages of meat from a local grocery store and walked past all points of sale. She was issued an appearance ticket and is due back in Batavia City Court tomorrow.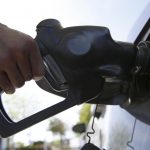 Western New York drivers are feeling a bit more relief at the gas pumps when it comes time to fill up. According to Triple A this morning, the average cost for a gallon of regular fuel is now $4.85. That's down 6 cents from last week and is 12 cents cheaper than this time a month ago. Right now, the state average is sitting at $4.80 per gallon while nationally it is $4.68. In Batavia, the average cost per gallon is $4.72; down 1 cent from yesterday, down 9 cents from a week ago and 20 cents lower from a month ago today.
A Tops employee who is credited with helping save lives during the mass shooting at a store in Buffalo will be meeting with President Biden today. Jerome Bridges and Buffalo Mayor Byron Brown are going to be at the White House when Biden holds an event to mark the passage of new gun legislation. On May 14th, Bridges moved several people into a conference room at the supermarket until the alleged shooter Payton Gendron was arrested. There were ten people killed due to the gunfire and three others were hurt.
The Chautauqua County Sheriff's Department is mourning the loss of one of its members following a weekend drowning. Officials say 62-year-old David Bentley ended up going into the water at Chautauqua Lake in Ellery on Saturday while he was trying to board a boat. People in the area found Bentley and began CPR and he was rushed to UPMC Chautauqua where he was later pronounced dead. Bentley had been with the sheriff's department since 1985 and was promoted to captain in 2019.
The summer concert season is underway, and multiple state agencies are working together to prevent underage drinking at venues across the state. Under an initiative called Operation Prevent, there will be enforcement sweeps to stop the use of fake IDs to buy alcohol. Anyone under the age of 21 who's caught using a phony ID or someone else's ID can get a ticket and have their license revoked for up to a year. Police will also be keeping an eye out for drunk drivers during and after concerts.
The state Department of Motor Vehicles continues to warn New York residents about a new phishing scam. The DMV says people are receiving text messages claiming that the state is offering 15-hundred dollar rebates due to high gas prices. Anyone who clicks on the message is directed to website that appears to be associated with the DMV but it's actually aimed at stealing their personal data. More information on phishing scams and tips on how to avoid becoming a victim can be found at its.ny.gov/resources.
---