Midday News Brief
Written by Dan Fischer on March 17, 2021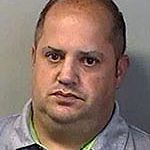 The case against Michael Tomaszewski has been delayed again.
A plea deal is expected in the case against the former Batavia funeral director. Tomaszewski was been charged with more than 200 counts of grand Larceny. He's accused of accepting prepayment funds for funeral services and not placing the money in a truck account, as required by law.
He was in court earlier this month where his acceptance of a plea deal was widely anticipated. Now, his case has been put off until April 13th.
Michael Tomaszewski
New York State's Assembly now has a top team of lawyers to lead the impeachment investigation into Governor Andrew Cuomo. Assembly Speaker Carl Heastie says the team at Davis Polk And Wardwell will be authorized to go after all evidence in regards to serious allegations against the governor. One of the attorneys was part of a team investigating Russian interference in the 2016 election and part of the prosecution of former Trump campaign manager Paul Manafort.
Starting today, even more New Yorkers are going to be eligible to receive their COVID-19 vaccinations. Among those who can now get their shots include public works employees, DMV employees, sanitation workers and child service caseworkers. The hope is by vaccinating those individuals, it will further limit the spread of the coronavirus since they're often in contact with other people.
The Kiwanis Club of Batavia Easter Egg Hunt is a rite of spring.
Last year, the egg hunt was cancelled entirely due to COVID-19 but this year Kiwanians has vowed to hold the egg hunt – with some modifications.
Instead of hunting for eggs all at one time on one morning, the hunt will be spread out from this Friday through the end of March.
A golden egg will be placed in Centennial Park in different places at different times.
The egg hunt is open to all kids 12 and under. The finder of each day's Golden Egg will win a Chocolate Bunny from Oliver's Candies.
Complete details are in this story 
The Buffalo Sabres have fired head coach Ralph Krueger has been relieved of his duties.
He has been with the team since 2019 and was the sixth coach of the Pegula ownership.
The Sabres have struggled through the 2021 season, they have a 6-18-4 record and are currently on a 12-game losing streak. Krueger finished his tenure with the Sabres with a 36-49-12 record
No word yet on who will replace him as head coach of the team.
---