Midday News Brief
Written by Dan Fischer on January 12, 2021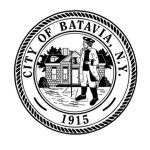 Batavia City Hall has proposed a tax rate increase of 1.38-percent for the next fiscal year. It means that if your home is assed at $75,000, your city property taxes will go up by just under $10 a year.
The proposed spending plan, drafted by City Manager Rachel Tabelski, also lays off one ordinance enforcement officer and leaves unfilled two vacant police officer positions and three vacant firefighter posts. The plan will increase water rates by about $17.56 per year.
All of this is subject to final approval by city council. They can add or delete items from the budget but the final budget must be ready by April 1st.
Council did approve a five year agreement with CAN-USA sports to lease Dwyer Stadium for a Perfect Game Collegiate Baseball League team.
The owner that team, Robbie Nichols of Elmira, is holding a news conference later today to announce details. Major league baseball eliminated the Class A NYPL league, and along with it, the Batavia Muckdogs.
City Council has thrown its support behind a $500,000 dollar grant application to renovate the Batavia Showtime Movie Theatres on Alva place. There is no city money involved.
Owner Ken Mister is planning to convert the twin screen movie house to one theatre and the remaining place into an event center for various forms of entertainment, meetings and trade shows.
Gov. Andrew Cuomo says additional groups of people will be eligible for the COVID-19 vaccine including "public-facing grocery store workers," in-person college instructors and people living and working in homeless shelters. The initial groups of Phase 1b now eligible for the COVID-19 vaccine included those 75 and older, first responders, Corrections Officers, teachers and other school staff, childcare workers and public transit workers.
Millions of Americans will be spending two bucks today in hopes of winning a whole lot more money. That's because tonight's Mega Millions jackpot has soared to $615-million.. That's the fourth-highest amount in the history of the game and the eighth largest prize in U.S. lottery history. The live drawing will take place at 11 p-m and be broadcast online at megamillions.com.
---