Midday News Brief
Written by Dan Fischer on April 21, 2021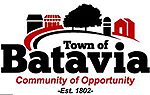 Some public opposition has been expressed over a proposed outdoor shooting range on Harloff Road in the Town of Batavia.
Developer Brandon Lewis, who owns the Firing Pin range in Bergen needs a special use permit in order to proceed with his Harloff Road project.
Lewis is proposing more than a shooting range.
Resident Rich Schildwaster says that's where his concern comes in:
Other residents spoke out against the noise of the range.
The public hearing was conducted by the Town of Batavia Planning Board. No action was taken on the proposed project.
Genesee County reports 21 new positive cases of COVID-19. Twenty-seven of the previous positive individuals have recovered and have been removed from the isolation list. Seven of the current positive individuals are hospitalized.
The Rotary Club of Batavia has donated an AED defibrillator to the Salvation Army. The 15-hundred dollar device is used on persons in cardiac arrest.
Todd Rapp says in the time he has been with Salvation Army there have been at least two instances where s defibrillator could have been used.
The Batavia City Fire Department provided the Army with training on how to use the device.
As expected, the border between the United States and Canada is going to remain closed for a bit longer. Yesterday, U.S. Customs and Border Protection said the shutdown will stay in place until at least May 21st. Officials say there are still lingering concerns about the number of COVID-19 cases in both countries. The ban still allows Americans to travel to Canada by air, however they're being asked to quarantine for two weeks upon arriving.
Members of the Assembly Judiciary Committee are scheduled to meet today to discuss the impeachment inquiry involving Governor Cuomo. The Committee Chair says over 100 tips have been received as the investigation into the governor moves forward. The governor has come under fire lately after several women came forward claiming he sexually harassed them, allegations that he has denied.
---