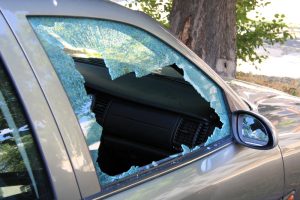 A trio of suspected thieves were arrested for a string of larcenies across New York State, according to the Monroe County Sheriff's Office.  They said that the three Rochester women, accused of running an organized theft ring, were caught driving a stolen Hyundai rental car in Gates after allegedly stealing merchandise from a store in Amherst.  Deputies said the suspects, 24 year old Kashmonay Holley, 30 year old Shekeyla Callahan, and 23 year old Nahzaire Murray, have multiple outstanding arrest warrants from several law enforcement agencies across the state.  Murray is a suspect in 42 larcenies with a total estimated loss of $198,000.  Holley is suspected of carrying out 14 reported larcenies with losses totaling $98,000, and Callahan is suspected in three larcenies.  Deputies turned the women over to New York State Police to answer for their warrants.
A man is found dead on Genesee Street in Rochester.  Police are investigating after a man was found dead with "traumatic injuries" outside a minimart Thursday morning.  Officers responded to the area of Genesee and Sawyer streets just after 6 a.m. for a report of a male down.  First responders found a man dead, apparently after taking some sort of fall.  Police continue to investigate what led to his death. His identity hasn't been released.
HP Hood announced that it is going to be growing its operations in Batavia at the Genesee County Agri Park.  The project will include the addition of new processing systems, along with other upgrades which will allow the company to increase capacity for the production of additional extended-shelf-life beverages at the Batavia facility. As a result, the company has committed to creating up to 48 new jobs at the manufacturing facility.  The total project cost has been placed at $120 million. Genesee County is also considering providing incentives for the project. Greater Rochester Enterprise also assisted with the expansion effort. Construction on the planned updates is expected to be completed in the first quarter of 2025.
The sales tax on cigarettes in New York State will increase by $1 starting today.  The state's current sales tax on a pack of 20 cigarettes is $4.35, and will now jump to $5.35 statewide.  The average smoking rate in New York State is 12 percent.  Vendors will also be required to display health advisories in close proximity to the products and outside the stores, warning customers of the dangers of nicotine addiction and smoke inhalation.  Those signs will be on display by Sept. 30 and will be up until June 2025, according to the American Lung Association.
Kipenzi, a 6-year-old Masai giraffe at the Seneca Park Zoo, has been diagnosed with cancer, the zoo announced Thursday.  Kipenzi underwent a high-risk procedure Aug. 15, with a team of veterinarians performing a biopsy and radiograph on a growth on her jaw.  The biopsy results revealed the growth is a squamous cell carcinoma and is invasive through the jaw bone.  Due to its location they cannot remove it with surgery.  The zoo said Kipenzi's medical team will continue to monitor her health closely, especially her ability to eat and maintain a healthy weight.  If the growth grows large enough that she can't eat, zoo staff say they may have to euthanize her.  
Did you look up in the sky and see some words or perhaps a smiley face looking back at you on Thursday?  Nathan Hammond flew a 1956 deHavilland Chipmunk to skywrite above Rochester, Batavia and Buffalo Thursday to get people's attention about the Batavia Airshow coming up Saturday.  Hammond started writing in the sky about 20 years ago using a paraffin based smoking oil.  He says there are only 4 skywriters in the US and about a dozen worldwide.  His plane is going to be part of the finale for the show on Saturday and Sunday.  The airshow starts at 5:00PM each day and runs until 9:00PM. Gates open at 2:00PM.
---