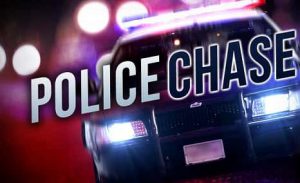 Three suspects were detained after a lengthy police chase that started in the city and leaked into Henrietta Monday evening.  Rochester police officers responded to Flint Street before 6 p.m. for the report of an armed robbery. Through investigation, a suspect vehicle was identified, and was seen in the area of Mount Hope Avenue not long after.  Officers started to pursue this vehicle, which led them into the Henrietta area. The pursuit was then stopped due to safety factors, but a short time later, the vehicle was found with nobody inside in the Corn Hill area, police said.  Three suspects were taken into custody, according to officers. No injuries were reported, and the investigation is ongoing.
Deputies are investigating charges against a sergeant assigned to the Monroe County Jail Bureau.  The Monroe County Sheriff's Office responded to a residence on Burritt Road in the town of Parma Saturday night for the report of a disturbance.  Deputies ended up arresting 37 year old Evonne Kushner of Hilton, and charged her with third-degree assault and endangering the welfare of a child.  Kushner has been assigned to administrative duties outside of the jail as the investigation continues, deputies said.
The New York State Education Department is looking to expand English as a Second Language Services to meet the needs of migrant children.  The Education Department is proposing to amend requirements for educators to create flexibility so they can more easily obtain supplementary certificates and supplementary bilingual extensions.  Those extensions would enable more teachers to become available to support students who speak English as a Second Language.  The amendment would give candidates the option to either complete the examination requirement for a certificate or the enrollment and educational requirements rather than needing both sets of requirements.  The proposed rule would take effect tomorrow through august of next year, but it is expected to be presented to the board of regents for adoption as a permanent rule at its January meeting.
The Water Meters in the City of Batavia are going to be replaced starting next week.  This project will replace older water meters with new advanced metering infrastructure technology water meters which will increase water-use efficiency, reduce operational costs, and promote sustainable green infrastructure practices.  The city was awarded 730,000 dollars in a Green Innovation Grant from the New York State Environmental Facilities Corporation to do the replacement.  Residents and businesses with water meters that are required to be replaced will receive letters in the mail detailing what to expect and how to schedule your water meter replacement appointment.
The Labor Day weekend has passed and gas prices have remained more or less the same as they were prior to the heavy travel holiday. According to Triple A today, the national average cost for a gallon of regular fuel is $3.83. The state average – always just a little bit higher – is at $3.89. In Batavia, we're paying the same as the national average, $3.83; that's down a penny from a month ago and 23 cents less than what we were paying a year ago today.
The Buffalo Bills are off to a tough start to their 2023 season after falling to a division rival on the road. Bills quarterback Josh Allen threw for 236 yards and a touchdown but also had three interceptions as his team lost to the New York Jets 22-to-16 in overtime last night at MetLife Stadium. New York played a majority of the game without QB Aaron Rodgers who left the contest due to an apparent Achilles injury. Buffalo's next game is this Sunday at home against the Las Vegas Raiders.
---