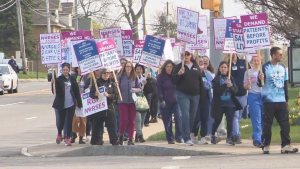 Nurses Picket Outside RGH
The contract for nearly 2,000 caregivers and service workers at URMC is set to expire today.  If the union and hospital leaders do not reach a deal, the union could send the hospital a notice of an informational picket.  The union employees would still report to work but join the picket during their time off.  This comes after months of negotiations and a 22-day-long bargaining session.  The union is asking for increased wages that will help them recruit and retain staff and improved benefits.
Buffalo police continue to search for the person who pulled the trigger in a weekend shooting. Authorities say two men and a woman were struck by gunfire yesterday in the area of Clinton Street and Jones Street. All three victims were brought to Erie County Medical Center where they were treated for non-life-threatening injuries.
The trial date has been set for the man who is accused of attacking author Salman Rushdie. The case against Hadi Matar is scheduled to be laid out in court beginning January 8th, and Rushdie is expected to be a witness. Rushdie was preparing to give a lecture at the Chautauqua Institution last year when he was brutally assaulted with a weapon and suffered wounds to his neck, stomach, eye and chest. The trial is projected to take about two weeks.
Gas price update.  Western New York drivers are saving money at the pump when it comes time to fill up their vehicles. According to Triple A, the average cost for a gallon of regular gas in Batavia is now three-76. That is down 2 cents in the past week and is also 8 cents less than this time one month ago. Currently, the state average is three-75 a gallon and the national average is three-49.  Oil prices have stayed up around 80 dollars a barrel despite lower demand because of the war in Israel causing global tensions.  
The Buffalo Sabres have picked up a big win after shutting out one of the top teams in the National Hockey League on home ice. Tyson Jost, Casey Mittelstadt, JJ Peterka and Rasmus Dahlin all scored as the Sabres beat the Colorado Avalanche four to nothing at KeyBank Center yesterday. Buffalo goaltender Ukko-Pekka Luukkonen stopped all 23 shots he faced in the contest. Up next for the Sabres is a game against the Philadelphia Flyers Wednesday.
Despite all of the upcoming expenses for infrastructure and jail to house men and women out on Route 5, Genesee County Taxpayers should see a decrease in their bill. This next year's all-funds budget of $182,790,077 is $20 million more than the 2023 adopted budget and includes a tax rate that is 37 cents less than the current tax rate, or an expected $8.08 per $1,000 assessed value. For a home assessed at 100,000, if nothing has changed with its assessment this past year, the annual tax bill will decrease by $37. An increase in sales tax revenue is cited as the reason the county has extra money on hand to use for all the new projects and not charge them to the residents.
---