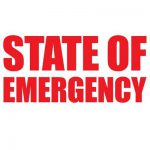 On March 7, 2020, Gov. Andrew Cuomo issued a state disaster emergency in response to the COVID pandemic. At the end of the day, the order will be lifted. Federal CDC guidance will remain in effect, which includes masks for unvaccinated individuals, as well as all riders on public transit and in certain settings, such as health care, nursing homes, correctional facilities, and homeless shelters. State and local government health departments will still be able to ensure mask rules and other health precautions are adhered to in those settings. According to Cuomo, New York went from one of the worst infection rates to the lowest infection rate in the country, and it was all because of the efforts of New Yorkers who were smart, united and did what they needed to do.
A wicked story continues regarding a brutal murder on a Main Street to our south in Allegany County. A Wellsville teenager was sentenced Wednesday afternoon to ten years in state prison for his role in a brutal murder last March. Judge Thomas Brown handed down the sentence to 17-year-old Jason Darden for his role in the savage beating death of Nicholas Burdge inside a North Main Street apartment. Seven others were also charged. One defendant, Howard Burroughs, will head to trial January 10, 2022. Burdge was murdered after hours of torture.  His body was later dumped in the Genesee River. Darden was initially charged with second-degree murder, kidnapping, manslaughter, first-degree gang assault and conspiracy.
A Batavia man has pleaded guilty to having over 1,000 images and 200 videos of child porn. The plea comes following prior federal and state convictions relating to sexual abuse involving a minor. 53-year-old Matthew Barber made the admission in federal court. The charge carries a mandatory minimum penalty of 10 years in prison. He was arrested after parole and probation officers searched his home and seized a cell phone, which was found to contain images and videos of child pornography. A flash drive containing child pornography was also seized. Sentencing is scheduled for Oct. 27.
New York State will provide $25 million in child care scholarships to all essential workers starting right away. Essential workers include first responders such as health care providers, pharmaceutical staff, law enforcement, firefighters, transportation workers, food delivery workers, grocery store employees and others. This is the first in a series of new investments to support working families and the child care industry through the federal Coronavirus Response and Relief Supplemental Appropriations Act and American Rescue Plan Act. Workers who need child care can contact their local child care resource and referral agency to find openings.
During the early morning hours, a motorist was in need of some assistance at Main and Oak in Batavia and two Batavia police officers stopped to help change a tire — Pete Flanagan and Jordan McGinnis. Tom Wood is the former chief for Le Roy. He said he was driving past and couldn't stop for a picture but says he thought the officers deserved some recognition. According to Wood, with all the negativity around police officers, he thought I\he should share this moment.
---