Morning News Briefing
Written by WBTA STAFF on March 13, 2020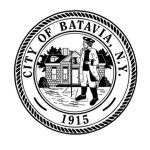 The City of Batavia has issued a statement listing precautions they are implementing to keep City employees and residents safe from the spread of flu and coronavirus.
City staff has been directed to attend meetings via conference call and all City meeting facilities and conference rooms will be closed for external bookings and meetings until further notice.
They have a ban on all non-essential travel for personnel training, with online training being encouraged and staff will continue to clean all facilities and wipe down all "high-touch" surfaces during the day.
City Management will be attending daily internal briefings to assess readiness and stay up to date on the latest developments.
The City, County Manager, emergency personnel and other public organizations will continue to coordinate with each other to keep information flowing.
A number of local establishments and organizations have postponed or cancelled events as a precaution to protect public health.
The Batavia Indoor Soccer Tournament scheduled for this weekend is cancelled.
The New York State Public High School Athletic Assocation winter regional and state championships will be postponed indefinitely.
Friday's Lenten Fish Fries from St. James Episcopal Church in Batavia will be Takeout only and dining in has been cancelled through April 3rd.
Le Roy Village Green have implemented visitor restrictions and screens for staff and essential visitors.
Premier Genesee Center for Nursing & Rehabilitation has banned visiting March 25th.
Genesee Community College is closing classrooms through the 18th to resume via remote on March 19th, through the end of the semester.
All inmate visitation is suspended at the Genesee County Jail until further notice.
All Monroe County hospitals, including Rochester General and Unity Hospital are implementing enhanced visitor restrictions and visitor screenings beginning today at 12 p.m.
Rochester Regional Health is extending the enhanced visitor restrictions and visitor screenings to all RRH facilities, including all RRH hospitals and long-term care facilities within and outside of Monroe County.
Access to Rochester Regional Heath facilities will be limited to designated entrances only and they will be staffed to screen visitors at arrival.
Visitors will be asked upon arrival if they are experiencing a cough, fever or shortness of breath.
The number of New Yorkers being treated for the coronavirus is continuing to climb steadily.
Officials say there are over 300 confirmed cases of the disease statewide.
Starting at five p-m, there will be no gatherings of 500 people or more allowed until further notice.
Any locations holding fewer than 500 people can only operate at 50 percent capacity.
Places like schools, hospitals, mass transit facilities and nursing homes aren't subject to the restrictions.
Officials say they hope this decision limits the spread of coronavirus statewide.
Law enforcement across New York will be keeping an extra eye out for drunk drivers over the next few days.
State Police say their Saint Patrick's Day patrols begin today and run through Wednesday.
Travelers can expect to see more sobriety checkpoints as Troopers look to get unsafe drivers off the road.
Over 250 people were arrested for drunk driving during last year's crackdown period.
The Buffalo Sabres may not be returning to the ice anytime soon.
The team was supposed to play the Montreal Canadiens last night, but the game never happened since the NHL decided to suspend the season.
Officials say the decision was made because of concerns over the spread of coronavirus.
The NHL is hoping to resume play soon and eventually award the Stanley Cup.
If the Sabres play again this year, they have 13 games left in the regular season.
---
Reader's opinions
---