Police Advisory Committee to be Expanded
Written by Dan Fischer on August 18, 2020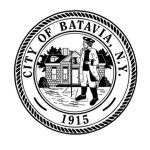 After previously announcing membership categories of the City of Batavia Police Advisory Stakeholder Group, the City will add four additional community members to solicit further insight from the community.  To the extent possible, these citizens will be chosen from a cross section of wards and community groups serving "people of color," as referenced in Governor Cuomo's Executive Order No. 203.  The City will strive to ensure proper representation for all.
"The advisory group will open dialogue and add value to the relationships between City government employees, the police department and community residents," said Rachael Tabelski, Interim City Manager.   "As we move forward, the stakeholder meetings will be open for the public to attend, while adhering to COVID-19 protocols."
"We look forward to beginning this process and engaging with citizens in the community," said Shawn Heubusch, City of Batavia Police Department.  "The City Police Department is comprised of men and women who take the job of protecting and serving our community very seriously.  We all look forward to working with the stakeholder group to improve our already robust service and training."
"All individuals should be held to the same standard.  No one is above the law; whether civilian, law enforcement or government official and those that break the law should be held accountable." added Heubusch.
With this expansion, the Police Advisory Stakeholder Group will now consist of 19 members, including:
City Manager;
Police Chief;
Assistant Police Chief;
City Attorney;
One City Council member;
Six citizen representatives;
Batavia Housing Authority Director;
Director of a not-for-profit that serves human interests (e.g. YWCA);
District Attorney representative;
Public Defender representative;
Batavia Police Benevolent Association representative;
Batavia City School District Superintendent;
Community religious leader;
Business leader representative.
The Stakeholder Group will help identify recommendations for more effective strategies, policies, and procedures to better serve all residents within the City of Batavia.  This plan will be developed over the fall and winter, and must be adopted by the City of Batavia by April 1, 2021, per Executive Order No. 203.
Citizens interested in being a member of the Police Advisory Stakeholder Group should send their name, phone number, address and email address to the office of the Interim City Manager, Rachael Tabelski.  Address:  City of Batavia, One Batavia City Centre, Batavia, NY 14020 or via email rtabelski@batavianewyork.com
---
Reader's opinions
---