State DOT to Perform Pavement Marking in Batavia
Written by Dan Fischer on June 15, 2020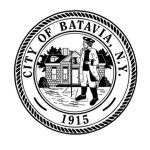 Motorist in the City of Batavia are advised that New York State Department of Transportation will be
re-applying centerline and edge striping on NY Rt.5, NY Rt. 33, NY Rt. 63 and NY Rt. 98 in the City of
Batavia. This will be evening work when traffic volumes are reduced.
If you have questions, contact the Bureau of Maintenance at 585-345-6400 opt. 1.
---
Reader's opinions
---