Thursday News Brief
Written by Doug Thompson on September 7, 2023
The Monroe County Sheriff's Office is issuing a warning to regional residents about an ongoing scam. Authorities say scammers have been posing as members of law enforcement and trying to get people to pay for missing jury duty. In at least one instance, a person was told that they would be arrested for not following specific instructions. Officials say anyone who gets a call like this shouldn't give out any personal information over the phone. They're also asked to contact the sheriff's department.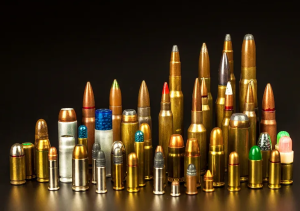 Starting next Wednesday, September 13, gun retailers will be required to submit background checks on ammunition sales to New York State Police instead of directly to the FBI. This is part of gun legislation Governor Hochul signed last year. State police will now contact the National Instant Criminal Background Check System, which is operated by the FBI, after a gun retailer reaches out to them for a background check. A sale can only be complete once a "proceed" response is received. Someone who fails an ammunition background check will have 30 days to appeal, according to state police. There will be a $9 fee for a firearm background check and a $2.50 payment for an ammunition check. Fees will fund the state's background check system.
The number of asylum seekers who are staying in Rochester has risen once again. More than 70 migrants arrived from New York City and are being housed at the Holiday Inn on State Street. These individuals are from several countries including Peru, Venezuela, and Columbia and primarily speak Spanish. Since August, more than 230 asylum seekers have been sent to Rochester from the Big Apple.
An accident in Wyoming County led to over 9000 gallons of liquid manure spilling in Genesee Falls. A tractor-trailer owned by Edelweiss Farms rolled over late Tuesday afternoon. It ended up on its side with hydraulic fluid leaking and the entire contents of its liquid manure tank spilling out. According to the Wyoming County Office of Emergency Services, the Pike Fire Department was able to contain the spilled contents with the assistance of the Wyoming County Hazmat Team. The NYS DEC monitored the cleanup on Wiscoy and East Koy Road. No one was injured in the accident. The truck and trailer suffered extensive damage. The cause of the accident remains under investigation.
The search is still underway for the suspect who stole three very expensive vehicles from a dealership in Clarence. Authorities say the used vehicles have a value of over $500,000 and were taken from the Mercedes-Benz of Buffalo dealership on Main Street Sunday. The suspect was able to get access to the key boxes and take the vehicles during a period of several hours. They were later recovered, but this is the second time since July car thieves have targeted this dealership.
As reported by Tom Tharp this morning: A man with a significant criminal history was sentenced after being convicted of robbing a delivery driver at knifepoint in Rochester last year. Prosecutors said 32-year-old Orlando Velazquez, a persistent violent felony offender, was sentenced to 20 years to life in prison for threatening a driver with a knife on Monroe Avenue before robbing them on the morning of September 5th of 2022. Police said Velazquez was taken into custody moments after the incident, and was found in possession of stolen property.
A man is now facing felony charges after leading police on a pursuit in Niagara County. A sheriff's deputy tried to pull over 36-year-old Fabian Carter, III near Saunders Settlement Road and Garlo Road in Lewiston yesterday, but he refused to pull over. That started a chase that ended when a tire-deflation device was used, which caused the vehicle to stop near the border of Cambria and Lockport. Carter ran from the vehicle but was taken into custody. No one was hurt during the pursuit.
The New York State Department of Motor Vehicles is proposing some new regulations aimed at getting dangerous drivers off the roads. The agency is calling for the number of points associated with reckless driving activities to be increased. The DMV also wants to lower the threshold at which dangerous drivers are disqualified from the right to hold a license. Finally, the DMV wants to decrease the bar for permanent license forfeiture for people who keep being convicted of driving under the influence.
The American Red Cross has rolled out its latest incentives to boost the number of people who donate blood. Anyone who rolls up their sleeve to donate the rest of this month will get an email for a free haircut courtesy of Sport Clips. They'll also be entered to win a trip for two to NASCAR Cup and Xfinity Series races at Darlington Raceway in South Carolina next year. To find a donation location in your area, head to redcrossblood.org.
The results of a brand-new study show that fans of the Buffalo Bills are the booziest in all of the National Football League. According to British Gambler, Bills supporters consume an average of 3.3 alcoholic beverages per game. That puts them ahead of the fan bases of other teams such as the Philadelphia Eagles, Dallas Cowboys and Las Vegas Raiders. Fans of the Carolina Panthers finished in last place with 2.2 alcoholic beverages per game.
ELSEWHERE…
A trove of items owned by the late Freddie Mercury is up for auction. They include handwritten lyrics to some of Queen's biggest hits. The items were on display in a traveling exhibit over the summer. The legendary singer died in 1991. Proceeds will go to the Phoenix Mercury Trust and the Elton John AIDS Foundation.
A Tennessee woman is setting a new Guinness World Record with the help of a whole lot of hair. According to Guinness officials, Tami Manis has the longest competitive mullet of any woman on earth. Manis says she began growing her mullet out in 1990 and it now measures 68-inches in length, four inches taller than she is! She says most of the time her hair is braided and tucked away to prevent her from stepping on it.
New projections show Hurricane Lee could make it all the way to the East Coast. The hurricane formed over the Atlantic Ocean on Tuesday and is expected to strengthen into a Category 4 storm by Saturday, with wind speeds up to 150 miles per hour. Hurricane Lee could strengthen into a Category Five storm, as temperatures in the Atlantic are warmer than usual.
Using the Internet is linked to cognitive benefits to older people, according to new research. A study out last month in the Journal of the American Geriatrics Society found that people between 50 and 65 who use the Internet regularly see their chances of developing dementia drop by nearly 9%.
Senate Minority Leader Mitch McConnell has no plans to retire amid concerns over his health. The Kentucky Republican told reporters today he plans to finish his term as leader and in the Senate. This comes after two recent medical incidents where McConnell froze up while taking questions from the press.
Today is Thursday, September 7th, the 250th day of the year.
September 7 in history…
…In 1915, former cartoonist John B. Gruelle was given a patent for his Raggedy Ann doll.
…In 1954, Hall-of-Fame football coach Glenn "Pop" Warner died at the age of 83. He is credited with discovering the man hailed by many as the greatest athlete of all time, Jim Thorpe.
…In 1978, Rock and Roll Hall-of-Famer Keith Moon died at the age of 32. He was the drummer for the rock group The Who.
…In 1998, the Japanese cartoon "Pokemon," debuted in syndication in the United States, which helped launch Pokémon into a nationwide phenomenon.
---