34-year-old Casey Vaughn of Batavia has been arrested. He's charged with criminal contempt. It's alleged Vaughn violated a complete stay-away order of protection by allowing the protected person to enter his residence. He was transported to the Genesee County Jail and held pending a Cap Court arraignment.
The Genesee County Local Drug Enforcement Task Force searched a house at 14 Spruce Street on Saturday and arrested 4 people. 30-year-old Michael Torres, 32 year old Jason Freeman, 24-year-old Haley Lardner and 63-year-old Dawn Morford were all arrested and charged with criminal possession of a controlled substance and criminal possession of a weapon. The search warrant was a result of a several month investigation into the illegal possession and sale of narcotics from 14 South Spruce Street and weapons possession. Torres, Lardner, Morford and Freeman were held at the Genesee County Jail pending Cap Court arraignment.
The City of Buffalo has officially released its snow plan for the upcoming 2023-2024 winter season. Highlights include improving communication with residents when bad weather strikes and also maintaining a fleet of dozen of plows that can be used for snow removal. Mayor Byron Brown says he's happy with this plan and he's praising everyone who worked to create it. For more information, head over to https://www.buffalony.gov/.
As reported by Tom Tharp this morning: It's a national story that has local implications: The United Auto Workers union and General Motors have reached a tentative agreement, which, along with agreements with Ford, may mean an end to the autoworkers strike. The big 3 automakers agreed to very generous deals to get the workers to go back to work. Negotiators got them pay and cost-of-living raises that would top 30% by the time the contracts expire in April 2028. Workers would get an immediate 11% pay bump upon ratification. Over 4 thousand workers in New York will be getting back to the job if the deal goes through. Though analysts say that the new contracts will cause a big jump in auto prices and cost the big 3 billions of dollars. Time will tell how this impacts the market and consumers.
Beginning November 1, applications for the Home Energy Assistance Program benefits will be accepted. Eligibility is based on income, household size, primary heat source, and whether there are elderly residents or children in the house. One HEAP benefit will be awarded to eligible households per program year. Those currently receiving Temporary Assistance and/or SNAP benefits may qualify for an automatic regular HEAP benefit and may not be required to file a separate application. Interested applicants are encouraged to apply as soon as possible.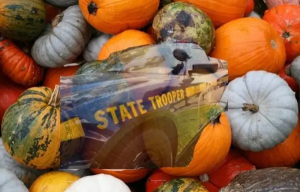 Halloween has arrived, and tonight, State Police and volunteers will be teaming up for the annual Pumpkin Patrol. The goal is to prevent Halloween pranks on the Thruway and to protect people from drivers who take part in dangerous activities such as speeding or being behind the wheel while under the influence of drugs or alcohol. About 200 volunteers from more than a dozen counties will help Troopers with this initiative. State Police took over running the Pumpkin Patrol in 1990.
The Buffalo Bills have signed veteran running back Leonard Fournette to the team's practice squad. The 28-year-old spent the last three seasons with the Tampa Bay Buccaneers and won a Super Bowl back in 2021. Fournette was released by Tampa Bay in the off season after scoring three touchdowns and rushing for 688 yards last season. Buffalo's current starting running back James Cook is eighth in the NFL in rushing.
Some of the biggest music stars of the 80s and 90s are coming to Western New York next year. New Kids on the Block, Paula Abdul, and DJ Jazzy Jeff will be at the Darien Lake Amphitheater as part of the Magic Summer 2024 Tour on August 22nd. Both Abdul and DJ Jazzy Jeff have won Grammys and the New Kids on the Block were nominated for the prestigious award. Tickets for the show go on sale to the general public November 3rd.
ELSEWHERE…
Witches, black cats, and other images associate with Halloween have a history that goes back 2,000 years. The ancient Celtic fire festival called "Samhain" marked the close of harvest and the initiation of the winter season. It was believed to be a time when the souls of the dead could return to the earth. Black cats became a symbol of the day because some believed souls could inhabit their bodies. The broomstick used by witches is symbolic of the magical powers of women, because it's employed in the cleansing of ritual places.
A man who was found dead inside a Colorado amusement park was potentially planning an attack. The Garfield County Sheriff's Office says the man broke into the amusement park in Glenwood Springs after hours on Friday, dressed in full tactical gear and armed with multiple weapons and loaded magazines. Multiple improvised explosive devices were also found with the suspect and in a car believed to be his.
It's unlikely you'll ever be forced to wear a COVID mask on an airplane again. The Senate has passed an amendment to a spending bill that bans federal funds from being used to enforce face-covering mandates on airlines, trains and buses.
Today is Tuesday, October 31st, the 304th day of the year.
October 31 in history…
…In 1926, legendary illusionist Harry Houdini died at the age of 52.
…In 1941, Mount Rushmore was completed.
…In 1942, Bing Crosby's hit song "White Christmas" topped the pop singles chart.
…In 1963 The Beatles returned to London after a five-day tour in Sweden. They were greeted at Heathrow Airport by hundreds of screaming fans and a mob of photographers and journalists. TV host Ed Sullivan was there as The Beatles arrived, experiencing Beatlemania first-hand; he decided to look into getting the group to appear on his show.
…In 1969 David Bowie appeared at a Halloween event in England. The gig lasted about 15 minutes and Bowie sang "Space Oddity" to everyone's delight. Afterwards, he sat down and read poems and was booed off stage.
…In 2003, a 14-foot-long tiger shark bit the arm off of 13-year-old surfer Bethany Hamilton when she was out for a morning surf with her best friend's family in Kauai.
…In 2006, after 35 years at the helm, beloved game show host Bob Barker announced he would retire from CBS' "The Price Is Right" at the end of the 2006-2007 TV season.
---