Wednesday News Brief
Written by Doug Thompson on September 13, 2023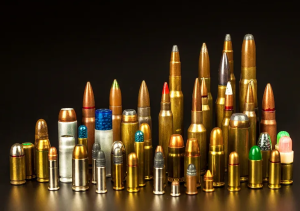 Gun and ammo dealers in Western NY are supposed to be starting the background checks on ammo purchases today but many are saying they have been given no information on what they are supposed to do. Several gun shop owners say they have followed advice from the State Police and registered online but there is still no information, including what the background check questions are. As a result, stores will be unable to sell ammunition without knowing how to complete the required background checks.
Jury selection is expected to begin next week in the murder trial of Kelvin Vickers. On Monday, the defense and prosecution will start the process of picking the panel that will decide Vickers' fate. Vickers is accused of shooting and killing Rochester Police Officer Anthony Mazurkiewicz last year. Mazurkiewicz's partner, Officer Sino Seng, was also hit by gunfire but survived. The trial is expected to last up to five weeks.
Former Irondequoit police chief Alan Laird is facing possible prison time. It's alleged that Laird and Steven Rosenbaum, his business partner in a local security business, cashed checks from clients, failing to report over $5 million in earnings from 2016 to 2021. Court documents state that over the five-year period, Laird and Rosenbaum did not report more than $5 million of income. Instead of depositing checks from clients into a business bank account, they cashed them at a local business. Prosecutors allege that approximately $2.5 million was used to pay employees, with the remainder being split between Laird and Rosenbaum. Laird is ordered to pay restitution to the IRS, which his attorney expects him to have paid in full by sentencing. Laird could face up to three years behind bars.
State Attorney General Letitia James is calling on the National Weather Service to take action that may end up saving lives. James wants alerts to be sent out to cell phones warning people of dangerous weather events such as ice storms and snowstorms. The AG is citing last year's deadly blizzard in Western New York as a reason why these alerts are needed. Dozens of people died between December 23rd and 27th, and many locations had to deal with several feet of snowfall.
Niagara Outfitters is offering folks the opportunity to take a tour along the Erie Canal free of charge. The local business says people can use electric bikes during their trip that goes through Middleport and Lockport and lasts about two hours. The tours are open to anyone 16 and older and are scheduled to start this weekend. To find out more information, visit niagaraoutfitters.com.
New York Governor Kathy Hochul says lawmakers are entertaining every option when it comes to solving New York's asylum seeker crisis. The governor is working on language that would grant migrants work authorization at the state level. More than 100,000 new arrivals have become dependent on New York City's right to shelter law, weighing on city resources.
The co-owner of the Buffalo Bills and Buffalo Sabres has been named in a lawsuit accusing him of making racist remarks. The legal action taken by former reporter Jim Trotter against the NFL claims that Terry Pegula made offensive comments involving Black football players; Trotter says the NFL did not renew his contact because he challenged top league officials regarding the NFL's lack of diversity and history of discrimination. Pegula says Trotter's allegations against him are false and racism has no place in society.
Josh Allen blames himself for the Bill's loss to the Jets and Coach Sean McDermott agrees. When asked after the game about the loss, McDermott talked about the 4 turnovers that Allen was responsible for. He said Allen can play better and smarter. McDermott also said that this kind of sloppy play will not win in this league. The team will try to get to 1-1 coming up on Sunday when they play their first home game against the Raiders at 1:00.
Former Syracuse University and Buffalo Bills wide receiver Mike Williams has passed away at the age of 36. Williams died yesterday in Tampa, Florida days after being seriously injured in a construction accident that left him partially paralyzed. Williams grew up in Buffalo and played for Syracuse from 2006 until 2009. During his career in the NFL, he had over 3,000 yards receiving and scored more than 20 touchdowns. He leaves behind an eight-year-old daughter.
ELSEWHERE…
McDonalds is planning to make some big changes. The Chicago-based fast-food giant says it will eliminate self-serve soda and beverage stations in dining rooms across the nation by 2032. That means customers will no longer be handed cups to fill up on their own. The move comes as the company has seen a recent surge in business through its drive-thru and delivery services.
Dozens of ducks have decided to make a backyard swimming pool their home. A family in Apple Valley, in the Inland Empire of Southern California, believes they know why the feathered friends decided to stop by and stay. The homeowner says they get other unusual birds in their backyard as well. Recently they've been visited by turkey vultures.
CAPTURED: After two weeks on the run, the convicted killer who escaped from a Pennsylvania prison has been captured. Authorities announced the arrest of Danelo Cavalcante this morning, with further details expected in the coming hour. The 34-year-old Brazilian native had just been sentenced to life in prison the week before he scaled a wall and broke out of the Chester County Prison. Cavalcante was convicted of brutally stabbing his former girlfriend to death in front of her two young children.
Cases of flesh-eating bacteria may be on the rise in the U.S. Some experts think climate change is fueling the expansion of the Vibrio bacteria, which thrives in brackish water and is more commonly a problem in Florida, Louisiana and Texas. But this summer there was a death in Missouri, two in Connecticut, one in New York and three in North Carolina from the bacteria.
The American Red Cross is sounding the alarm about a nationwide shortage of blood. The agency says the problem is due to fewer people deciding to roll up their sleeves and donate during the summer months. The Red Cross is currently trying to recover from a 30,000 blood and platelet donation shortfall in August. Anyone who is interested in donating can find a clinic in their area by heading to redcrossblood.org.
This week's Monday Night Football game was the most-watched in ESPN history. More than 22-million viewers saw the matchup between the New York Jets and Buffalo Bills at MetLife Stadium. The previous record was set during a 2009 game between the Minnesota Vikings and Green Bay Packers when quarterback Brett Favre made his return to Lambeau Field.
Today is Wednesday, September 13th, the 256th day of the year.
September 13 in history…
…In 1948, Republican Representative Margaret Chase Smith defeated Democrat Adrian H. Scolten by a margin of 71 to 29-percent. She became the first woman to represent Maine in the Senate, and the first woman to serve in both houses of Congress.
…In 1953, Marilyn Monroe made her official television debut on "The Jack Benny Show."
…In 1963, Mary Kay cosmetics was founded by nine people sitting around Mary Kay Ash's kitchen table.
…In 1969, "Scooby-Doo, Where Are You!" premiered on CBS.
…In 1971, the four-day uprising at New York's Attica Correctional Facility came to an end. 42 people died when 1,500 National Guardsmen and state police stormed the prison.
…In 1977, the television show "Soap" debuted on ABC. It was the first show to include a viewer discretion warning.
…In 1983, the U.S. mint struck the first gold coin in 50 years — the Olympic Eagle.
…In 1986, "Pee-Wee's Playhouse," starring Paul Reubens, debuted on CBS. In its entire run the show won 15 Emmys.
…In 1992, the Buffalo Bills and the San Francisco 49ers set an NFL record when neither team punted the ball throughout the entire game. Jim Kelly and Steve Young each threw for more than 400 yards. The Bills won 34-31.
…In 2004, to celebrate the 19th season opener of her highly-rated talk show, Oprah Winfrey surprised the 276 members of her studio audience with new cars. Every audience member received a Pontiac G-6 sedan worth $28,600. Making the giveaway worth nearly $8 million.
---