Afternoon News Brief
Written by Doug Thompson on October 27, 2022
43-year-old John Sumlin the 3rd of Batavia has been arraigned on charges of burglary and assault after he allegedly broke into a home on West Main Street. He is accused of holding a knife to a woman's neck, hitting her and threatening to kill her and her children and then breaking her television. Sumlin was arraigned and is being held without bail. Charges include Burglary, Criminal Contempt, Criminal Mischief, Assault and Menacing. He will be back in court November 1st.
26-year-old Aaron Hendershot of Batavia has been indicted by a Genesee County Grand Jury and charged with second-degree criminal mischief for damaging a city police car, for damaging property belonging to a woman and obstruction of governmental administration.
A former Batavia woman convicted of driving while high on drugs has been indicted and charged a second time, just three weeks after her conviction. 38-year-old Marcella Greene is charged with felony driving while impaired by drugs, reckless driving and misdemeanor criminal possession of a controlled substance. The indictment accuses Greene, who has had multiple arrests for drug-related charges, of driving while high in the city of Batavia last spring. She was convicted on March 31 of misdemeanor driving while high on drugs, also in the city. Greene most recently was arrested on warrants charging her with failure to appear in court for unauthorized use of a motor vehicle. She also was arrested in December at a local hotel, where she was found with crack cocaine with intent to sell. She served a four-year prison term for a drug-dealing conviction in Genesee County in 2014.
The Batavia Police Department tells us that "rainbow fentanyl" pills have recently been located in the City of Batavia. The drugs were found in a local gas station bathroom and turned over to officers. The tablets are blue in color and stamped into the shape of a bear. There hasn't been any association between these pills and Halloween, but the department wants to remind parents to check their children's candy before consumption. If any candy is opened, appears to have been tampered with, or looks suspicious, throw it out. If any illegal drugs are located in Halloween candy, please contact the police department at 585-345-6350. Have a safe and Happy Halloween! Photo provided by Batavia Police.
The latest data from the State Department of Labor puts the unemployment rate in Genesee County at 2.5%, down a third of a percent from a month ago and the same as it is in Wyoming County; the two counties have the lowest rates in the GLOW region. Nationally the unemployment rate is down from 4.6% last month to 3.8%, while New York State's overall rate dropped a full percentage from 4.9 to 3.9. Bronx County in New York City continues to have the highest unemployment rate in the state at 7.2%, although that's down from 8.4% from a month ago. There are only a few counties in the state, one of which is Yates, with unemployment rates of 2.4%.
The City of Batavia invites residents to attend the opening of the forthcoming Mall Market. Visit the Batavia City Centre Mall on Saturday, October 29th for the first Mall Market day. And then mark your calendars for future Mall Market Days: November 12, November 19, November 26, December 10, and December 17. The Mall Market will be open from 8:00am to 11:30am. Porter Farms, Garner Farms, and Tastefully Simple are among the vendors who will be on hand. Applications are still being accepted! Anyone interested in endorsing their business or promoting their products is encouraged to apply at https://bit.ly/BataviaMallMarket.
State Senator Sue Serino wants to close what she calls a loophole in the law when it comes to mandated reporters of suspected child abuse. She is advocating an amendment to the law, which would spell out that teachers, doctors and others who are mandated reporters must "report any suspected abuse directly to law enforcement" irrespective of the relationship the abuser has with the child. This follows the conviction earlier this week of Kirk Ashton. He's the former principal of a Hilton elementary school who abused 21 students over the course of four years; parents there believe if more people had reported the abuse, it could have been stopped sooner.
Governor Hochul has joined the large number of New Yorkers who have already received their flu shot as the state tracks three respiratory illnesses. She is encouraging everyone to get the flu shot now since this year's flu season has started earlier than usual. She adds the state is still monitoring COVID-19 and urges residents to get an updated booster shot. The governor's office is also checking local data to see if there's a spike in the Respiratory Syncytial Virus which typically affects young children.
The New York State Department of Motor Vehicles has a timely reminder for us to keep a close eye out for moose and deer while we're traveling. Data from the University at Albany's Institute for Traffic Safety Management and Research showed that last year; 41-percent of the crashes involving deer and vehicles happened in October, November and December. Officials say that deer and moose are very difficult to spot during dawn and dusk when visibility is already low. Drivers should slow down if they see an animal and try to avoid swerving so they don't collide with another vehicle or objects like trees and utility poles.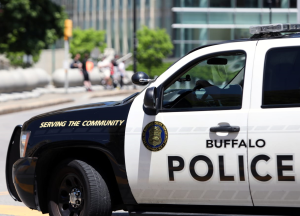 The Buffalo Police Department has released brand new information on the upcoming launch of its threat management unit. The unit will be made up of four detectives and a detective sergeant who will be in charge of investigating threats made towards the public that could lead to a large number of casualties. Members will also be responsible for handling extreme risk protection orders and racially and ethnically motivated violent extremism cases. The unit is expected to begin its work next month.
After a long road trip, the Buffalo Sabres are going to have the support of their home crowd when they take the ice tonight. The Sabres are set to host the Montreal Canadiens at KeyBank Center. Buffalo is coming off of a tough five-to-one defeat at the hands of the Seattle Kraken on Tuesday night. Face-off for this evening's contest is set for 7:00.
---