Artistic Abilities Run in the Their Families
Written by WBTA STAFF on March 24, 2020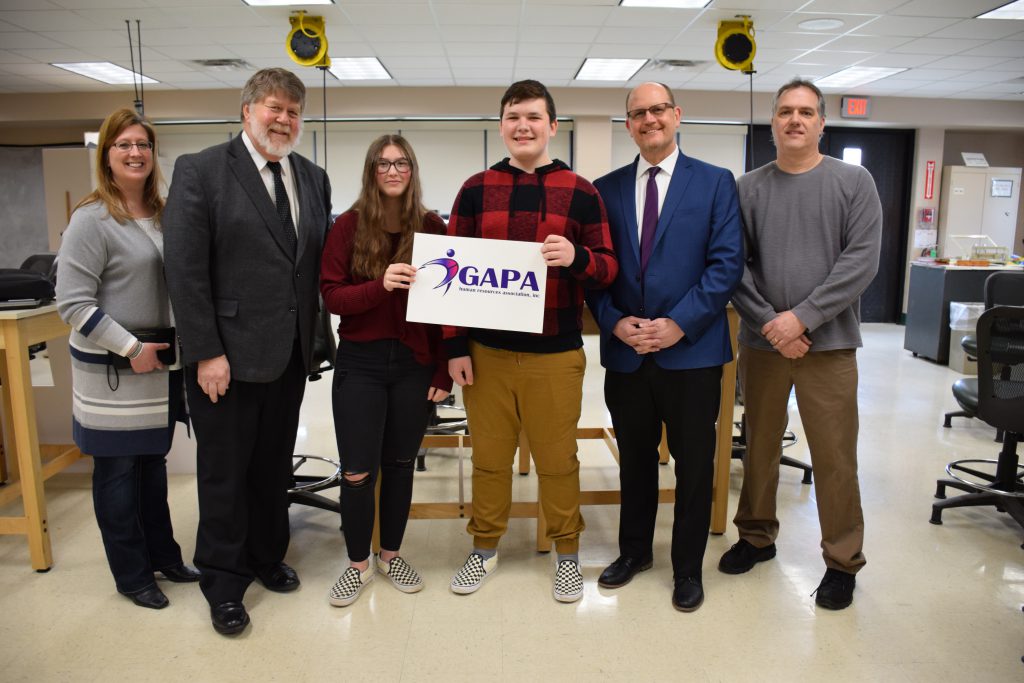 GAPA Logo Contest photo caption: (left to right) Brenda Lee Heineman, Norb Fuest, Megan Johnson, Blake Paserk, Steve Mahoney and Doug Russo.
Press Release:
Batavia, New York, March 23, 2020 – Blake Paserk, a junior from Batavia High School, and Megan Johnson, a junior from Oakfield-Alabama High School, are first-year students in the Graphic Arts Program at the Batavia Career and Technical Education (CTE) Center. When Doug Russo, the Graphic Arts Instructor at the Batavia CTE Center, shared with his class that the Genesee Area Personnel Association (GAPA) wanted to develop a new logo, both Megan and Blake jumped at this chance to use their creative talents.
"When Mr. Russo asked Blake and me to work on this project and enter the contest, that made us feel great that he had confidence in us and in our work," Megan said.
Artistic abilities run in both Megan and Blake's families. Blake's mother is a photographer. He enrolled in the Graphic Arts Program because he wanted to learn more about how to use Adobe Photoshop, Adobe Creative Suite graphic design software used by photographers and graphic artists. Megan's father owns a sign and promotional items company. Megan explained that her father uses graphic design software in his work and that she hopes to someday use the skills learned in the Graphics Arts Program to help in the family business.
This creative duo worked together for one week to design the GAPA logo and they came up with three different designs. The inspiration for the final design that was selected is a person with open arms; an idea that both students thought represented human resources.
"I think the graphic represents a welcoming concept," Blake said. "We choose the pink and purple colors because the colors compliment each other but also contrast."
Russo explained how this project all came to be.
"Norb Fuest contacted me to see if my students could design a logo for GAPA. My students worked in groups and we sent concepts to GAPA for their consideration. GAPA voted and chose Blake and Megan's design," Russo said.
Norb Fuest is the Treasurer for GAPA. He explained how this logo contest came to be. "This year notes the 50th anniversary of our organization. We thought this would be great time for us to develop a new logo and the idea was posed to ask these Graphic Arts student to submit their concepts," Fuest said. "There were many quality logos that the students submitted and it was a difficult decision to narrow it down to one design."
Megan and Blake's design will be used in all GAPA materials. Fuest and Russo, as well as, two other GAPA members, Steve Mahoney and Brenda Lee Heineman, recently recognized Megan and Blake and presented them with a $250 honorarium for their efforts.
---
Reader's opinions
---