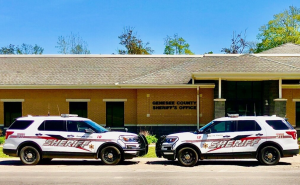 45-year-old Jeremiah Krupp of Batavia has been arrested and now faces two charges of criminal contempt. It's alleged he violated a stay-away order of protection by calling and threatening the protected party. Krupp was held at the Genesee County Jail for CAP Court.
A grand jury has indicted two people for their alleged roles in a fatal drive-by shooting in Rochester earlier this year. Prosecutors say 18-year-old Keyvin Miller and 26-year-old Kirsean Chatfield were involved in the shooting death of 21-year-old Eric Martin in May. Martin had just dropped off a family member on Dewey Avenue when several shots ended up being fired in his direction and he was killed. Investigators don't believe he was the intended target. Miller and Chatfield are due in court next month.
Two police officers and a Good Samaritan are being called heroes following a rescue at the Erie Canal in Brockport. On Sunday, officers responded to the area of Merchant Street after getting a report of someone in the water. They arrived to find a woman struggling to stay above water and saying her friend could not swim. The officers and the Good Samaritan worked together to get the two to safety and both individuals are already out of the hospital.
Nearly 150,000 United Auto Workers members across the country including thousands in Western New York are teaming up to fight for better pay and benefits. During a live-streamed announcement late Thursday evening, union leaders laid out the details of a strategic strike in which workers at different plants go on strike at different times. According to previous reports by the Associated Press, the union is demanding a 36% boost in pay over four years, and the automakers countered with offers that are roughly half of that increase. Ford and GM have both offered a 20% increase, and GM is offering 10% in the first year. In western NY there are 3 plants employing roughly 3500 people in Buffalo, Tonawanda and Lockport. It's unclear how long the strike could last, but supply chain experts warn that a strike similar to the one in 2019 that lasted nearly 40 days would have drastically worse consequences, including a 30% decrease in vehicle production.
State Police have arrested a Western New York man after accusing him of sexually abusing multiple children. Troopers say they received a complaint about the alleged abuse of kids who were under the age of ten years old. An investigation led to 21-year-old Carry Keyser of Allegany County facing several charges. After being taken into custody, Keyser was sent to the county jail.
Some new policies are now in effect for football games involving Buffalo Public Schools teams. Each player and cheerleader will be able to invite three student spectators to each home contest. Adults can also attend so long as they provide proper ID and minors must be accompanied by an adult. Last week, a brawl broke out during a game at All-High Stadium, which resulted in several arrests.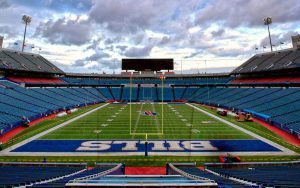 The Buffalo Bills are hoping the support of their home crowd helps push the team to its first victory of the season. The defending AFC East champions are hosting the Las Vegas Raiders at Highmark Stadium in Orchard Park. The Bills are coming off a devastating 22 to 16 overtime loss to the New York Jets on Monday night. Kickoff for Sunday's contest is set for 1:00.
ELSEWHERE…
Researchers with NOAA are still marveling over the discovery of an unidentified organism found off the Gulf of Alaska. Scientists found the golden orb-like organism late last month during an expedition by Seascape Alaska. It is dome-shaped and smooth and gold in color. They don't know what it is but they'll be working in the lab to find out.
Tropical storm warnings are being issued in several states as Hurricane Lee barrels toward New England. WFXT in Boston says the hurricane is on track to bring wind damage and flooding to the state this weekend. The National Weather Service says Lee will pass offshore of New England on Saturday, but its impact will be felt far from the storm's center.
Health experts are warning of another "tripledemic" this cold and flu season. The CDC predicted Thursday that COVID-19, RSV and influenza will be impacting the healthcare system much the same way it did last season. For the first time ever, vaccines for all three respiratory viruses could be available at many hospitals.
Former President Trump says it's "very unlikely" he'd pardon himself if he were elected in 2024. Speaking with Kristen Welker on NBC's Meet the Press, he claimed he did nothing wrong. The former president has been indicted four times this year, twice in federal court and twice in state courts.
The top prize up for grabs tonight in Mega Millions is $162 million. Whoever chooses all six winning numbers for Powerball tomorrow night will get $596 million. Both drawings will be streamed live online. Please play responsibly.
New York Jets quarterback Aaron Rodgers is taking the first steps towards recovery after tearing his Achilles tendon. Mark Mayfield has details:
Today is Friday, September 15th, the 258th day of the year.
September 15 in history…
…In 1853, the South Butler Congregational Church recognized Antoinette Brown Blackwell as its minister, making her the first ordained woman minister in the United States.
…In 1949, "The Lone Ranger" premiered on ABC.
…In 1954, a blast of air from a vent on 51st Street and Lexington Avenue in New York City lifted Marilyn Monroe's dress while filming a scene for the film "The Seven Year Itch."
…In 1965, the crime drama "I Spy" debuted on NBC. It was the first show to feature an African-American in a leading role: Bill Cosby. Robert Culp was his co-star.
…In 1981, the U.S. Senate Judiciary Committee unanimously approved Sandra Day O'Connor for the U.S. Supreme Court. This would make her the first woman to ever become a justice on the Supreme Court. She served from 1981 until 2006.
…In 1997, google.com was registered as a domain name. However, Google didn't launch its webpage until a year later, on September 27th 1998.
…In 2008, opening statements began in the armed robbery and kidnapping case involving former football star O.J. Simpson in Las Vegas. Simpson and his golfing buddy Clarence Stewart stood accused of burglary, armed robbery, coercion and kidnapping after they allegedly stole memorabilia items from two dealers at the Palace Station hotel in September 2007 with a group of men. Simpson was later convicted and sentenced to prison time.
…In 2015, Facebook CEO Mark Zuckerberg announced that the social networking site is working on a "dislike" button.
---