Morning News Briefing
Written by Dan Fischer on August 14, 2020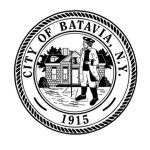 The citizen committee assembled by city hall to draft a plan to control the city's deer population, has suddenly quit.
In a meeting yesterday that lasted about 30-seconds, the Deer Management Committee claimed that they were quote, "disrespected, lied to and lied about" by City Hall. Interim City Manager Rachel Tabelski, in a statement issued later, said the deer plan drafted by the committee was a "good start" and thanked committee members.
All this came as city council as late as last month praised the deer committee for the time and effort they put into the plan.
The plan was set for a final vote next month.
The flap is reminiscent of the dust up and confusion earlier this year when an ad-hoc group tried to use a city park for a rally promoting social justice.
The snafu eventually led to the ouster of the last city manager.
Two new positive cases of coronavirus have turned up in LeRoy.
The health department says one of the individuals is under 20, the other in in their 20s. Fourteen new individuals are on precautionary quarantine due to travel from restricted states.
The Batavia Police department is looking for anyone with information about a reported collision between a pick-up truck and a bicycle.
That happened yesterday morning between 8 and 8:30a.m. at the intersection of East Main and Vine.
The bicyclist was taken to UMMC for treatment of his injuries.
If you saw the mishap, or have any information about it, BPD wants to hear from you.
A location in Orleans County is reportedly under consideration for an Amazon distribution center.
A representative for the Village of Medina and the Orleans County Economic Development Agency tells our news partner 13-WHAM the Medina Business Park is under consideration for the $300 million project.
The representative says, after a deal involving a potential location on Grand Island fell through, the county was notified it was being considered.
Republican lawmakers in the State Senate and Assembly are planning to hold more hearings on the impact COVID-19 had on nursing homes.
The first of several virtual hearings will be held on Monday morning.
Health Commissioner Doctor Howard Zucker testified in front of lawmakers earlier this month, but would not reveal exactly how many nursing home residents died after getting the COVID-19.
The death toll is believed to be over six-thousand.
After a day off, the Toronto Blue Jays are going to be back in action at Sahlen Field tonight.
They'll be hosting the Tampa Bay Rays, who are going to be spending the weekend in Buffalo. This will be the third game the Blue Jays have played at the home of the Buffalo Bisons.
First pitch for tonight's contest is set for 6:37p.m.
---
Reader's opinions
---