Wednesday News Brief
Written by WBTA STAFF on July 19, 2023
25-year-old Tyshon Taylor of Batavia has been sentenced to 20 years in prison as a result of his knife attack of a man on Jackson Street last October. His lawyers' defense centered on the system having failed Taylor; they argued that his mental health struggles and threats of violence against self and others should have indicated needs for treatment. Taylor had an obsession with killing someone or himself according to his defense. Prior to the incident, he had just left treatment at U of R emergency when he decided to walk through Batavia looking for someone to kill. The victim of the stabbing now lives in fear of walking outside and has been unable to return to work full time because of his injuries. Taylor entered a guilty plea on March 28. This week, he was sentenced to 20 years in prison with 20 years of post-release parole. A direct link to the comprehensive story by our news partner The Batavian, is provided below:
https://www.thebatavian.com/howard-owens/batavia-man-given-20-years-in-prison-for-random-knife-attack-of-man-walking-on-jackson
62-year-old Ronald Washburn of Stafford has been sentenced to six years in prison with 10 years of post-release supervision. He was convicted of molesting two children for whom he was babysitting. The initial charge was related to abuse of a child under the age of 11 years between February and April 2018; further investigation revealed Washburn molested another child while babysitting between July 2008 and July 2012. He was already a Level 1 registered sex offender, which is the lowest ranking on the registry. This meant that his information is not public record on the state website. Washburn was previously convicted of attempted rape in Wyoming County in 1996 and had served nearly three years in state prison.
32-year-old Jada Coursey of Warren, Pennsylvania was arrested in Darien and charged with harassment and endangering the welfare of a child following a domestic incident. It's alleged she struck another individual in front of a child. Coursey was released with an appearance ticket for Town of Darien Court for August 8th.
The committee that's developing a memorial to the victims of the deadly mass shooting at the Tops Friendly Market on Jefferson Avenue wants to hear from the public for ideas. At an organizational meeting this week, the Reverend Mark Blue says the entire project will take some time. Funding for the memorial will come from local supporters, the state and a capital campaign fund. A final meeting on the project will be held August 15th at the Stanley Makowski Early Childhood Center.
Buffalo Police say a 21-year-old woman who was struck by a car this past weekend has died from her injuries. The woman was identified as Sydney Lohr from Buffalo. She died yesterday after she was struck on Elmwood Avenue Saturday night. Police say the car was heading southbound on Elmwood when it collided with Lohr, who was crossing the street at the time. Police say they don't expect to file charges though the investigation into the accident continues. Lohr was a member of Chi Omega at Saint Lawrence University and was about to start her senior year.
Western New York's first cannabis dispensary opened in Buffalo yesterday to long lines and plenty of customers. The dispensary is called Dank 716 and its owner — Aaron Vancamp — spent about seven years in prison for selling marijuana in 2010. He was eligible to own a dispensary after the state's Cannabis Control Board voted to set aside the first round of licenses to those with prior marijuana convictions.
A West Seneca man has been found guilty of murder. After a five-day trial and ten hours of deliberation, juror found Jarius Kedzierski guilty of one count of murder in the second degree. Authorities say in July of last year he got into an altercation on Edson Street and stabbed the victim to death. Kedzierski faces a maximum sentence of 25 years to life in prison. He is scheduled for sentencing on August 29 and continues to be held without bail.
The event called America's biggest garden walk returns to Buffalo at the end of this month. People can pick up a map and give themselves a self-guided tour from 10:00 until 4 p.m. on July 29th and 30th. The free maps are available at Canisius High School field house, St. Mark School and Westside Community Services.
As reported by Tom Tharp this morning: The Batavia Business Improvement District has canceled the Italian Festival that was scheduled for July 29th. The festival was scheduled to coincide with a classic car cruise but it was decided, according to BID director Shannon Maute that the group would focus on other things. There will be a boxcar derby on Ellicott Avenue on August 26th and the annual wine walk will take place in October. (Photo: LinkedIn)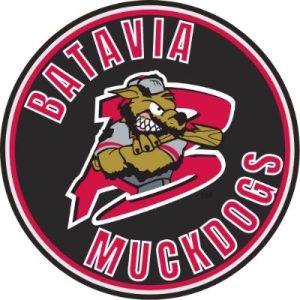 The Muckdogs fall to 2nd place with their loss to Jamestown last night, but look for revenge on $1 Hot Dog Weenie Wednesday night tonight as they host the Tarp Skunks. The game gets underway at 6:35.
ELSEWHERE…
A new report says nearly 800,000 Americans die or become disabled each year after being misdiagnosed. The report from Johns Hopkins University says patients are being diagnosed with the wrong conditions across a range of healthcare settings each year. The researchers estimate about 370,000 of those patients die from their misdiagnosis, while over 420,000 are permanently disabled.
Former President Trump is making his first public comments after learning he could be facing a federal indictment related to the January 6th riot at the U.S Capitol. Speaking Tuesday in Iowa, Trump reiterated his claim of "election interference." Earlier in the day, Trump announced he received a letter telling him he's a target in special counsel Jack Smith's criminal investigation into the 2021 attack.
The investigation into the Gilgo Beach murders in New York continues as officials build their case against suspected serial killer Rex Heuermann. The search for answers is expanding to South Carolina where FBI agents said they recovered Heuermann's older Chevy Avalanche truck, which could be a potential key piece of evidence in the case. Evidence teams have been back into Heuermann's Massapequa Park home.
Actor Tom Cruise reportedly tried to broker a deal between SAG-AFTRA and the Hollywood Studios. According to the Hollywood Reporter, Cruise spoke with representatives of the Alliance of Motion Picture and Television Producers and urged them to consider establishing protections against artificial intelligence. Cruise also spoke with reps for Hollywood actors and asked them to consider allowing the promotion of projects during the strike. No word if Cruise's efforts to establish some compromise between the two parties were taken seriously. However, sources who were there for the meeting described the exchange as "uncomfortable." (Photo: Tom Cruise attends the premiere of "Mission: Impossible – Dead Reckoning Part One" in New York on July 10.)
Federal officials are investigating after an airplane emergency slide was found in the backyard of a Chicago home. Officials say the slide is from a United Airlines flight and it caused damage to the home Monday afternoon. The homeowner said he heard a loud boom then went outside and saw the slide in his mother's garden. Officials say the FAA is working with United to figure out what exactly happened.
Today is Wednesday, July 19th, the 200th day of the year.
July 19 in history…
…In 1692, five people were found guilty of witchcraft and hanged in Salem, Massachusetts.
…In 1939, Dr. Roy Scholz became the first surgeon to use fiberglass sutures.
…In 1946, Marilyn Monroe acted in her first screen test.
…In 1985, New Hampshire school teacher Christa McAuliffe was chosen to be the first teacher to ride aboard the space shuttle. McAuliffe became a member of ill-fated Challenger crew, which exploded shortly after lift-off, killing all seven on board.
…In 1990, baseball great Pete Rose was sentenced to five months in prison in Cincinnati for tax evasion.
…In 2017, U.S. scientists calculated the total amount plastic ever produced – 8.3 billion metric tons – equal to the weight of one billion elephants.
---