Afternoon News Brief
Written by Doug Thompson on December 28, 2022
18-year-old Raul Cruz of Warsaw has been indicted by a Genesee County Grand Jury, for felony promoting prison contraband. He's accused of knowingly and unlawfully making two shanks while confined at the Genesee County Jail. Cruz also unlawfully made a long, plastic housing for a 'Bic' type pen. Cruz along with Prince N.K. Wilson of Albion were each charged last March for the murder of two farm workers in Alexander. Cruz accepted a plea deal in October and will be sentenced next month.
The death toll due to the snowstorm that rocked Buffalo and the Western New York region has sadly risen once again. More than 30 people have lost their lives and that total is expected to keep growing in the coming days. Even though cleanup efforts are still underway, the Thruway has reopened, Metro Service has resumed and today Buffalo Niagara International Airport will be up and running once again. Hundreds of residents remain without power and there's no word yet how long it's going to take before everyone has their service restored.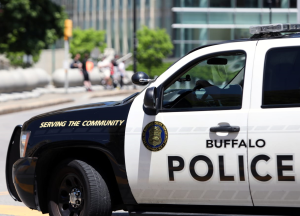 The Buffalo Police Department says a task force has been launched to crack down on looters who stole items from city businesses during and after the blizzard. Officers are now looking at video clips that have been posted on social media to try to identify the individuals involved in these crimes. So far, they've been able to make at least eight arrests. Police are again asking anyone with information to come forward and contact them at 716-847-2255.
Wegmans has announced the recall of three of its products due to the possible health risks that they could pose to customers. The supermarket chain says there are concerns that the products, which contain micro greens, cat grass, and sweet pea leaves could be contaminated with salmonella. A full list of the potentially affected items has been posted on the recall page of wegmans.com. No illnesses have been reported and anyone who purchased these products can return them for a refund.
New York State has opened the application process for the Excelsior Scholarship for the Spring 2023 term. The scholarship, combined with other financial aid, allows eligible full-time students to attend a SUNY or CUNY school tuition-free. Students from households with federal adjusted gross incomes of up to 125-thousand dollars are eligible to receive a scholarship. Applications are being accepted through February 9th and more information can be found by visiting hesc.ny.gov.
The already-huge Mega Millions jackpot keeps getting bigger. It's up to an estimated $640,000,000 after no one matched all six numbers in Tuesday night's drawing. The next drawing is Friday night. Please play responsibly.
---