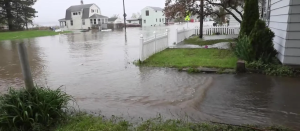 Western NY was on the receiving end of so much snow that Governor Hochul is directing state agencies to get ready for floods.  Over 300 Pumps and Generators as well as 800,000 sandbags are ready to be deployed if the melting snow causes runoff to overflow flood vulnerable creeks, streams and low lying areas that have poor drainage.  Temperatures are expected to rise into the 50s by Friday and Buffalo and the surrounding areas are still digging out.  The snow could dam up culverts and other drainage and cause water to back up into roadways.  Remember to never attempt to cross water on the road where you can't tell the depth.  Find an alternate route.
Parts of Western New York are dealing with the deadly effects of a massive winter storm.  Officials said Wednesday that the death toll has risen to at least 37 after several feet of snow slammed the region over the holiday weekend.  That number is expected to climb as authorities are going door-to-door to conduct wellness checks amid the cleanup effort.  The National Weather Service says there's now a small risk of flooding in Buffalo as rising temperatures begin to melt the massive amount of snow.  Rain is also forecast through the weekend.
Genesee County received 477,000 dollars in Healthy Neighborhoods Program money for use between 2022 and 2027.  That grant money is to be used to visit 1000 homes in the 14020 area and help with increasing the overall health of the residents in that area.  Batavia has a 28 percent higher asthma hospital visit rare than the surrounding areas.  The program will help residents learn more about Asthma and evaluate triggers and treatments to avoid using the emergency room as often.  They will assess homes for lead based paint and also help with setting up carbon monoxide detectors and smoke detectors as well as giving out small fire extinguishers.  
If you know someone who stole COVID relief money or resources the State has just increased their reward for information about it.  Assemblymember Jeffrey Dinowitz said, "As with other states of emergency, like Hurricane Sandy or September 11th, the need to respond swiftly creates opportunities for perpetrators of fraud."  But the state is not just letting criminal fraudsters off the hook.  They are offering larger rewards for information and also harsher penalties for those who committed fraud.  The reward will be a portion of whatever money is recovered.
Want to perform a wedding but don't have one of those pesky seminary degrees?  Governor Hochul has signed legislation allowing someone to become a wedding officiant for just one day.  Single use one day marriage officiant licenses allow someone to sign up to solemnize a marriage on one specific date at one specific event.  Only good for one wedding.  
TV Science explainer and CEO of the Planetary Society Bill Nye has said many times that in order to better use electricity we need a better battery.  New York State has taken that idea and decided to build more and bigger batteries.  Governor Hochul says she wants the state to have 6 gigawatts of energy storage by 2030.  That's about 20 percent of the peak electrical load for the Empire State.  If they are successful the batteries would hold enough electricity to power about 1/15th of the homes in New York for 4 hours.  Money is also going into researching better storage options.
---