The Batavia City Council has sworn in Rich Richmond, Jeremy Karas' replacement, as Councilmember at Large. In other business from this week's meeting, items on the agenda were moved to the next board meeting, which is scheduled for March 14. Expected to be adopted at that time are resolutions that include the 2022-23 budget as well as 1.5% increases to water rates and meter fees. In addition, the Council is now ready to pass the $29.7 million All-Funds budget, 17.8 million of which is in the General Fund, which carries a property tax rate of $8.94/$1000 of assessed value. This rate represents a decrease of 78 cents from the current tax rate.
Letters have been sent out to families from many school districts in the GLOW region, addressing the masking changes that take effect tomorrow. Batavia School superintendent, Jason Smith, noted in his letter that parents may choose to continue to send their children to school wearing masks and that no bullying of anyone choosing to wear a mask will be tolerated. Smith elaborated that masking on school busses is also no longer required. Other area school districts have sent out similar messages, including Pembroke, Elba, Le Roy and Byron-Bergen. Oakfield-Alabama's board had already approved a mask-optional policy early in February, in anticipation of Governor Hochul eliminating the mask mandate. (At this time, Buffalo City Schools are still requiring them for their children and staff.)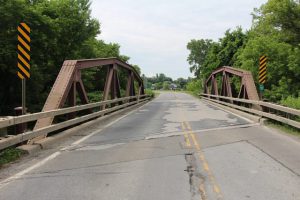 Construction on the Route 19 bridge over Oatka Creek, north of the village of Warsaw, has begun. There is a posted detour that directs traffic along Saltvale Road. The highway will be closed off to traffic for about 6 months, with reopening planned for Labor Day.
This morning, Governor Kathy Hochul designated this weekend, March 5-6 and the following weekend, March 12-13 for free snowmobiling by all out-of-state and Canadian snowmobilers. During these promotional weekends, the requirement to register in New York is waived for properly registered and insured out-of-state snowmobiling. Outside of this promotion, the requirement is to register snowmobiles with New York State before hitting the state's trails, which stretch from the Hudson Valley to the North Country to Western New York. The Governor also announced today up to $4.2 million will be available for snowmobile trail maintenance and grooming.
Organizers of the 124th Lilac Festival in Rochester have announced their plans for this year's event. The festival will take place on three consecutive weekends, starting Friday, May 6th (through 8th, May 12th through 15th, and May 19th through the 22nd) from 10:30am until 8:30pm each day. Visitors can expect to see food, exhibits, a kid's zone and even a new health and wellness experience. Tickets for the festival are available for purchase and more information can be found online at rochesterevents.com
A 17-year-old boy has been arraigned on an attempted murder charge in connection with the violent incident at McKinley High School in Buffalo. Prosecutors say the teen stabbed a 14-year-old student on February 9th, causing him to suffer severe internal injuries. The suspect is still in custody at the Erie County Youth Services Center and is due in court again March 23rd. Senior students will be returning to high school today for the first time since the incident with other students coming back throughout the rest of the week.
Highmark Stadium and Keybank Center are lifting their vaccine requirements for games, concerts and events held at the facilities effective immediately. While it is still recommended that individuals follow current CDC guidelines as it pertains to mask wearing and that of their own comfort level, it was also noted that individual concerts and live events may implement their own policies above and beyond that of KeyBank Center. Please refer to www.keybankcenter.com for the most up-to-date information for all event requirements.
The New York State Division of Consumer Protection is warning us about a scam that is becoming popular all over the country in which consumers receive a package in the mail that they did not order. This is referred to as a brushing scam; there is often no return address and once the package is accepted, the recipient becomes a "verified buyer," for the purpose of writing fake positive online reviews of merchandise in the recipient's name. These fake reviews fraudulently boost or inflate the products' ratings and sales numbers, which scammers hope results in an increase of actual sales. However, even more troubling, the practice also compromises your personal information.
To avoid being a victim of brushing scams, the Division of Consumer Protection offers the following tips:
1. You don't have to pay for it. Federal law may allow recipients to keep items they received but did not order. Recipients are under no obligation to pay for unsolicited merchandise and can consider it a gift. If you don't want the item, you can donate it or simply dispose of it and do not have to return it.
2. Report it. If the item received is organic (seeds, plants or food), report it to the USDA. Unsolicited seeds or plants should not be planted as they may be invasive plants, noxious weeds or carry diseases that could cause damage to economically important crops. Seeds may be sent to this address for destruction. Please ensure the seed package is sealed tightly and mail the seeds, the original packaging, your contact information, and any additional details, to: Office of the State Plant Health Director of New York, c/o Christopher Zaloga, 500 New Karner Road, Albany, New York 12205 If the item is an unknown liquid or substance, contact the local authorities.
3. Notify the retailer. If the package received is from a third-party retailer like Amazon, Walmart, or eBay, report it to them and ask them to remove any reviews under your name.
4. Monitor your accounts. Your personal information may have been compromised. Often scammers obtain personal information through nefarious means and with ill-intentions and use it for several scams and other illicit activities in the future. Examine your online shopping accounts and credit card bills for signs of unusual activity and check your credit report.
5. Change your password. If you have an account with the retailer identified on the package, change your account password with the retailer.
---