The Batavia Police Department needs your help in identifying a person of interest in a larceny, during which a bucket of small liquor bottles was taken. This occurred at Kwik Fill on Sunday, March 27th around 11:30 pm. Anyone with information on the identity of the person is asked to call police at 345-6350; the confidential tip line is 345-6370.
Another recall…A popular brand of antiperspirant is being recalled because it may contain a potentially cancer-causing chemical. It's the latest such recall involving aerosol health and beauty products in the past few months. Unilever is recalling two versions of Suave 24-hour Protection Aerosol Antiperspirant. The company said an internal review found unexpected, slightly elevated levels of benzene from the propellant that sprays the product out of the can. Benzene can result in cancer, but Unilever said that based on an independent health hazard evaluation, the amounts detected in the recalled antiperspirant would be unlikely to cause health issues. That's similar to recent recalls involving shampoos, conditioners, sunscreens and other antiperspirants.
The products are:
Suave 24-Hour Protection Aerosol Antiperspirant Powder — 4-ounce cans with UPC 079400751508
Suave 24-Hour Protection Aerosol Antiperspirant Powder — 6-ounce cans with UPC 079400784902
Suave 24-Hour Protection Aerosol Antiperspirant Fresh — 6-ounce cans with UPC 079400785503
The recall affects all of the products above with expiration dates through September 2023. They were sold at retail stores nationwide and online.
District Attorney Kevin Finnell reports that the case against two men accused of stabbing two migrant workers to death at the Blumer Dairy Farm in Alexander last month, has yet to be scheduled for a grand jury presentation. He noted that the investigation is ongoing and both he and the attorneys for the accused are talking about a possible resolution. Prince N.K. Wilson, 23, of Albion and Raul S. Cruz, 18, formerly of Albion and now of Warsaw, were arrested and charged with second-degree murder for the March 11 stabbing deaths of two men. Elibander Morales, aka Ivan Cruz, 30, and Marceleno Gomez-Hernandez, 29, were both pronounced dead at the scene in a bunkhouse at the farm on Route 98. Investigators have continually been working on the case and have released little information. (Pictured: From left, Prince N.K. Wilson and Raul S. Cruz)
A lower-court judge declared New York's new congressional and legislative district maps unconstitutional Thursday and ordered the legislature to quickly redraw them, a process that could delay the state's fast-approaching party primaries. Judge Patrick McAllister said in his ruling that maps redrawing the state's congressional districts were gerrymandered to benefit Democrats. McAllister also said those districts must be redrawn, along with the legislative districts, in a way that attracted at least some bipartisan support. The judge gave lawmakers until April 11 to try again. If they can't come up with a map that the judge agrees with then a court appointed expert would be paid to draw the map. In a joint statement, Gov. Kathy Hochul and state Attorney General Letitia James said they intend to appeal. An appeal could send the case to a mid-level state appeals court or New York's Court of Appeals, who could set the judge's decision aside; Democrats appointed all seven members of that high court.  The state's primary elections are scheduled for June 28 and candidates have already begun campaigning in the new districts.
Job and employment data released recently by the NYS Labor Department indicate a strong labor market for Genesee County. In the report dated February 2022, there were 21,500 non-farm jobs in our county, up from 21,000 one year ago. The total number of private-sector jobs grew from 15,900 to 16,300. The county's unemployment rate for February 2022 was 4.1 percent, down considerably from 6.2 a year ago and the lowest rate for any February since at least 1990. The total labor force (the number of people working or seeking work) grew from 29,000 to 29,200. The total number of local residents employed in February was 28,200, up from 27,200. The number of employed in February 2020 was higher at 28,600, which was the highest level since 2009 when it was 29,600. The total unemployed — people still in the market for jobs — was 1,200, down from 1,800 a year earlier and lower than in 2020, just before the start of the pandemic, when it was 1,600. The February total for Genesee County was the lowest since at least 1990. The state's unemployment rate is 5.1 percent and the nation's is 3.8 percent.
If you're looking to cross the border into Canada, as of today, that trip just got a little easier — fully vaccinated visitors are no longer required to show proof of a negative COVID-19 test to enter the country. Travelers will have to submit their mandatory information using the ArriveCAN app before getting to the border. If you are not vaccinated, you will still have to take a test and quarantine for 14 days, unless you have an exemption. Officials say they may pull random travelers to submit to a COVID-19 test, regardless of their vaccination status. Those that are not fully vaccinated will still have to provide proof of one of the following: A valid, negative antigen test, administered or observed by an accredited lab or testing provider taken outside of Canada no more than one day before their initially scheduled flight departure time or their arrival at the land border or marine port of entry; or, A valid negative molecular test taken no more than 72 hours before their initially scheduled flight departure time or their arrival at the land border or marine port of entry; of entry ; or A previous positive molecular test taken at least 10 calendar days and no more than 180 calendar days before their initially scheduled flight departure time or their arrival at the land border or marine port of entry. It is important to note that positive antigen test results will not be accepted. Fully vaccinated travelers entering the United States from Canada or Mexico at land points of entry or ferry terminals do not have to show proof of a negative test. U.S. citizens and lawful permanent residents also do not need to provide proof of vaccination status at land points of entry or ferry terminals.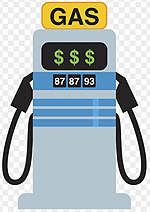 Western New York drivers are handing over just a little bit less cash when it comes time to fill up their vehicles, although gas is still high. According to Triple A, the average cost for a gallon of regular gas is $4.36. That's down a penny from last week but is still 57 cents higher than this time one month ago. The state average is $4.33 a gallon while nationally it's $4.22. In Batavia, the average price per gallon is $4.35; the same as it was yesterday and down one cent from a week ago.
Despite lengthy negotiations, lawmakers have come up short in their effort to pass the state budget on-time. The midnight deadline went by without an agreement on a spending plan for the new fiscal year. There are reportedly several issues that still need to be hammered out before a deal can be completed including possible changes to the state's bail reform laws and a temporary suspension of a state tax on gasoline. Governor Hochul says she's continuing to have conversations with Assembly Speaker Carl Heastie and Senate Majority Leader Andrea Stewart-Cousins and is confident an agreement is close. However, there's no official word yet on when the Legislature will vote on the budget.
The Buffalo Sabres will continue their four-game home stand tonight as the team looks to get back on the winning track. The Sabres are set to host the Nashville Predators at KeyBank Center. Buffalo is coming off of a 3-2 shootout loss to the Winnipeg Jets Wednesday night and are currently in sixth place in the Atlantic Division with 59 points. Face-off for this evening's contest is scheduled for 7:00, with a tribute to long-time Sabres play-by-play announcer — Rick Jeanneret – planned just before puck drop.
New details have been released about the recent raid of State Supreme Court Judge John Michalski's home. Sources tell The Buffalo News that members of law enforcement searched the Amherst residence last week for evidence of tax crimes. Investigators are reportedly trying to determine if an online retail jewelry and clothing business that's being run out of the residence is following the proper federal and state tax laws. So far, no charges have been filed against Michalski.
The man who is accused of shooting three Buffalo police officers earlier this week has been arraigned on multiple charges. Erie County District Attorney John Flynn says Kente Bell shot the officers during a high-speed pursuit Tuesday. Officers Trevor Sheehan and Christopher Wilson were treated for their injuries and released while Officer Joseph McCarthy was shot in the lower abdomen and underwent surgery at Erie County Medical Center. Bell is charged with three counts with attempted murder of a police officer and also criminal possession of a weapon. If convicted, he's facing a sentence of 50 years to life in prison.
---