City Assessor Rhonda Saulsbury responded to the anger that has been expressed specific to property re-assessments. She spoke during the City Council's meeting last night and reviewed the reasons why the increases occurred and that she understands the frustration. She said New York State requires that assessments be reviewed annually and her office has a goal of achieving 100% sale price-to-assessment ratio. She further acknowledged that New York is a heavy homeowner tax burden state. Saulsbury explained that property assessments change for two reasons only: 1) when price-to-assessment ratios are growing apart – in other words, the sale price is much higher or lower than assessed value; or 2) for physical reasons, meaning that changes have occurred to the property; either something was added or taken away. Property owners whose assessments have gone up and wish to seek an informal review may appear during Grievance Day, on May 26. At that time, Saulsbury said she would review current data to help homeowners understand why their assessment value increased.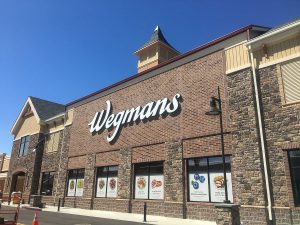 For the 25th year in a row, Wegmans has made the list of Fortune magazine's "100 Best Companies to Work For." The supermarket chain was ranked third in this latest survey behind Cisco and Hilton. The results are based on several factors including respect, trust, camaraderie and fairness. Colleen Wegman, who is the president and CEO, says the company is grateful for this honor and that it's inspiring to see how employees rise to the occasion to provide the best possible service to customers.
58-year-old Daniel Arnold of Oakfield is charged with DWI, leaving the scene of a property damage accident and moving from a lane unsafely, after a one-vehicle accident on Rt. 63 last night, just north of Galloway Road. Power lines came down after the accident and blocked the whole roadway. According to a Sheriff's Department accident report, Arnold was traveling in a northeast direction on Rt. 63 when his 2019 Chevy pickup exited the east shoulder of the roadway and struck a National Grid utility pole. The pickup then re-entered the roadway and continued on 63 toward Oakfield. Arnold was located a short time later in the Village of Oakfield where he was arrested. No injuries were reported in the accident.
The Genesee County Health Weights and Measures Department has received a complaint from a customer that fuel purchased from the TA Travel Center on Alleghany Road in Corfu, had a high level of water in the fuel…this resulted in damage to the individual's car. The TA Travel Center had received a similar complaint about a week ago and investigated. Results showed that there was water in the fuel tank above the state limit and TA discontinued pulling fuel from the problem tank. Customers are asked to contact the TA Travel Center at 585-599-4577 and select Option 4 if they purchased regular (87 octane) or mid-grade (89 octane) at the station from April 6 through the 7th. Proof of purchase and vehicle repair is needed to file a claim.
The Buffalo Sabres will be finishing up their latest road trip tonight, and the team is going to be joined on the ice by their latest first-round draft pick. Owen Power is expected to make his NHL debut when the Sabres take on the Toronto Maple Leafs at Scotiabank Arena. Power was the number one pick in the 2021 draft and recently signed a 3-year, entry-level contract. Face-off for this evening's contest is scheduled for 7:00.
Lieutenant Governor Brian Benjamin has been arrested and charged in an alleged federal bribery conspiracy; he surrendered early this morning. The indictment against Benjamin resulted from an FBI investigation. According to the report, the Lieutenant Governor was accused "of conspiring to direct state funds to a Harlem real estate investor in exchange for orchestrating thousands of dollars in illegal campaign contributions to Mr. Benjamin's unsuccessful 2021 campaign for New York City comptroller."
You've already heard about the upcoming suspension of the gas tax, which is planned from June 1st through the end of the year. Governor Hochul said this will cost the state roughly $600,000,000 in tax revenue, but will save consumers 16 cents per gallon at the pump. Hochul suggested that counties across the state suspend their gas taxes as well during this period, but Genesee County Manager Matt Landers said there is no plan for this at the present time. In fact, he was unaware of any counties across the state that planned to do this.
Erie County Executive Mark Poloncarz is revealing new information about the negotiations for a new stadium for the Buffalo Bills. He confirmed yesterday that the team's owners, Kim and Terry Pegula, wanted the public to pay the entire cost of the more than one-billion-dollar facility. Instead, the state stepped in and provided 600-million-dollars in funding as part of the new state budget while Erie County agreed to chip in 250-million dollars. The stadium is going to be built in Orchard Park across from Highmark Stadium, which is where the Bills currently play their home games.
Starting today, local golfers are going to be able to tee off when Monroe County's three golf courses open up for the season. County Executive Adam Bello says this year's $30 purchase fee for season permits has been scrapped and that discounted fees are being offered to seniors, military members, kids, and disabled golfers. Tee times at Churchville Park, Genesee Valley Park and Durand Eastman Park can be scheduled online. Due to the wet weather, golf carts won't be allowed meaning the courses will be walking-only.
It's National Work Zone Awareness Week and State Police will be doing their part to keep construction crews safe while they're on the job. As part of the "Operation Hardhat" safety campaign they'll be keeping a close eye out for people who drive dangerously in work zones. During last year's crackdowns, there were a record 23-hundred 36 tickets handed out. Violators face penalties ranging from heavy fines to points on their driver's license.
---