Batavia Police have arrested Lorenzo Baker, for criminal possession of a weapon following a traffic stop where he was allegedly found to be in possession of a loaded revolver. Simultaneously, a search warrant was executed at his residence, the upper apartment at 36 Dellinger Avenue, upper Apt., as part of an ongoing investigation where additional evidence was found. Baker was arraigned before Judge Thomas Burns in Batavia City Court and held on $25,000.00 cash, $50,000.00 Insurance Company Bail Bond, or a $75,000.00 Partially Secured Appearance Bond. He is scheduled to re-appear in Batavia City Court on April 21, 2022, at 1:30 PM. Due to the ongoing nature of the case, further details were not released at this time.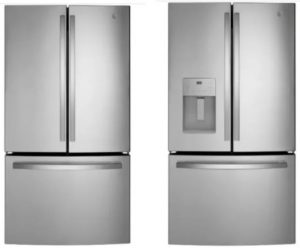 A recall alert for you…The U.S. Product Safety Commission has announced that General Electric is recalling six types of its stainless steel refrigerators. The recall involves roughly 155,000 appliances manufactured between February 2020 and August 2021, sold at Best Buy and Home Depot. Free-Standing French Door Refrigerators in Fingerprint Resistant Stainless Steel, which have freezer door handles that are detaching. There have been reports of 37 injuries including what have been described as three serious falls. Affected model numbers, printed on a label found on the top of the left side inside of the refrigerator section, are:
GFE26JYMKFFS
GFE26JYMNFFS
GNE27EYMKFFS
GNE27EYMNFFS
GNE27JYMKFFS
GNE27JYMNFFS
According to the recall notice, affected models will have serial numbers that begin with one of the following two-letter combinations: DR, FR, GR, HR, LR, MR, RR, SR, TR, VR, ZR, AS, DS, FS, GS, HS, LS, MS.
Affected models were sold at The Home Depot, Lowe's, Best Buy, and other home improvement and appliance stores throughout the U.S., as well as online through Lowe's and Best Buy from February 2020 through January 2022. GE is scheduling a free in-home repair for consumers with these refrigerators. The company is already contacting customers of the roughly 155,000 impacted refrigerators directly.
According to the U.S. Customs and Border Protection, a nationwide scam has made its way to New York State. Individuals are being contacted by scammers posing as Border Patrol agents or Public Affairs Officers, and when people answer the call, they hear a pre-recorded message that says, "a box of drugs and money being shipped has your name on it and has been intercepted." Some of the calls say that there is a warrant for the individual's arrest or they are requesting information from them in exchange for Bitcoin. The U.S. Customs and Border Protection urge you not to give out any personal identifiable information, such as date of birth or social security numbers. They never solicit information by phone, nor do they use gift cards, Bitcoin or any other digital currency. If you get a call like this, make a note of the number and contact police and the Federal Trade Commission immediately.
News of an arrest from the Tonawanda Seneca Nation…a man who served a state prison term for setting fire to the Chiefs Council Office building in 2008 has been arrested again and charged with a vicious assault during a domestic dispute earlier this year. According to State Police, 41-year-old Rodney Willis, Jr. is charged with first-degree assault for causing serious injuries to another person back in February. The charge is a class B violent felony and punishable by up to 25 years in prison. He is committed to Genesee County Jail without bail. Willis had previously served 5 to 10 years for arson and was released from prison in 2017.
Senate Majority Leader Chuck Schumer says he'll be using his influence in Congress to get federal aid to help save the USS The Sullivans. The New York Democrat made the promise yesterday during a visit to Buffalo where he got a look at the damaged ship. The vessel took on thousands of gallons of water last week due to a massive breach in the hull. Schumer says money for repairs and cleanup would also come from the National Maritime Heritage Grant Program and the Great Lakes Restoration Initiative. The ship is named for the five Sullivan brothers who died during World War II.
A multi-time Grammy Award winning artist will be performing during the Summer Soul Music Festival in Rochester. Kenneth "Babyface" Williams will take the stage at Frontier Field on Saturday, August 27th. So far, Williams is the only musician that's been announced for the event and additional artists will be revealed at a later date. Tickets for the festival are already available online and can be purchased at rocsummersoulfest.com.
Monroe County drivers will be seeing savings at the gas pump in a few weeks under a plan announced by County Executive Adam Bello. He said yesterday the county would reduce its tax on gasoline by 8 cents starting June 1; that's when they will tax gas as if it costs $2 per gallon and that coincides with the state's plan to temporarily lower its gasoline tax from June 1st through the end of the year. Niagara County is talking about doing something similar and capping their 4% tax rate at the cost of 3 dollars a gallon, which would create a 12-cent per gallon savings for consumers there. In other words, counties cannot just drop the gas tax completely; but rather, the state budget notes that they can base it on a lower cost per gallon, say at 2, 3 or 4 dollars. Genesee County Manager Matt Landers said earlier this month that a similar discussion is likely to occur here but it is not in the plans at the moment.
The Batavia City School District, along with the police department, and City Church have joined together to create a new recommended pickup route for the City Church Community Food Distribution program at St. Anthony's. The City Church currently hosts a bi-monthly food distribution program for community residents at St. Anthony's Church. Due to the program's popularity, some traffic concerns have emerged around Jackson Primary, resulting in serious safety issues along with traffic backups during school arrival and dismissal periods. In response, a new route has been established to access the Food Distribution Program pickup line. The new route will be in effect starting with the April 27 distribution date. Those community members who wish to participate in the program must access Liberty Street via South Swan Street, Osterhout Avenue, or Otis Street. All food distribution traffic will be redirected to avoid Liberty Street between South Jackson and Sumner Streets and South Jackson between South Swan and Liberty Streets (the areas directly in front of and adjacent to Jackson Primary). The City Church Community Food Distribution program is scheduled every two weeks for the following dates: April 27, May 11, May 25, June 8, and June 22.
A dinosaur invasion will be happening at the KeyBank Center in Buffalo later this year as part of the Jurassic World Live Tour. Folks will get the chance to see animatronic replicas of several popular creatures including the velociraptor and tyrannosaurus rex from October 21st through the 23rd. Advance tickets go on sale today and seats will be made available to the general public April 26th. More information can be found on the arena website at keybankcenter.com.
---