An 18-year-old from Medina has been killed in a one-car accident in Royalton. Emory Seefeldt overturned his vehicle on Orangeport Road near the intersection of Berner Parkway, on Wednesday. Deputies arrived on scene just after 1 a.m. and found that Seefeldt was underneath his vehicle and had succumbed to his injuries. He was pronounced deceased at the scene. An investigation by Niagara County Sheriff's is continuing.
An EMS helicopter agency will be providing air ambulance service to the Western New York area following that tragic crash in Elba earlier this week. Mercy Flight Central, which is based in Canandaigua, is going to help out until our local Mercy Flight resumes its operations. They are stationed at the Buffalo base and are ready to assist as a critical air ambulance service. [On Tuesday, a Mercy Flight helicopter went down during a training mission in Elba, killing 60-year-old James Sauer and 60-year-old Stewart Dietrick who were both onboard. The NTSB says the cause of the accident is still under investigation but that it could be several months before a final report is available.
A Rochester man who has served four state prison terms, all drug related, has been arrested and charged with possessing drugs with intent to sell; this, according to Genesee County sheriff's deputies. 42-year-old Garlyn Gause of Rochester was stopped late Sunday night on Swan Street for traffic offenses. Deputies, along with K9 Razor, discovered Gause was in possession of drugs that he had tried to hide after he was taken into custody. Gause was charged with third-degree criminal possession of a controlled substance with intent to sell, tampering with evidence along with traffic violations. He was arraigned in City Court and committed to Genesee County Jail without bail. Gause's criminal record dates back to when he was 17 years old, in 1996.
The Buffalo Bills have chosen a player in the NFL Draft who they hope gets them one step closer to winning a Super Bowl. The defending AFC East champions were supposed to have the 25th overall pick in last night's draft but traded with the Baltimore Ravens who had the 23rd spot and ended up choosing cornerback Kaiir Elam from the University of Florida. Elam was named to the freshman All-Southeastern Conference team in 2019 and was first-team in 2020. The Bills won't have another pick until round two of the draft, which gets underway at 7 this evening.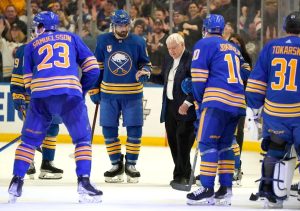 The four-game winning streak of the Buffalo Sabres has been snapped following a disappointing loss on the road. The Sabres offense wasn't able to generate any goals as they lost to the Boston Bruins 5-0 at TD Garden last night. Buffalo goalie Dustin Tokarski struggled and was only able to stop 27 of the 32 shots he faced in the contest. The Sabres finish up their regular season tonight when they host the Chicago Blackhawks at 7:00.
A new plan has been announced that is aimed at increasing security at the Walden Galleria mall. Erie County probation officers are going to be on duty at the Cheektowaga shopping center on weekends and after hours as part of a one-year pilot program. There have been violent incidents at the mall in the past and this initiative is similar to one that has been used at Destiny USA in Syracuse. The mall has agreed to fully reimburse taxpayers for the cost of the additional patrols.
The Erie County Legislature has officially given the green light to a resolution that will temporarily cap the county's tax on gasoline. The proposal was submitted earlier this week by County Executive Mark Poloncarz as a way to help drivers save money when it came time to fill up their vehicles. The cap will go into effect on June 1st and stay in place until the end of next February. New York State previously announced its gas tax cap will be suspended from June 1st through the end of the year.
After New York's highest court threw out new congressional district maps drawn by the state Legislature, the task of redrawing them has fallen to a rural judge and a researcher at Carnegie Mellon University. Democrats' hopes of crafting an electoral map heavily favorable to their party suffered a big blow Wednesday when the state Court of Appeals ruled that the Legislature's maps were unconstitutionally gerrymandered. The high court Judge Patrick McAllister has been asked to create a new set of maps— his name may be familiar; he was the lower-court jurist who had initially declared the maps unconstitutional. McAllister got out a little ahead of all this by choosing an independent expert to help him craft the maps, Jonathan Cervas, a postdoctoral fellow at Carnegie Mellon University's Institute for Politics and Strategy. They now face a tight deadline to come up with new maps, while state officials try to figure out what to do about the state's primary election, scheduled for June 28. The state may still to hold primaries in the contests for governor and state Assembly on that date, but primaries for congress and state Senate might be moved to August.
Following a two-year hiatus caused by the COVID-19 pandemic, the Galbani Italian Heritage Festival is returning this summer. Organizers say the event will take place from July 15th through the 17th at its longtime location on Hertel Avenue in Buffalo. The celebration is going to feature a variety of activities including genealogy research, bocce ball, face painting, grape stomping, and cooking demonstrations. The festival will run from 11:00am until 9:00pm on both July 15th and 16th and from 11:00am until 6:00pm on the 17th.
---