A father and his paraplegic son in Attica are safe today after their home caught fire. According to the Village of Attica Fire Department, an officer spotted the fire yesterday afternoon, and fire crews were sent to the home at 44 Market Street. It was a two-alarm house fire believed to have started on the porch. Several other fire departments had to help assist because the AFD did not have enough manpower at the time of the blaze. Their Chief, Jay Myers noted that that is becoming a serious problem because these days, people don't volunteer like they used to. Crews were able to get father and son out safely; the only injuries were minor and occurred during rescue. The home is considered a total loss and the investigation into the cause of the fire continues.
Towns in Genesee County have received money to help with water projects. Batavia received $2,200,000 (2.2 million) from the New York State Environmental Facilities Fund to upgrade the Water treatment plant. The county received 1.2 million for pump upgrades. Alexander received 132 thousand for water district construction. Genesee County continues to seek federal and state funding to assist in the implementation of Phase 3 of the Countywide Water Program. Under the Master Plan developed for water, the Phase 3 project further increases regional supply by another 3.1 million gallons per day; and most importantly, replaces a threatened water supply. Phase 3 is currently estimated to cost $132 million.
New data from Governor Hochul's office shows the spread of COVID-19 is continuing to increase in the Finger Lakes. The area's seven-day-average positivity rate is now sitting at just under 13.4% which is the second highest of any region in New York State. At this point one week ago, the seven-day average positivity rate was 12.9%. Doctors are urging people to get their COVID-19 vaccinations and booster shots if they haven't already. Anyone who has symptoms of the coronavirus is asked to stay home until they get tested.
Saturday, May 21st is the big day…when Genesee Community College recognizes their graduates this spring. The 54th Commencement Ceremony will take place at the Richard C. Call Arena. The keynote speaker is Daniel Ireland, GCC Alumnus and President of United Memorial Medical Center in Batavia. The ceremony begins at 1:00.
Governor Kathy Hochul today announced $35 million will be available to directly support abortion providers…this is in anticipation of the Supreme Court overturning Roe v. Wade. Governor Hochul directed the Department of Health to create a $25 million Abortion Provider Support Fund for the providers to both expand capacity and ensure access for patients seeking abortion care in New York. The Governor also announced $10 million for reproductive health care centers to access security grants through the Division of Criminal Justice Services to help ensure the safety of the providers performing this care.
New York State officials are working to expand access to abortions as the Supreme Court decides the future of Roe v. Wade. Attorney General Letitia James is supporting legislation that would create the Reproductive Freedom and Equity Program to increase access to care for all patients, even those from out of state. James says the program would put funds toward abortion care providers and affiliated non-profits. According to the CDC, 7000 of the abortion procedures performed in New York in 2019 were for people from out of state. That number is expected to more than quadruple if Roe v. Wade is overturned.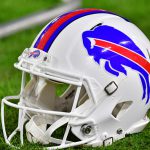 For the second year in a row, the Buffalo Bills and Tennessee Titans will be going head-to-head on Monday Night Football. The game is scheduled for September 19th and is going to be played at Highmark Stadium in Orchard Park. Tennessee came out on top in last year's contest by a final score of 34 to 31 after the Bills turned the ball over on downs late in the fourth quarter. The complete NFL schedule is expected to be released later this week.
Wegmans and the Buffalo Bills are teaming up to help out people who suffer from food allergies. From now until May 22nd, customers can donate gluten-free, lactose-free and allergen-friendly foods by placing them in collection bins located in the front of Wegmans stores. An official with the supermarket chain says more customers with allergies are looking for products that are safe for them to eat but that many people have a tough time paying for those items because they cost more than regular food. All of the food collected from this campaign will go to FoodLink.
According to the Red Cross, blood donations are down significantly and they are expecting them to drop off further over the summer months. They are asking for people to come out and donate and as an incentive, through May 19th, the Red Cross is offering people a $10 gift card to the merchant of the donor's choice for each donation. There is also a drawing for a Travel Trailer Camper that sleeps 8. The next blood drive here will be at the First United Methodist Church in Batavia, on Tuesday, May 17th.
---