Governor Hochul announced that flags at state buildings will be lowered to half-staff today in honor of the 10 people who lost their lives during the mass shooting in Buffalo. In a statement, the governor said that an attack on one of us is an attack on all of us and that we must confront white supremacy head on. She went on to say that her heart is with the victims and their families. The governor also says flags should remain lowered until everyone who was killed is laid to rest.
While Western New Yorkers continue to mourn the 10 people killed in the TOPS Market, the shooter is in custody. While wearing a combat helmet, the 18-year-old gunman, Peyton Gendron, opened fire in the racially motivated attack. The shooter had driven from an area near Binghamton last Friday targeting that particular store because, according to a manifesto he posted online, black customers frequented it. Buffalo police commissioner Joseph Gramaglia says the attack was a hate crime and will be prosecuted as such. Gendron has a history of making threats; he made one to his school last year and was evaluated at that time.
President Biden and the First Lady will be visiting Buffalo tomorrow to speak on the shooting and what they describe as an epidemic of hate in the country and that any act of domestic terror is antithetical to everything we stand for in America. TOPS Friendly Markets is providing shuttle service to other stores for shoppers and charities have been set up to help the victims of the shooting.
Erie County officials are offering counseling services to people who are struggling to cope with Saturday's shooting. Help is available today until 9pm at the Johnnie B. Wiley Sports Pavilion in Buffalo or by calling Crisis Services at 716-834-3131. Also, anyone who needs assistance getting food can go to the Resource Center on East Ferry Street in Buffalo today from 2pm until 9pm. After today, food will be distributed from 9am until 9pm through at least May 27th. Buffalo churches are holding special services for the victims.
Governor Hochul says resources are being made available to the Buffalo community in the aftermath of TOPS Market tragedy. The governor says $2,800,000 in federal and state funds will be used to provide support to individuals and families affected by the shooting. Staff from the Office of Victim Services are going to be in Buffalo this week to help people start the process of getting that assistance. The National Action Network will also help cover the costs of the funerals for all 10 victims.
State Attorney General Letitia James is issuing a warning to New Yorkers about sham charities created in the aftermath of the horrific violence. James says in the wake of tragedies, scammers will often try and take advantage of people for their own personal gain. Anyone who is considering a donation to help those affected by the shooting should only give to charities they're familiar with. People should also ask what their donation is going to be used for. It's also suggested they use caution when donating through social media and fundraising sites. Anyone who wants to report a suspicious organization can contact the New York State Charities Bureau.
TOPS Friendly Market provided the following in a Press Release: "The TOPS family is heartbroken over the senseless violence that impacted our associates and customers at our store on Jefferson Avenue. We are working quickly to make sure that all of our associates have access to counseling and support that they may need. TOPS has been committed to this community and to the city of Buffalo for decades and this tragedy will not change that commitment. We are working to find alternatives for our customers in this community while the store is closed and will provide updates in the near future."
Two Republican candidates for governor on Sunday called for a return to the death penalty in New York following the mass shootings. Congressman Lee Zeldin and former Trump administration aide Andrew Giuliani backed what would amount to a reinstatement of capital punishment in New York, which last executed a person in 1963. It's a potential revival of what has in the past been a galvanizing campaign issue for Republicans in New York, including the last successful unseating of a Democrat nearly 30 years ago. Still, the push for the death penalty would come as states across the country have generally backed away from capital punishment given the unavailability of chemicals to perform lethal injections.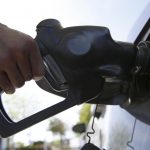 Western New York drivers are handing over still more of their hard-earned money to fill up their vehicles as gas prices once again soar to a new record high. According to Triple A this morning, the average cost for a gallon of regular fuel is now $4.70. That's up 28 cents in the past week, is 43 cents more than last month and is $1.71 higher than one year ago. The state average is now $4.76 a gallon while nationally it's $4.48. In Batavia, the average price per gallon is $4.65, up one cent since yesterday, 31 cents from last week and 42 cents from a month ago today. By the way, diesel fuel here averages $6.18 per gallon, nearly twice what it cost a year ago today. Triple A provided this additional information in a Press Release this morning: "Today marks record high gas prices at the national, state, and local level. According to the latest data from the Energy Information Administration, total domestic gasoline stocks decreased while gasoline demand dropped slightly. Normally a decrease in demand would bring prices down, but oil prices remain volatile. This morning, oil prices are about $109 per barrel. Crude prices rose over growing market worries that Ukrainian and European Union actions against Russian oil-and-natural gas companies could spark retaliation by Russia leading to more market disruption and uncertainty. Meanwhile, the national average for diesel fuel hit a new record yesterday reaching $5.57. One year ago the price was $3.17. In New York, the average price for diesel is $6.50, which is also a record high set yesterday. One year ago the price was $3.23."
The Batavia City School District (BCSD) is still accepting registration applications for universal pre-kindergarten (UPK) and kindergarten programs for the 2022-23 school year. They will be offering four full-day pre-K programs at Robert Morris and one half-day program at a community-based organization. The BCSD UPK program will be relocating to the Robert Morris building (80 Union St.) but will still be considered part of Jackson Primary. The BCSD kindergarten program will continue to be at the Jackson Primary building (411 S. Jackson St.). UPK students must be four years old on or before December 1, 2022. Kindergarten students must be five years old on or before December 1, 2022. Pick up and return your registration packet to the BCSD Registration Office at the Robert Morris Community Schools Building (80 Union St., Vernon Ave. entrance).
Any questions can be directed to Deb Conroy in the Registration Office at dpconroy@bataviacsd.org or by calling 585-343-2480 ext. 1010. Registration will remain open until all spots in each program have been filled.
The Department of Environmental Conservation reminds us that if you see newborn fawns, it is best not to approach them or try to pick them up. Late spring is the birthing season for deer. Often mother does will give birth in shaded areas and then the fawn will wander a little and then lie down. They spend most of the first couple of days lying in grass, leaves, or sometimes in the open. They don't have the instinct or strength to run away yet and the mother will leave them alone some of the time. They are usually ok but if a human comes near and stays the mother may be frightened away and not return to nurse. However, if you see a fawn that is obviously injured please call the Department of Environmental Conservation for assistance at (585) 948-5182.
The Darien Alexander Townline Rd bridge, south of Attica Rd in the Towns of Darien and Alexander, will be closed beginning Monday 5/23/2022 for a bridge replacement project. The project consists of replacing the original short span steel structure and abutments, which date back to 1939 with new pre-stressed concrete hollow slab units and new abutments. The current bridge is posted for 12 Tons and once replaced will be open to full legal loads. The project is expected to take 3 and a half months. During this time the road will not be passable to regular traffic or emergency vehicles.
The investigation continues after a body was recovered from the Niagara River over the weekend. Buffalo police say the remains were spotted by a fisherman Saturday and were in the water near the foot of Hertel Avenue. The only information about the person is that he was a man in his 30s. Officials are now waiting on autopsy results to find out how the man died.
---