There is another recall to tell you about…this time, it's JIF peanut butter, both smooth and crunchy due to possible Salmonella contamination. Salmonella is an organism, which can cause serious and sometimes fatal infections in young children, frail or elderly people, and others with weakened immune systems. Healthy persons may become ill as well, with symptoms that include nausea, vomiting and abdominal pain. In rare circumstances, infection with Salmonella can result in the organism getting into the bloodstream and producing more severe illnesses such as arterial infections (i.e., infected aneurysms), endocarditis and arthritis. The recalled peanut butter was distributed nationwide in retail stores and other outlets. Additional information, including a full list of the recalled products is available here:
https://www.fda.gov/safety/recalls-market-withdrawals-safety-alerts/j-m-smucker-co-issues-voluntary-recall-select-jifr-products-sold-us-potential-salmonella
A Hilton man is dead following a motorcycle accident. On Saturday afternoon Genesee County dispatchers received a report of a motorcycle accident on North Byron Road. 60-year-old Thomas Hankey was driving a 2013 Victory motorcycle eastbound with a group of 3 other riders when for some unknown reason; he crossed the centerline and continued off the north shoulder of the road. The motorcycle then hit a ditch before striking a farm fence and flipping end-over-end before coming to a rest on the north shoulder. Genesee County Coroners pronounced Mr. Hankey deceased at the scene. The cause of the crash remains under investigation by the Crash Management Team.
A Silver Lake woman faces a state prison term after pleading guilty to child pornography and drug charges this week in Wyoming County Court. 35-year-old Jordan McMurtry pleaded guilty to use of a child in a sexual performance, a class C felony punishable by up to 15 years in prison, third-degree criminal possession of a controlled substance with intent to sell and felony driving while high on drugs. McMurtry was stopped in Silver Springs in January, just two weeks after she was indicted on felony drugged-driving charges. Police said she was high on drugs again and possessed meth and drug paraphernalia. A search of her phone revealed that McMurtry had taken obscene photographs of a child. Sentencing for her latest conviction is set for July 11.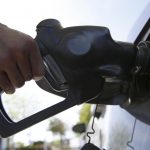 According to research by Triple A, three-quarters of adult drivers said they would change their driving habits if gas reaches five dollars per gallon; this finding was consistent across all age groups. And the average price in New York State is almost now at that point. Noteworthy as well, we're paying over 30 cents more than the national average. Across the United States, the average price people are paying is $4.60 per gallon, which jumped up by 12 cents since last week. But here in New York, according to Triple A this morning, the average is $4.93, a price that went up by even more — 17 cents since a week ago. In Batavia, the average price per gallon is $4.82, the same as it was yesterday and up 60 cents from a month ago. Diesel is much costlier than gasoline: The average price across the U.S. is $5.55 while New York's is $6.52.
The court has released the new congressional district map after much political wrangling over the constitutionality of the map; New York State Democrats had drawn up the original. Shortly after the judge's ruling, Representative Chris Jacobs, R-Orchard Park, declared his intent to run in the new 23rd Congressional District, which means the GLOW region will see two new Congressional representatives. The new map was created by a court-appointed Special Master and has now gained judge approval. In the new map, the 24th district, which includes Genesee County, stretches from Niagara to Jefferson Counties and goes around Rochester. The 23rd district goes from Elmira to Jamestown and Buffalo. And the new 22nd district includes Madison, Oneida and Onondaga counties.
Members of the Erie County Republican Committee have endorsed Congressman Chris Jacobs in his bid to remain on Capitol Hill. Jacobs, who currently represents the 27th District, is running for office in the newly formed 23rd District, which goes from Erie and Chautauqua counties to Schuyler and Chemung counties. Jacobs was elected back in 2020 and since then has served on the House Budget Committee, House Education and Labor Committee and House Agriculture Committee. The primary for the 23rd District is set for August 23rd.
Lawmakers are going to be back at the State Capitol today as this year's legislative session winds down. One of the issues they're expected to address in the coming days is guaranteeing access to abortion and other health services for women in New York and from other states if the U.S. Supreme Court overturns Roe v. Wade. One proposed law would ensure low-income women from states that ban abortion, could receive those services in New York. Earlier this month, Governor Hochul announced that 35-million-dollars in state funding would go to abortion providers to help them expand their facilities and increase security. This year's legislative session ends June 2nd.
Starting today, police across the State will be taking part in the "Buckle Up New York, Click it Or Ticket" safety campaign. Through June 5th, members of law enforcement will be keeping a very close eye out for drivers who aren't wearing their seat belt when behind the wheel. During last year's crackdown, more than 12,000 tickets were handed out for seat belt and child restraint violations. Over 57,000 tickets were also given to people for other infractions such as speeding and distracted driving.
The Buffalo Bills, Buffalo Sabres and Buffalo Bandits are teaming up to help people affected by the recent mass shooting at the Tops supermarket on Jefferson Avenue. The teams are selling "Choose Love" shirts with 100-percent of the proceeds going to the Buffalo 5/14 Fund and the Buffalo Community Together Response Fund. The shirts cost $25.00 each and are available online at shoponebuffalo.com. Customers can expect to receive their shirts approximately three weeks after they're ordered.
---