A man under indictment for domestic violence, burglary and stealing faces new charges for allegedly taking several cans of Red Bull from a store and air conditioners from Walmart. The new charges for 36-year-old Brandon Dodd of Batavia include petit larceny and conspiracy. Similarly charged is 21-year-old Trace Brewer, also of Batavia. Genesee County Sheriff's charged both for the recent theft of air conditioners from Wal-Mart. Dodd has engaged in a long list of crimes over the past year, including theft from Mr. Wine and Liquor and stealing an air conditioner from a Jackson Street residence.
The Batavia Development Corporation Board has voted to hire Tammy Hathaway as the organization's new director, a position that is budgeted to pay $70,000 annually. She's already well known in the community as Executive Director of United Way of Genesee County. There are some projects underway that Tammy will be finalizing over the short-term, including the Downtown Revitalization Initiative and a 2020 Main Street Grant awarded to the City. Tammy will also be responsible for promoting development at the City's Brownfield Opportunity Area sites and assisting businesses with loans and grants.
Sheriff's offices across the GLOW region are increasing their presence at area schools in the aftermath of Tuesday's massacre at a Texas elementary school. This response is amid parental concerns as the country experienced its second mass shooting in less than two weeks. Nineteen students and two teachers died in Tuesday's attack, while 10 people died in the racially motivated supermarket massacre. Genesee County Sheriff William Sheron Jr. said the increased patrols are in addition to the school resource officers already in place at most county districts. Also, Governor Hochul has ordered daily state police check-ins with all schools across the state.
New data from the state shows the spread of COVID-19 is on the decline in our region; this, after 8 straight weeks of increasing numbers. The area's seven-day average infection rate is 10.5%, which is down from 12.8% percent at this time last week. Health officials are still urging residents to take the proper precautions to protect themselves and others from getting sick. They include receiving a COVID-19 vaccine and booster shot, wearing a mask while indoors and being tested for the virus if they have any symptoms of the illness.
Genesee County's unemployment rate is going down: The 2.8% documented for April is the lowest early spring rate on record and only slightly higher than the previous low reported in December when it was 2.7 percent. A year ago in April, the rate was 4.6 percent. The pre-pandemic low for April was 3.1 percent in 2019. The NYS Labor Department reports 29,500 Genesee County residents are in the labor force, up from 28,900 a year ago and 200 workers more than a month earlier. According to the data, there are 800 county residents looking for work. A year ago, there were 1,300 residents listed as unemployed. The labor department totaled 22,300 non-farm jobs in Genesee County, up from 21,500 in April a year ago. There are 17,100 private sector jobs compared to 16,400 a year ago. There are now 5,100 government jobs in the county, which is 100 more than a year ago.
Governor Hochul is once again calling for action to be taken on the state's gun laws following a mass shooting at a school in Texas that took the lives of 19 students and two teachers. The governor said yesterday she wants lawmakers to pass a bill that would raise the purchase age for firearms, such as AR-15's, from 18 to 21-years-old. Hochul is also promising to order a special session of the Legislature if the U.S. Supreme Court overturns the state's current concealed carry laws. This year's legislative session is set to end June 2nd.
Well, it's nothing new but it seems the National Grid scam is rearing its ugly head again. The company encourages its customers to be vigilant and protect their personal information. Customers contacted in this latest scam report that the caller will provide a name, an office location from where they are calling, and an identification number; caller ID might even show that the call is from National Grid. Scammers threaten to terminate the customer's service immediately unless payment is made, either by providing bank or credit card information, or by purchasing a prepaid debit card. Businesses contacted receive a similar threat but are asked to make Western Union money transfers. National Grid wants you to know they will never threaten an immediate disconnection; nor will they ask for payment by debit card. They recommend you never give them personally identifying information.
Tips from National Grid: 1) Be vigilant. If you believe you are current on your National Grid account, it is highly likely a call seeking payment is a scam. 2) Protect yourself. Verify you are speaking with a National Grid representative. Ask the caller to provide the last five digits of your National Grid account number. If the caller doesn't know your account number and phishes for help, take charge and hang up immediately. National Grid representatives will know your account number. 3) Do not take the bait. Scammers will not have access to your account information, social security number or other personal details and you should never offer that information if asked. National Grid representatives will know your account number. 4) Scammers also may contact you by email and attempt to lure customers into clicking on a link, visiting a malicious website, revealing account information, or calling a phone number. 5) While National Grid may ask for a payment to be made over the phone, the payment method will be left to the customer's discretion. 6) Do not fall for scare tactics and threats. National Grid will not contact customers demanding immediate payment by wire transfer, Green Dot Money-Pak or any other prepaid card service. 7) Do not cave to pressure. Never — under any circumstances — offer personal or financial information to someone who you cannot identify. 8) Every National Grid employee carries a photo ID badge, and contractors working for the company are also required to carry ID. If someone requesting entry into your home or business does not show identification as a National Grid employee or contractor, don't let that person in, and call National Grid or local law enforcement. To learn more about protecting you and your loved ones from scams, visit ngrid.com/scam.
The Better Business Bureau has issued a warning involving the sale of fake "Choose Love" shirts online. The shirts are being sold to help raise money for the Buffalo 5/14 Survivors Fund and Buffalo Together Community Response Fund. But the BBB says several misleading ads have been showing up on social media over the last few days and that people should keep a close eye out for them. Legitimate shirts can be purchased for $25.00 by visiting shoponebuffalo.com.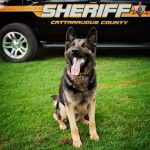 Cattaraugus County deputies say no charges are going to be filed in connection with the death of a retired police dog. According to investigators, the dog was shot shortly after it went missing last month. The sheriff's office says the individual who killed the canine was a farmer who mistakenly thought the dog was a coyote. He told officials that he was trying to protect the other animals on his property.
Memorial Day is coming up on Monday and SPCA Serving Erie County is offering military members and veterans the chance to save money on the purchase of a new animal. As part of the "Vets and Pets" campaign, the SPCA is waiving adoption fees through May 30th on animals that are currently at its shelter on Harlem Road in West Seneca and at other off-site adoption locations. Anyone who wants to take advantage of this opportunity must show their military ID before being allowed to adopt. More information is available online at yourspca.org.
---