Livingston County Sheriff's tell us that two men have been arrested and face felony grand larceny charges after allegedly stealing a car in Caledonia and selling it to a scrap yard. Sherriffs allege that two men, 31-year-old Dillon Decker of Caledonia, and 32-year-old Kenneth Butler of Pavilion had damaged the vehicle in question and took it to a scrap yard where it was sold without permission. Both were issued appearance tickets for a later date and released on their own recognizance.
32-year-old Jonathan Little of Batavia has been arrested and faces multiple charges, including possession of a controlled substance and resisting arrest. During a traffic stop, in which he was a passenger, it was determined that Little provided a false name; further investigation found that he had several outstanding warrants from the Genesee County Sherriff's Office. Little initially resisted arrest and attempted to flee by foot. Little was quickly apprehended, at which time police found several bags of cocaine in his possession. The Genesee County Drug Task Force assisted Batavia police with this arrest.
Niagara County deputies are continuing to investigate the circumstances that led to a body being discovered on the shore of Lake Ontario. They say the remains were spotted on Saturday off Maple Avenue, which is located in the Town of Wilson. The name of the individual hasn't been released. Officials are now waiting for autopsy results to find out how the person died.
As part of Memorial Day Weekend, and for the first time since it opened, veterans, family members, and area residents gathered at the WNY National Cemetery in Pembroke to pay tribute to those who made the ultimate sacrifice on behalf of their country. Several hundred people gathered for the ceremony yesterday, which included a 21-gun salute, honor guard flag presentation, and special remembrances.
A new statue is set to light the way in the Batavia Peace Garden. The Friends of Batavia Peace Garden with the help of Ken Barret Chervolet, Cadillac and Superior Garden Decor installed a 6-foot facsimile of The Statue of Liberty. Just as she stands tall on Liberty Island in New York Harbor, this replica will now greet visitors to the Batavia Peace Garden for current and future generations. Volunteers are always needed and welcome. Visit bataviapeacegarden.com for additional information; or contact Paula Savage for details at (585) 343-2387.
The Vice President was in Buffalo to memorialize the oldest victim of the TOPs Friendly Market shooting on Saturday. Ruth Whitfield was laid to rest after a church service. In addition to hundreds of family members and friends, Vice President Kamala Harris was on hand. Vice President Harris was not scheduled to speak but Al Sharpton invited her to come up. Harris spoke of the shared pain the community had. Whitfield was remembered as a loving, caring and giving person.
Someone could end their Memorial Day weekend on a very high note if they have a bit of luck on their side. Because there was no winner on Saturday, whoever correctly picks the numbers for Powerball tonight will win at least $157,000,000. The cost of playing the popular lottery game is $2.00 per ticket. Tonight's drawing will be streamed live online. Please play responsibly.
For the second year in a row, the Rochester Institute of Technology's men's lacrosse team are national champions. After falling behind by five goals to the Union Dutchmen yesterday, RIT rallied and won the NCAA Division Three title by a final score of 12 to 10 at Rentschler Field in East Hartford, Connecticut. Quinn Commandant had three goals for RIT while Marley Angus and John Mozrall had two each. Last year, RIT beat Salisbury in double-overtime to win the program's first NCAA championship.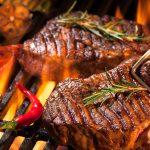 Many people will be having a barbeque today and the State Division of Consumer Protection has issued some safety tips to keep in mind when grilling. The agency recommends making sure the grill is clean before use and checking the hoses on a gas grill for cracking, brittleness, holes and leaks. Also, only use grills outside in a well-ventilated area and keep them away from surfaces that could burn. Finally, have an extinguisher nearby and easily accessible in case of a fire. I smell what you're cooking and I'm on my way…
---