The Le Roy Police Department has arrested Luis Gabriel Torres and charged him with felonies, the most serious of which include intent to cause physical injury with a weapon, attempted assault, and criminal possession of a weapon after a previous conviction. Torres was remanded to the Genesee County Jail and will return to court on June 7th to answer the charges.
Wyoming County Sherriff's deputies tell us a Batavia man now faces felony charges after he was found to be driving while high with two teenagers in the car, along with concentrated cannabis. Sheriffs stopped 21-year-old Memphis Chamberlain during the DWI crackdown over Memorial Day Weekend. He appeared high on drugs and the odor of marijuana was inside the car. Two teenagers, age 15 and 17, were passengers. The 17-year-old had more than 24 grams of concentrated cannabis in her possession and told police Chamberlain gave it to her. Chamberlain was charged with driving while impaired by drugs, felony aggravated DWI with a child in the car, felony criminal sale of cannabis, unlawful possession of cannabis, unlicensed operation, driver's view obstructed, modified muffler and unauthorized stickers on windows. He is to appear at a later date in Town Court.
A Batavia man needed to be flown by Mercy Flight to Strong Memorial Hospital. He suffered 2nd and 3rd degree burns yesterday afternoon as he was getting a lawn mower from his shed. He believes he accidentally hit an igniter on a propane grill, which caused a spark and the vapors exploded. The man was reportedly burned across 60 percent of his body.
Governor Kathy Hochul announced that New York's recently launched mobile sports wagering has generated a record-breaking amount of tax revenue in less than six months, surpassing states that have offered sports wagering for years. According to New York state data, the state has generated more than $267 million from sports wagering since January. Mobile sports wagering accounted for $263 million of that.
The Genesee Country Farmer's Market is located at Alva and Bank Streets in Batavia and they opened today for the season. Vendors will be on hand Tuesdays, Thursdays and Fridays from 9am until 4pm through October 28th.
The suspect who allegedly killed 10 people at a Tops store in Buffalo has pleaded not guilty to over two-dozen charges. Yesterday, 18-year-old Payton Gendron was back in court after he was indicted by a grand jury for murder, attempted murder and domestic terrorism. Prosecutors say Gendron carried out the shooting at the supermarket on May 14th in what's been called a racially-motivated hate crime. Gendron remains behind bars without bail and faces the possibility of life in prison if convicted.
A comedian who is known to people around the world is bringing his latest tour to Buffalo this weekend. Dave Chappelle is set to take the stage at Shea's Performing Arts Center on Sunday at 7:00pm. No cell phones are allowed at the show and people are asked to leave those devices at home or in their vehicles. Anyone who is caught with a cell phone will be removed from the theater. Tickets for the performance are still available and can be purchased through Live Nation.
State Attorney General Letitia James is reminding New Yorkers about the risks of investing in cryptocurrency. She says cryptocurrencies often have significant price swings and the market reached record lows last month that cost investors billions of dollars. James is urging people to be cautious so they don't lose any of their hard-earned money. She's also asking anyone who believes they've been a victim of investment fraud to contact the Investor Protection Bureau.
The Genesee County Economic Development Center Board of Directors approved an agreement supporting the O-AT-KA Milk Products 3,200 square foot facility expansion. O-AT-KA had proposed a $3.1 million investment that would be home to two new 18,000-gallon tanks. The goals of the project include increased capacities of cream-based liquor beverages and future expansions. The project is proposing to create two new jobs at a leading employer in Genesee County's food and beverage manufacturing ecosystem.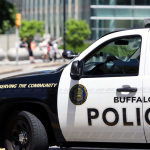 Buffalo police have released new information their investigation into what caused a vehicle to crash into a building. According to police, the man behind the wheel had been shot before the vehicle struck a building in the area of Genesee Street and Bissell Avenue Wednesday night. The man was pronounced dead at the scene and a passenger went to Erie County Medical Center where they're in serious condition. The names of the victims haven't been made public and anyone with information can call police.
The dedication and unveiling of the signage at the David McCarthy Memorial Ice Arena is set for 6:00 this evening at 22 Evans St., Batavia. A food stand fundraiser will open at 5, featuring hotdogs, chips and water, with proceeds going to the David McCarthy Memorial Foundation. Everyone is invited to attend. Also, the David McCarthy Memorial Golf Tournament is scheduled for tomorrow.
---