The Genesee County Sheriff's Department is investigating why a car went off the road in Pembroke and struck a parked van in the Kutter's Cheese Factory Store parking lot. The accident occurred late yesterday afternoon. The elderly male driver was extricated and was in and out of consciousness when he was transported by Mercy Flight to Erie County Medical Center after having suffered life-threatening injuries. The elderly female passenger had serious, but non-life-threatening injuries and was also transported to ECMC by a second Mercy Flight helicopter. The driver may have suffered a medical issue before the crash.
Around 2:00am this morning, a 2017 Toyota 4-Runner was operating at a high rate of speed eastbound on Chestnut Street but then failed to stop for the stop sign at the South Jackson Street intersection and was going too fast to navigate safely. After shearing a National Grid pole in two places, the vehicle finally stopped in the front porch of a S. Jackson Street home. Initial reports from witnesses indicated four passengers including the driver fled on foot. Officers identified 4 other passengers who remained on scene. One of the passengers suffered a minor injury and was transported to UMMC by Mercy EMS. Additional passengers were transported to UMMC by private vehicles for evaluations. All occupants of the vehicle have been identified and the accident remains under investigation. Most occupants of the vehicle were minors including the alleged driver. Alcohol and marijuana are believed to be a contributing factor in the accident. Charges are pending.  Security video camera footage, along with the detailed story, are both available at the website of our news partner, The Batavian:  https://www.thebatavian.com/howard-b-owens/driver-flees-after-suv-strikes-utility-pole-on-south-jackson-batavia-at-2-am/609286
Police have identified the victim of Tuesday's fire on Freeman Road in Shelby. 22-year-old Michael Cherry, who had trouble walking and was trapped in an upstairs bedroom, was found dead in the upstairs of the house he shared with his father, aunt, uncle and brother; this, according to Orleans County Sheriff's Major Rob Reimer. Michael's 29-year-old brother Daniel Cherry suffered serious injuries, including smoke inhalation and was taken by Mercy Flight to Erie County Medical Center. Their father, 74-year-old Roger Cherry, was treated for smoke inhalation at a local hospital and released. The house was full of clutter, which restricted firefighter efforts to get inside to save Michael Cherry. Shelby Fire Chief Jason Watts said both front doors were boarded and blocked from the inside. A rear door entry was full of clutter, as well. The cause of the fire was determined to be a toaster oven in the kitchen. Reimer said Daniel Cherry was cooking and cardboard near the toaster oven caught fire.
Alberty Drugs will close its doors for good after 100 years in business in the City of Batavia; employees have been busy cleaning out the nearly empty shelves inside the store, which closes for good next week. It will be closed on Saturday and reopen on Monday 6/27 at 9:00am. There is no word as to which day they will close next week. If you have a current prescription at the pharmacy, ask to have your doctor write a new prescription to start with a new pharmacy as current prescriptions are not being transferred to a different pharmacy. The owners of Alberty Drugs will continue to run Mead Square Pharmacy in Victor.
The search for a jet skier who was reported missing last weekend has come to a sad end. According to the Monroe County Sheriff's Department, the body of 43-year-old Onofhil Nieves was found yesterday in Lake Ontario near Durand Beach. Crews had been looking for Nieves for several days after he disappeared last Saturday. In a statement, the sheriff's department expressed its condolences to Nieves' family and friends during this difficult time.
New Yorkers who want to cast their ballots ahead of the upcoming primary are running out of time to do so. The early voting period that began last Saturday is coming to an end on Sunday. There are primary contests being held for statewide races including governor, lieutenant governor and state Assembly. Primary day is Tuesday, June 28th and polls on that day will be open from 6:00am until 9:00pm.
Medina Police tell us that they have received information of attempts to pass counterfeit money labeled "motion picture use only." Businesses and cashiers should visually check all bills carefully. Photos provided by the Village of Medina Police Department.
A Buffalo woman who stole an ambulance in Utica last year before crashing it in the Rochester area has pleaded guilty to a grand larceny charge. Yesterday, Vanessa Armstead admitted to taking the ambulance from a garage after she had been released from the hospital following a car crash. Armstead then led police on a pursuit that came to an end when she drove the ambulance into the Irondequoit Bay. Armstead had to be rescued from the water and is facing up to nine years in prison when she's sentenced in August.
No one has been lucky enough to win the Mega Millions or Powerball lately and that means the jackpots for both games are still growing. There will be $312,000,000 up for grabs in tonight's Mega Millions drawing and whoever picks the winning numbers for Powerball tomorrow night will win at least $335,000,000. Tickets to play are $2.00 each. Both drawings will be streamed live online. Please play responsibly.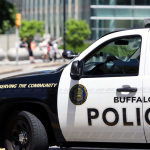 The Buffalo Police Department has released body camera footage of an officer-involved shooting that happened last week. Officials say the incident occurred after 27-year-old Nakeem Hayes allegedly shot and killed 63-year-old Atlas Johnson near Broadway and Sears Street last Friday night. When police approached Hayes, he jumped on the hood of their vehicle and opened fire but didn't hit anyone. The officers ran after Hayes who was shot several times and is facing an attempted murder charge. Police Commissioner Joseph Gramaglia said yesterday he believes video of the encounter between Hayes and police shows the actions the officers took were within the confines of the law and department policy.
Starting pitcher Tyler Prospero from Batavia, took his first loss of the season, as The Batavia Muckdogs dropped a home game last night to the Newark Pilots 7-5. The Muckdogs are now 10-4 on the season, in second place in the West Division, two games behind Utica.
---