A Covington woman has been indicted in Wyoming County Court on charges that she stole checks from mailboxes. 52-year-old Paula Kingdollar entered a not guilty plea to an indictment charging her with first-degree scheme to defraud, second-degree criminal possession of a forged instrument and seven counts of petit larceny. An investigation by state police revealed she was going through mailboxes in the early mornings and stealing checks and then depositing them into her account. She has been ordered to return to court September 8 for argument of motions.
Buffalo Mayor Byron Brown accompanied an Army veteran who was shopping at the reopened Tops grocery store yesterday to help the store — and the community — try to return to normal. The store reopened for the first time since a mass shooting in May left ten people dead and three others wounded. Prior to the massacre, the veteran — Patrick White — would shop at the Tops store several times a week. Yesterday, White said he was glad to be back and he's proud of the Buffalo community for pulling together after the tragedy.
Police are investigating after ten cars were stolen from a West Herr dealership in Orchard Park Saturday night. Five of the vehicles have since been found as of 11:00 yesterday morning, without any damage. Anyone with information is asked to contact local police.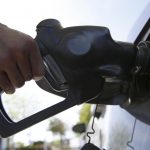 According to Triple A this morning, the average price for a gallon of regular unleaded gas dropped 16 cents nationally in the past week to $4.52 and 11 cents in New York State, to $4.69. This is largely due to gas demand tapering off over the past two weeks following the Independence Day holiday. In Orleans County, the price decreased only 2 cents; in Genesee County, the per-gallon cost went down 8 cents to $4.62. In Batavia, the average cost for gas is the same as it is countywide at $4.62, down 27 cents from a month ago today.
35-year-old Stacy Patterson of LeRoy is charged with petit larceny after she allegedly stole groceries after passing all points of sale at Walmart in Batavia. She was issued an appearance ticket and will return to Batavia Town Court late next month.
Our region is getting much-needed rain today after very little precipitation the past month. All of Western New York and much of the Southern Tier and Finger Lakes Region are either abnormally dry or in moderate drought, according to the U.S. Drought Monitor. The Southern half of Genesee County is under moderate drought conditions, which have turned many lawns and fields yellow.
The Erie Community College Board of Trustees has voted to cut 60 non-faculty jobs. That amounts to about 200 jobs, saving the school $8,000,000. Earlier this month, the same board eliminated 90 support staff jobs. An additional 50 people have also taken early retirement. Despite the steady decline of enrollment, school officials hope an increase in students will help them make up the remaining $1,000,000 they need.
Two Monroe County men have each been sentenced to 44 months in prison for assaulting law enforcement officers during the breach of the U.S. Capitol on Jan. 6, 2021. 30-year-old James Phillip Mault, formerly of Brockport, and 29-year-old Cody Mattice of Greece, were sentenced during a District of Columbia court session. Following their prison terms, each will be placed on three years of supervised release. They also must pay $2,000 each in restitution.
A traffic alert for you…Power and Construction Group crews are scheduled to begin work tonight on the City of Batavia LED Street Light Project. The tentative schedule is as follows:
· Tonight & tomorrow – start/finish Main Street and then begin on Oak Street.
· Tomorrow & Wednesday – finish Oak Street and then begin on Ellicott Street.
· Wednesday through Friday – finish Ellicott Street and all other cobra head street light locations.
Traffic delays should be expected; however, no street closures are anticipated at this time.
A Leicester man was killed when a car pulled in front of his motorcycle at Morgan Road and Union Street Friday night, Monroe County Sheriff's investigators said. 49-year-old James E. Lee III was pronounced dead at the scene of the 9 p.m. crash. Deputies said Lee was traveling south on Union Street when a Pontiac Vibe that was going west on Morgan stopped and then pulled out in front of Lee.
A North Carolina company is recalling some dog treats because of possible Salmonella contamination. Stormberg Foods announced its chicken dog treats, sold under a few different brand names were recalled after it was discovered their treats were tainted with the bacteria. If you bought chicken breast strips dog treats between June 6th and June 23rd, please check the UPC with the list below to find out if the product you purchased is part of the recall:
1 oz Beg & Barker Chicken Breast Strips UPC: 8 50025 54628 7; All batch numbers; Exp Dates: 06/06/23 to 06/23/23
4 oz Beg & Barker Chicken Breast Strips UPC: 8 50025 54611 9; All batch numbers; Exp Dates: 06/06/23 to 06/23/23
10 oz Beg & Barker Chicken Breast Strips UPC: 8 50025 54610 2; All batch numbers; Exp Dates: 06/06/23 to 06/23/23
4 oz Billo's Best Friend Chicken Breast Strips UPC: 8 50025 54682 9; All batch numbers; Exp Dates: 06/06/23 to 06/23/23
4 oz Green Coast Pets Chicken Crisps UPC: 8 60001 92832 7; All batch numbers; Exp Dates: 06/06/23 to 06/23/23
8 oz Green Coast Pets Chicken Crisps UPC: 8 60001 92833 4; All batch numbers; Exp Dates: 06/06/23 to 06/23/23
The Rochester Pride Parade returned this weekend after being suspended for the last two years because of the pandemic. The parade took place Saturday along Park Avenue with about 140 groups taking part. The Pride Festival followed the parade and lasted until Saturday night.
---