Afternoon News Brief
Written by Doug Thompson on September 9, 2022
Perry Police tell us that a parolee and Level 3 sex offender who changed his name and fled the state to avoid a state prison sentence was arrested on drugged-driving charges earlier this week. 36-year-old Eric Motzer of Attica was charged with driving while impaired by drugs; he failed field sobriety tests and it was found that he was high on marijuana. He was issued appearance tickets and is scheduled to appear October 11th in Village Court. In 2012, he was sentenced to seven years in prison for rape charges and in 2021 was returned to prison for violating parole because of new drug charges. Motzer was living in Alexander when he was arrested in 2011 and accused of raping a teenage girl. He was convicted after a jury trial and was scheduled to be sentenced on Sept. 22, 2011. On September 21, he got married in Genesee County, changed his name to Eric J. Disalvo and, with his new bride, fled to West Virginia. A warrant was issued and he was arrested two weeks later and returned to Wyoming County and sentenced to seven years. He served all seven years. A year later he was jailed for a year for failing to register with the state Sex Offender Registry.
Today 38-year-old Nicholas Maher of Oakfield was sentenced in Genesee County Court to 23 years in state prison, in the death of his father. In May of this year, Maher accepted a plea deal and pleaded guilty to manslaughter. In addition to the prison sentence, Maher was also sentenced to five years of Post Release Supervision and several Orders of Protection were issued.
Here's a traffic pattern change you should be aware of: The portion of Park Road from Richmond Avenue south to the intersection of Lewiston Road will be reopened to southbound traffic only, as of 5:00pm this afternoon. Motorists approaching Park Road from Lewiston Road are asked to continue to follow the detour along Veteran's Memorial Drive to Park Road. This traffic pattern will remain in place until the project is completed. Anyone with questions is asked to call the Town of Batavia Highway Department at 585-343-1729, extension 218.
Two Rochester men in the Attica Correctional Facility, including one involved in a police shooting, have been indicted on gang assault charges. 30-year-old Randy Love and 28-year-old Darien McMillian are charged with first-degree gang assault and second-degree assault for their involvement in an altercation in the prison on July 13. The most serious charge, gang assault, is a class B violent felony punishable by up to 25 years in state prison. The men were arraigned Wednesday in Wyoming County Court. Both entered not guilty pleas and are to return to court in November. Love remains in Attica Correctional Facility and McMillian has since been transferred to another state prison.
The woman, who was arrested after her dog was found to be overdosed on narcotics has once again failed to show up for her court date. When she missed the first date, Judge Thomas Burns issued a warrant for Cassandra Elmore of Batavia, after a friend called and said she was in the hospital, which couldn't be verified. The Batavia Police say they never received the warrant and she was never apprehended. She was to be arraigned yesterday but once again failed to show. Court clerks said someone claiming to be an attorney in Pennsylvania but not leaving a phone number, address or filing a motion to change Elmore's court appointed attorney called her behalf, but again verification was not possible and the judge did not excuse Elmore from appearing. Elmore faces three counts of injuring an animal and multiple charges stemming from a traffic stop late last month. The Judge has issued an arrest warrant and 2 bench warrants for her arrest.
Governor Kathy Hochul has announced that $475,000,000 in direct payments would be sent out to New Yorkers to help fight inflation. The 1.7 million New Yorkers who received the state's Empire State Child Credit or Earned Income Credit on their 2021 taxes can expect a check for $270 per person starting near the end of October. Governor Hochul and members of the state legislature approved the Additional NYS Child and Earned Income Tax Payment as part of the 2023 Enacted Budget. Eligible New Yorkers do not need to take any action to receive their checks, as they will be mailed automatically.
Congressman Chris Jacobs has introduced legislation at the federal level that would override the Farm Labor Bureau's overtime threshold decision, which if approved, would gradually make it so that farm owners have to pay laborers overtime pay after 40 hours instead of 60. The Protect Local Farms Act, co-sponsored by Congresswoman Elise Stefanik, would mandate that states couldn't set the overtime threshold lower than 60 hours a week. Jacobs noted that farming is not like other industries with a normal workweek and is subject to variables such as the weather. He also says that changing the overtime threshold will cause farms to cut laborers' hours, leading many workers to leave the state to seek higher wages and more work hours elsewhere.
The Buffalo Bills lived up to their preseason hype as a team that could win the Super Bowl with a dominating effort on the road. Bills quarterback Josh Allen tossed three touchdown passes and rushed for another score as Buffalo beat the defending Super Bowl champion Los Angeles Rams 31 to 10 at SoFi Stadium last night. Buffalo's defense also contributed by picking up several sacks and forcing multiple turnovers. The Bills will be back in action on Monday evening, September 19th, when they host the Tennessee Titans.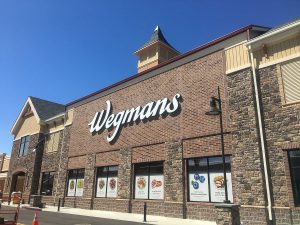 Wegmans has found itself on top of a brand-new list that's been released by Fortune. The popular supermarket chain was ranked number one in the "best workplaces in retail" category among large companies. Fortune praised Wegmans for several things such as having an internal job posting program and flexible scheduling for employees. In second place was the Target Corporation followed by Sheetz.
Flags across the state are at half-staff after the passing of the Worlds longest reigning monarch. Queen Elizabeth the Second passed away peacefully last night. She was 96. Queen Elizabeth reigned for 70 years, appointed 15 Prime Ministers and met 13 of the 14 US presidents who served during her time on the throne. The money in the UK will continue to have her face on it for the time being but the royal song will be changed to "God Save the King" for King Charles the 3rd who is now the monarch of the United Kingdom.
The Mega Millions and Powerball jackpots just keep growing and that means there's a combined $396,000,000 up for grabs the next couple of days. The prize for whoever picks the winning numbers ahead of tonight's Mega Millions drawing will be at least $210,000,000. And the Powerball jackpot for tomorrow night is currently sitting at $186,000,000. The price of a ticket to play each game is $2.00. Both the Mega Millions and Powerball drawings will be streamed live online. Please play responsibly.
The holidays will be here before we know it and the United Parcel Service is planning to hire over one-thousand people in Buffalo ahead of the season. UPS is offering part-time and full-time seasonal jobs to fill positions such as drivers, driver helpers, and package handlers. Seasonal package car driver positions begin at 21-dollars an hour and seasonal tractor- trailer driver positions begin at 35-dollars an hour. More information can be found online by visiting jobs-ups.com.
---